£1,024 Free Money in the First Semester of 2022 – Time for a Review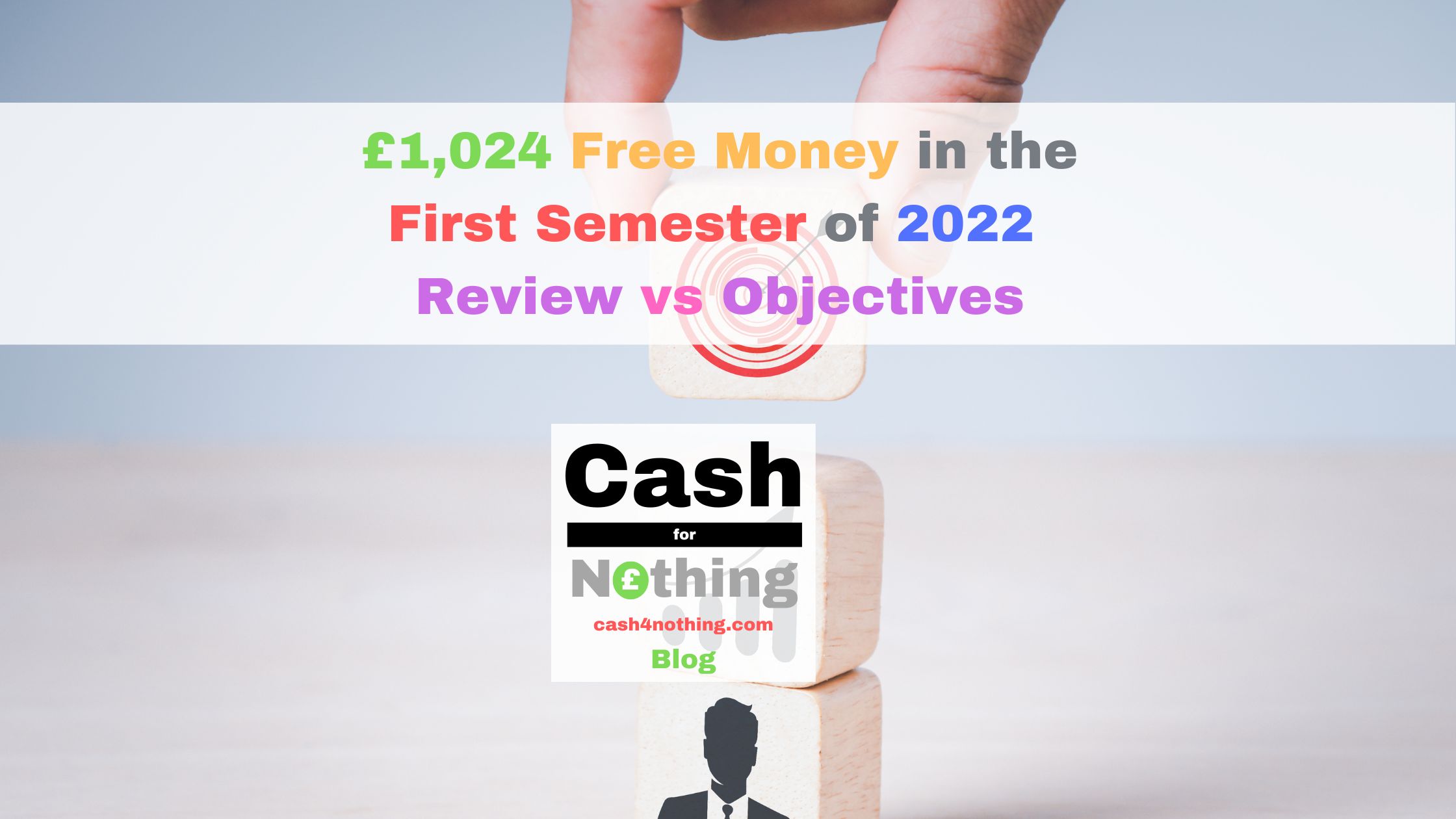 It is now July of 2022. I have left behind the first six months of the year and I have not had the time to look at the Free Money Making Dashboard. What I mean to be asking is: am I actually reaching my targets or not? Am I going too fast or too slow? Do I need to divert my efforts into specific areas or can I leave my income streams free to their own devices? I have no clue unless I check my indicators against my goals and allocate relevant actions to steer the ship in the right direction if need be. As is always the norm, when conducting a Review I will adhere to a tried and tested 4-step process captured below:
Set Annual Objectives for Free Money Income Streams.
Update indicators to quantify progress.
Understand performance gaps vs objectives.
Develop action plan to close gaps.
As highlighted at different entries in this Blog, it is down to me either to be casual or to be regimental about this process. The way I approach it is that in order to be successful in delivering against targets, I need to push myself and demand a certain level of performance. Nobody will be knocking on my door to have a chat and make me accountable, so I need to use my business hat and self-appraise my efforts so far. I promise I will be nice on myself (mostly).
Step 1 – Annual Objectives for Free Money Income Streams
If I was to revisit my post How to make £1,200 Free Money in 2022 – My Plan & Objectives, I would find myself articulating the logic for using certain Free Money Streams as well as the historic tallied sums I can utilise as a framework to develop reasonable cash flow projections for all of them. It will be redundant to repeat this process here, so I will just collect the hard figures for the record.
2022 Objective: £1,200 Free Money.
Tools: bank rewards, cashback deals & rebates, decluttering sales, promotional sign-ups, bank perks & interests on savings plus any other unexpected source of free cash (ie: freebies).
Objective Breakdown:
Banks rewards and interests: £250.
Decluttering sales: £500.
Cashback deals: £250.
Promotions: £200.
These are the main Free Money contributors I can control. There are others (such as freebies) that due to their random nature fall outside my circle of influence and as a result, I am not in a position to quantify let alone assign a target. For the purposes of this Review, I will adhere to the four streams previously listed.
Step 2 – Update indicators to quantify progress
I like my spreadsheets. They do the job nicely. I just type in earnings in the right box and the aggregated values per line item and per month are updated automatically. The Free Money Tracker is a live page on this Blog capturing my progress on a monthly basis as well as a list of all Income Reports. This way, I can check and tally chart my progress any time. As a basic tool to support this Review, I have extracted the first six months of 2022 in the following table:

These are just overall numbers. They need to be compared and put into context.
Step 3 – Understand performance gaps vs objectives
50% of the year should imply a 50% proportional achievement at the very least for every individual stream in order to be considered as on target. Producing percentage completion indicators using aggregated figures and dividing them by Objectives is straight forward. See summary table below:

How can these figures be interpreted?
I have accrued £1,024 Free Money against an Objective of £1,200. Good news is that I have delivered 85% of the task. The not so good news is that it somehow happened by chance as £380 came from Freebies. If I was to take them out of the calculation, I would find a true measure of my efforts to produce Free Money. That will be £644 or 53% into my goal. Ok but not outstanding.
I am falling behind as regards to Bank Rewards and Decluttering Sales. Not to the point of no return, but if I remain passive, the targets will not be met.
Cashback and Promotions are bringing Free Money above targets. Cashback is exceeding expectations this year but Promotions is not. Action will be required to take me over the finish line.
Step 4 – Actions to close Gaps vs Objectives
I need to develop projections for the remaining months of the year to understand the full picture. These projection figures are made up of two components: what I actually know will be delivered (known known) and what will need to be delivered to hit target (known unknown).


Bank Rewards
£137 remaining. £137/6 = £22/month. This is achievable by making sure all bank perks are collected on a monthly basis. Assuming no changes in my perk awarding requirements, I can deliver £24 per month. The break down list is the following:
Barclays: £3
Natwest: £3
RBS: £3
Santander: £3
Halifax 1: £5
Halifax 2: £5.
Action: actively monitor bank account requirements to ensure terms & conditions (ie: direct debits + monthly credits + debit card payments) are met every month.
Decluttering Sales
£296 remaining and I already know that not much will be happening in July. I have been resting on my laurels for a bit too long if I am honest with myself as I have not listed anything at all since the end of last year. I just need to crack the whip and give it a push in the five remaining months of the year. In this sense, it is not unrealistic to collect £60 per month from selling my clutter. I only need to start listing again.
Action: list backlog of personal items for sale.
Cashback Deals
I need £48 to hit my £250 target. I have two transactions in the pipeline which I am expecting to be made payable before the end of the year:
In addition to these, I regularly collect £5 per month from courier services alone. I feel confident that I will deliver Free Money from Cashback above target by the end of 2022.
No action.
Promotions
I managed to get my hands into a Bank Account Switch back in May (see post: Halifax Bank Account Switch £125 Cash Reward) grabbing £125 on completion. I will require another £75 to take me where I need to be. My constraint is the number of accounts I currently hold and the switch promotions availability. I trust I will come across a suitable one soon enough. Otherwise, I will need to use my creativity.
Action: set up alerts for new promotional sign up offers and actively look for new ones.
In summary, I need to focus on my decluttering sales as I have been somewhat complacent up until now. I need to sign up for another promotion and remain vigilant of my bank perks requirements being met. I am happy with a Grand of Free Money in my pocket and it is a good performance overall so far. I would not class it as an A+ one though. I have some homework to do to get the grades I deserve. Bear with me. I am not the lazy type.