Halifax Bank Account Switch £125 Cash Reward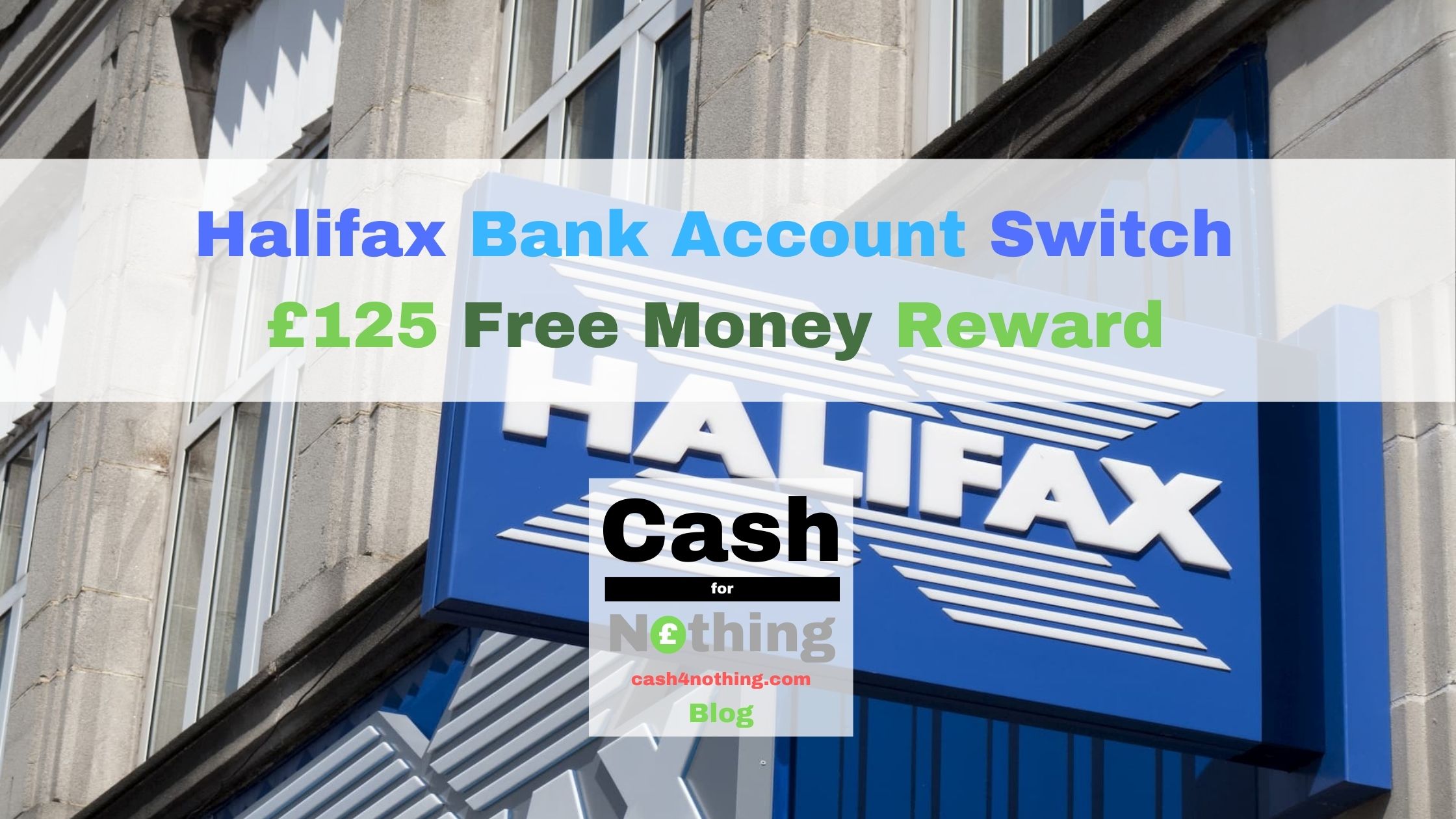 £150 Bank Account Switch Offer from Natwest. Am I eligible?
Back in January, an email from Natwest landed on my inbox. It offered a juicy £150 cash reward for switching my Bank Account to them. It looked like another straightforward free money bagging exercise, however, since I already have a Natwest Bank Account to my name, I thought to myself that I should look into the terms and conditions closely before proceeding any further. The deadline to apply was set for the first week of April so I had plenty of time ahead of me before starting with the proceeds.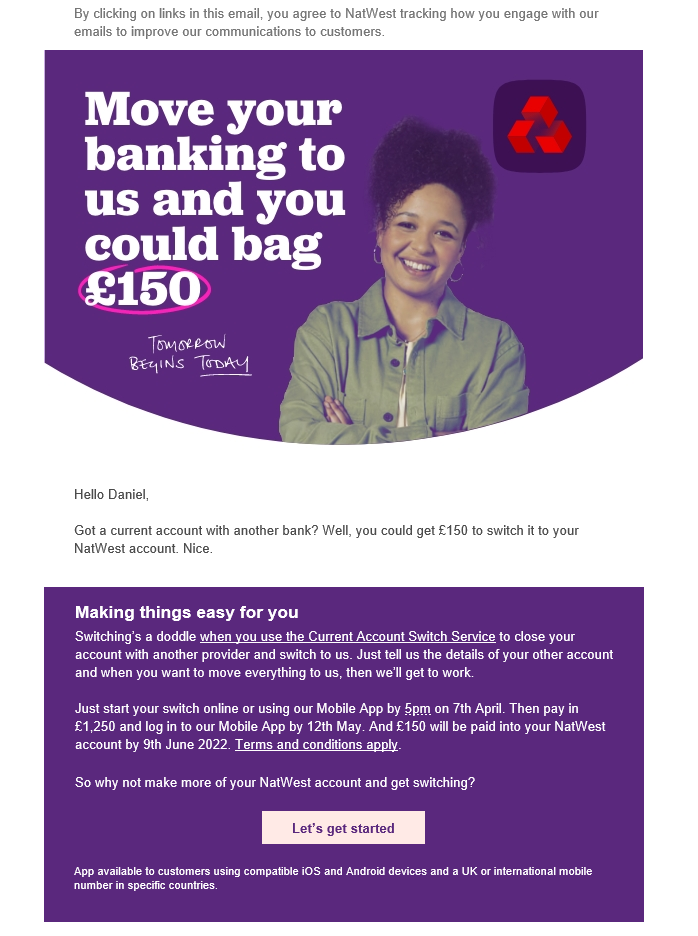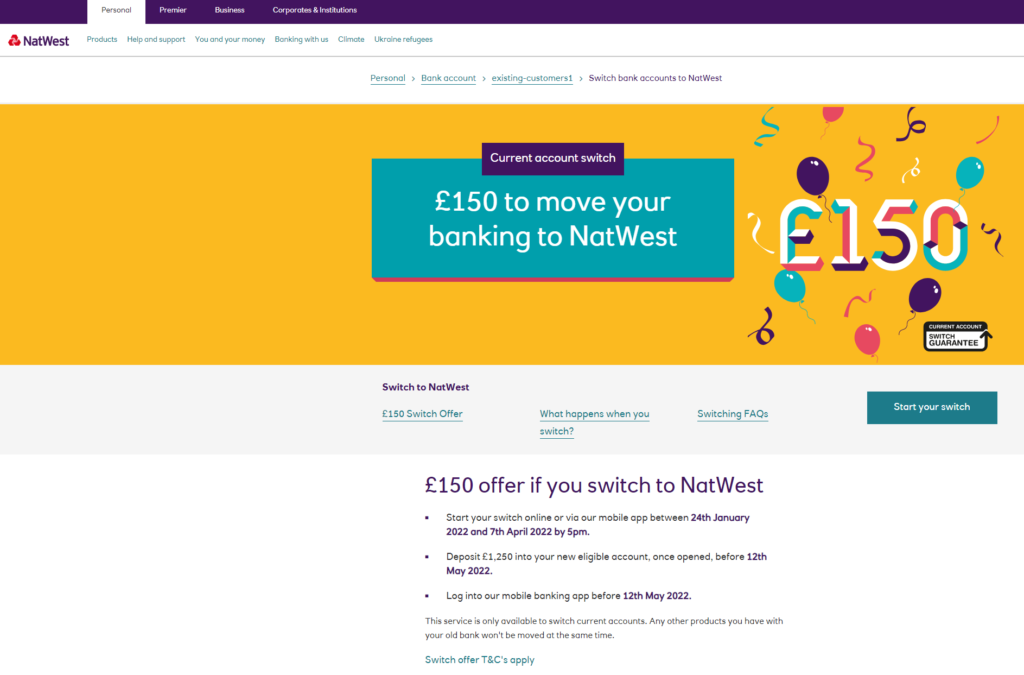 It is the end of March at the time of writing these lines and the clock is ticking. I finally gather the energy to sit down in front of the computer and start the application process. I navigate through the options and open the Terms & Conditions of the promotion in order to read the small letter and make sure that I am in the clear.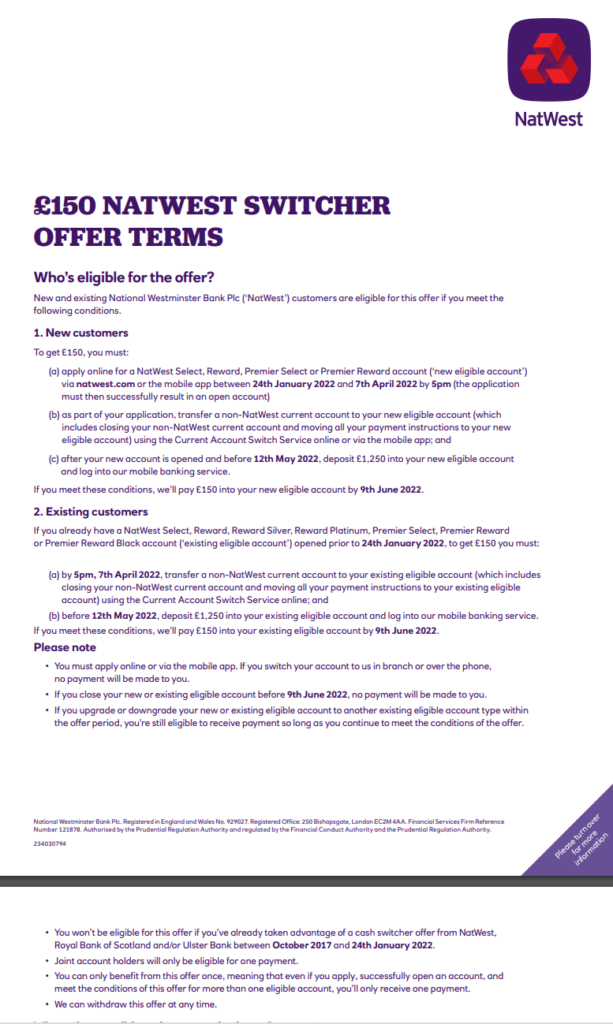 I read eagerly through the Existing Customers literature and was getting increasingly excited as I progressed. I was ticking all the boxes until I came across the bullet point warning that I will not be eligible if I had already taken advantage of a cash switch between October 2017 and January 2022. In fact I did. Door closed I am afraid and back to square one. The good thing is that it goes to show that reading the T&Cs carefully pays off in terms of time saved and protecting my credit score.
£125 Halifax Reward Account Switch + a Free £5 Every Month
Hope is not all but lost. A quick search on the Internet produced a number of live promotions and one of them caught my eye almost immediately. Halifax £125 switch for opening a Reward Current Account. This is a really enticing double whammy. It looks like I could potentially get my hands on the £125 switch incentive and collect a fiver every month as well. Again, I am already the proud holder of a Halifax Reward Current Account so I need to plod through the T&C's to make sure is safe to go ahead.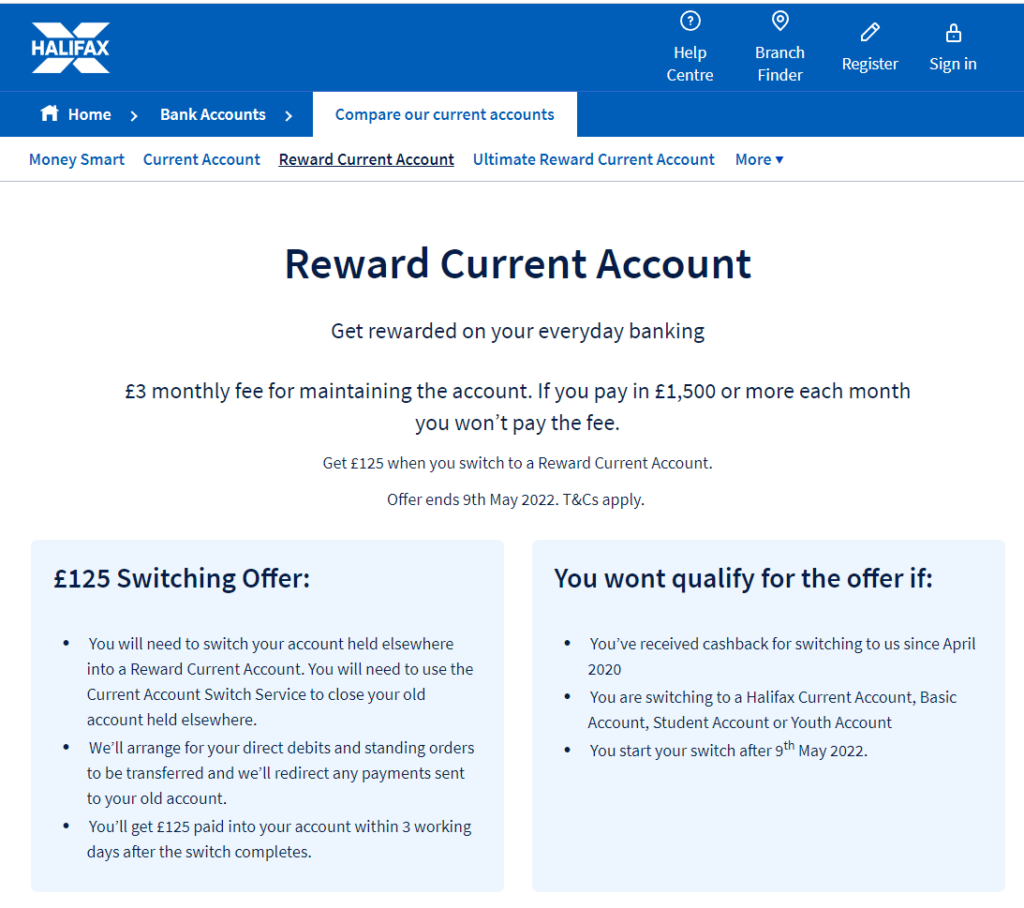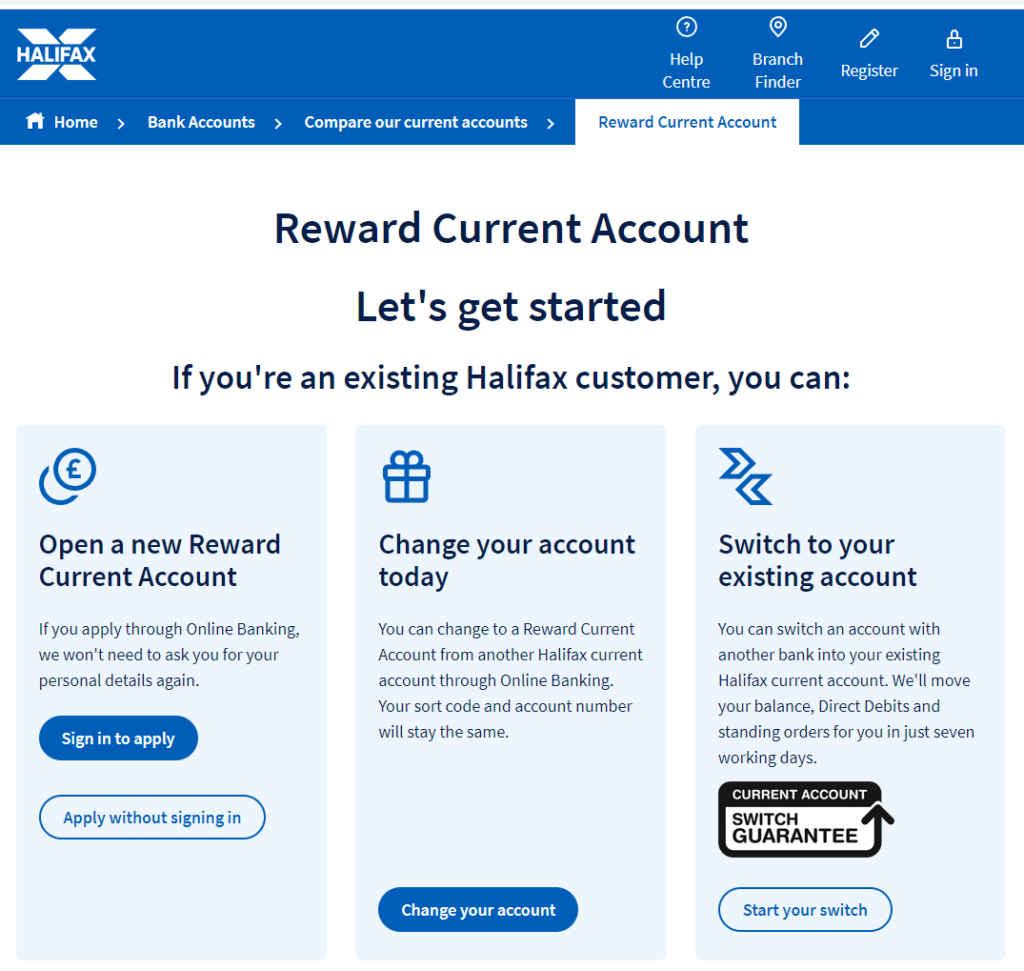 No more small letter for existing customers than the one shown above. It looks as I do not even need to provide with my full details from scratch since they are already on their records. All is required from me is to log into my existing account and apply through the link supplied. Is that it? Two minutes later I had confirmation that my application process was successful. It seems as though I have made £125 free money almost effortlessly. On top of it, I will have the chance to milk an additional £5 in banks rewards every month. All I need to do is add another link into my standing order loop and use the debit card supplied to pay £500. Piece of cake.
I needed to sacrifice a bank account to make this happen and the chosen one was the Nationwide bank account I opened in October 2021. It served its purpose and it's time to let it go. The sooner it goes, the higher the chance for my to qualify again in the short term. Just a transaction. No strings attached.

The account was opened for me and the reward was credited in a matter of days. To be honest, I almost have forgotten about it. I noticed when I logged back in a week later. It really does not get any easier than this.
Anyway, one in the bag and another one to go. This is a must for me to deliver my objective of £200 from bank account switches for the year. £125 is not a bad start at all.
Current Account Switch Service
The Current Account Switch Service (CASS) process is automatic and straightforward. All it takes is to request a switch during the application process at the time of opening a new account with the bank of your choice. Most banks are signed up to CASS, meaning that the switching service will work on the background closing the old account and moving money, direct debits, standing orders, payments (ie: salary), etc. to the new bank account. The process is completed in seven working days.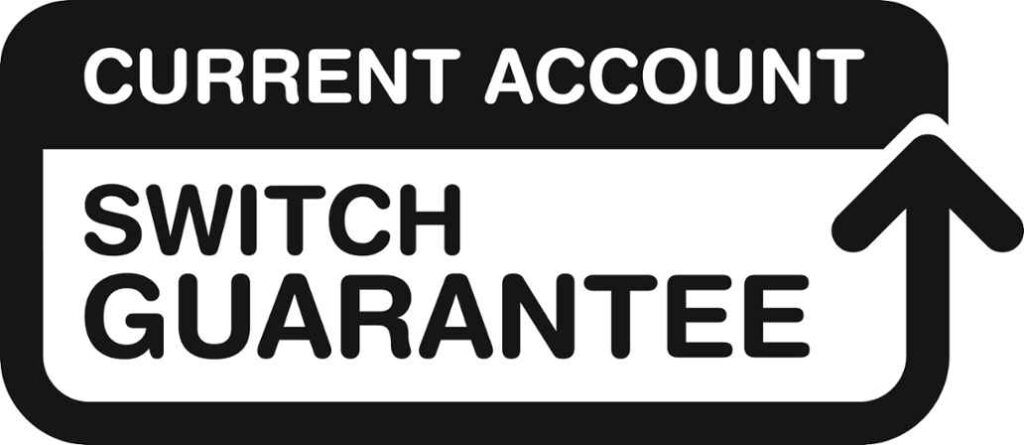 Should the unexpected happen, CASS makes sure that during the first three years after the switch, any moneys paid into the old account or mistakenly coming out of it will be transferred to the new account. Also, if there are charges involved due to an error during the switch process, they will be refunded by the new bank.