April 2023 Free Cash Earnings Report £464 Free Money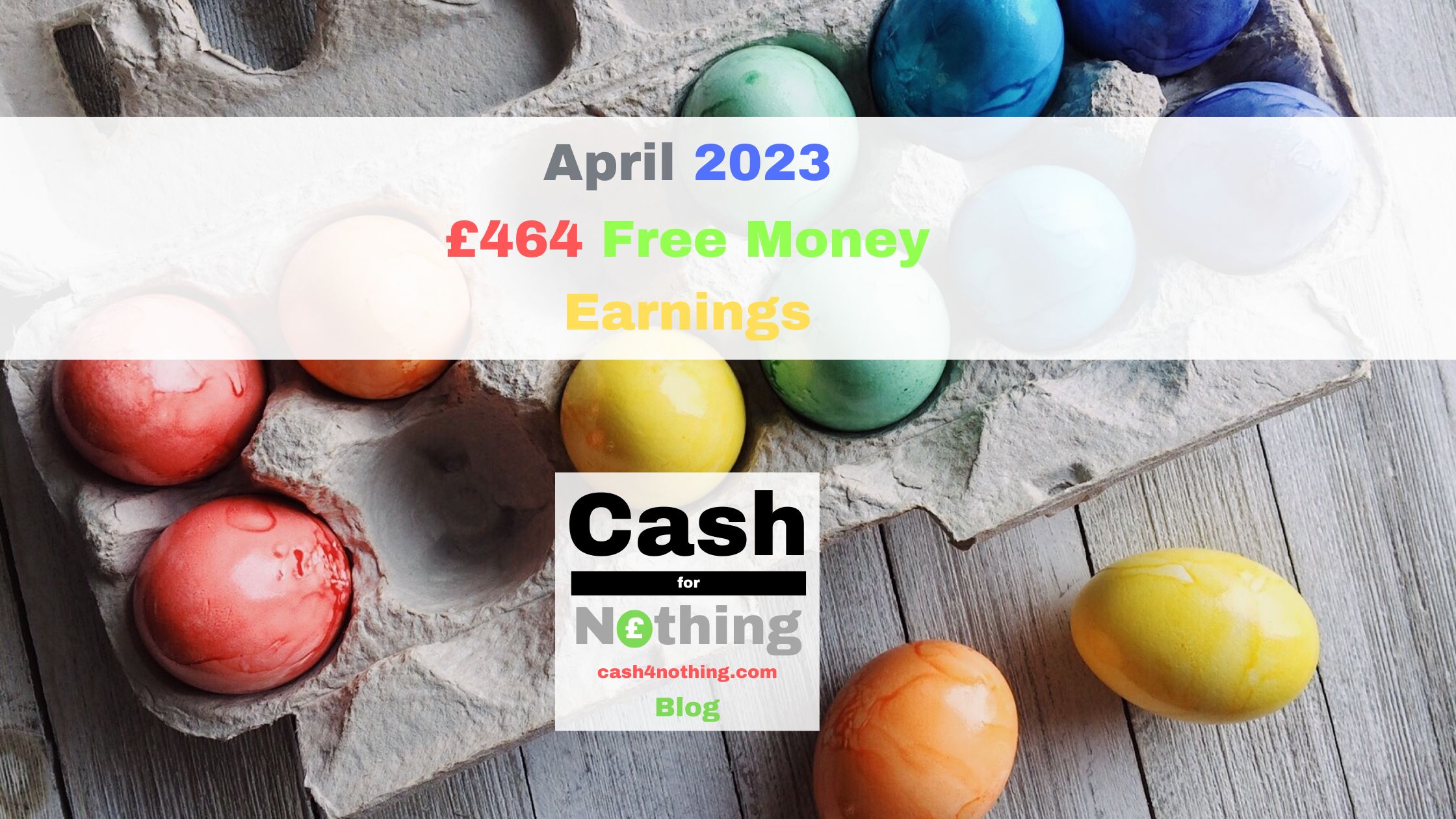 Bank Rewards: £24
Santander Lite Bank Account: £5
Halifax Reward Account 1: £5
Halifax Reward Account 2: £5
Barclays Blue Rewards: £3
RBS My Rewards: £3
Natwest My Rewards: £3
Interest on Savings: £22
Barclays Rainy Day Savings Account: £16
RBS Regular Saver: £3
Natwest Regular Saver: £3
Decluttering Sales: £43
Kids glasses: £8
Tennis Racket Bag: £9
Tennis Racket Bag: £14
Used tennis Balls: £12
Cashback: £250
Bank Switch Rewards: £125
| | | |
| --- | --- | --- |
| Free Money Income Stream | Contribution | % Weight |
| Bank Rewards | £24 | 5% |
| Interest on Savings | £22 | 5% |
| Decluttering Sales | £43 | 9% |
| Cashback | £250 | 54% |
| Bank Switch Rewards | £125 | 27% |
| Total | £464 | 100% |
April 2023 Total: £464
£339 over £125 monthly target
---
| | | | | |
| --- | --- | --- | --- | --- |
| Month | Free Money Earnings | +/- Monthly Target (£125) | Accumulative | to Year End Objective (£1,500) |
| January | £124 | -£1 | £124 | £1,376 |
| February | £42 | -£83 | £166 | £1,334 |
| March | £146 | +£21 | £312 | £1,188 |
| April | £464 | +£339 | £776 | £724 |
2023 Free Money Earnings: £776
£724 to £1,500 Annual Target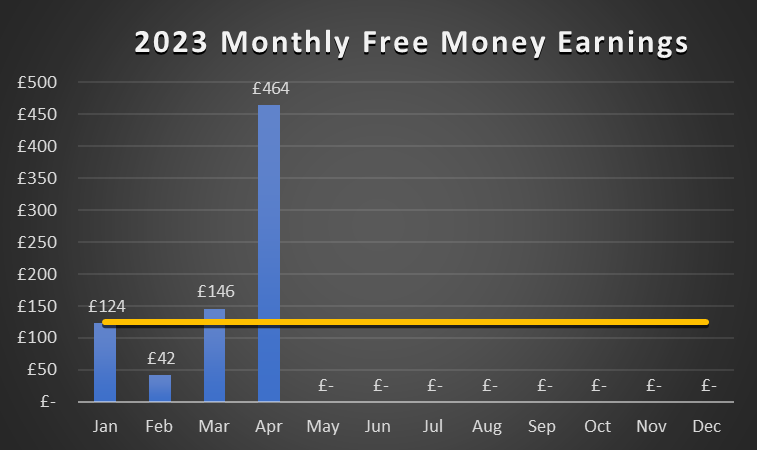 I managed to catch a break and gathered £464 pounds Free Money in April 2023. A more decent reward for my effortless activities this month. All free money streams contributed into their pots but the main highlights are a whopping cashback payout of £250 and a bank switch bonus of £125.
Banks rewards. No news is good news. £24 a month passive income does not seem like a lot but it works out close to £300 pounds a year. My objective is £250 and I am confident I will deliver. On target.
Interest on Savings. I am keeping and growing my savings so as long as they remain untouched and all things being equal, I will see a small proportional increase. As a matter of fact, this represents £300 pounds a year for working capital. I see very limited opportunity cost as this money is committed for expenditure in the short term. £25-ish per month is a good enough deal for me.
Decluttering sales. Absolutely nought for months but April brought in four sales. I guess the good weather is much more inviting for outdoors activities and three tennis related sales support that statement. £43 pounds from not needed items is ok but I am still £400 away from reaching my annual target. I will need some focus on this department.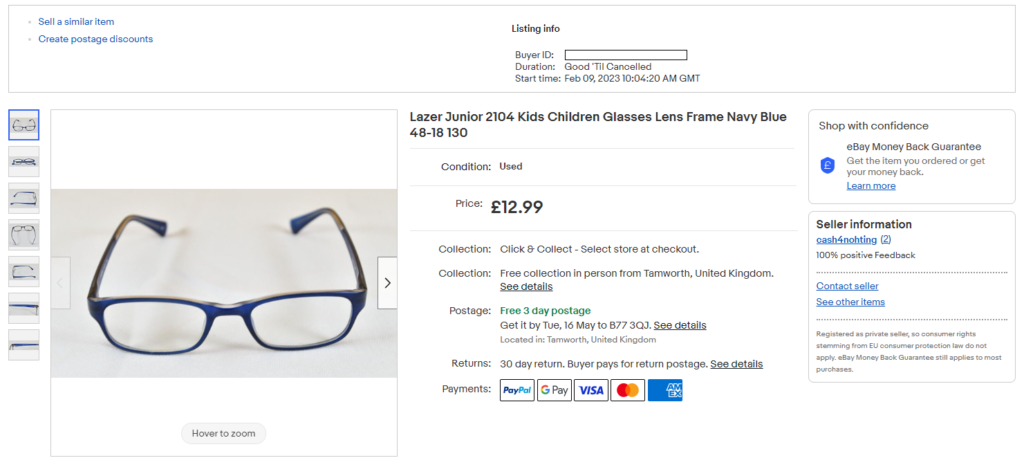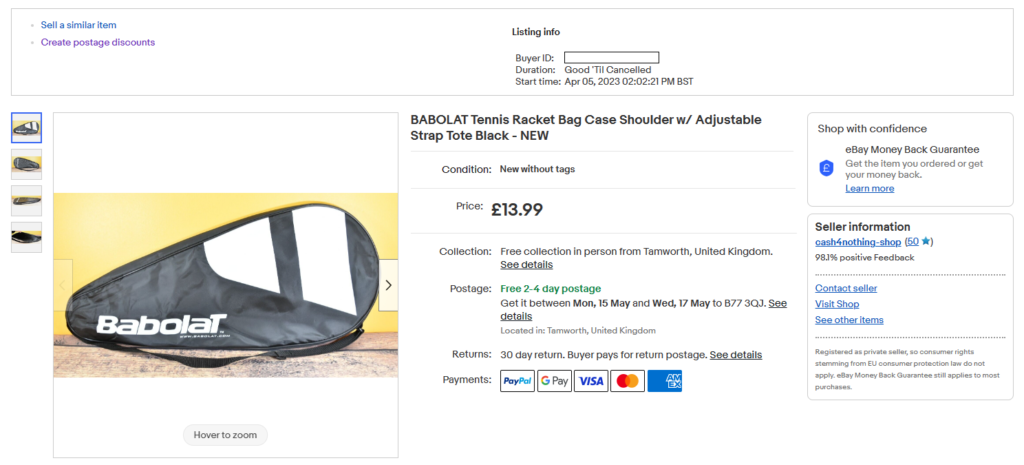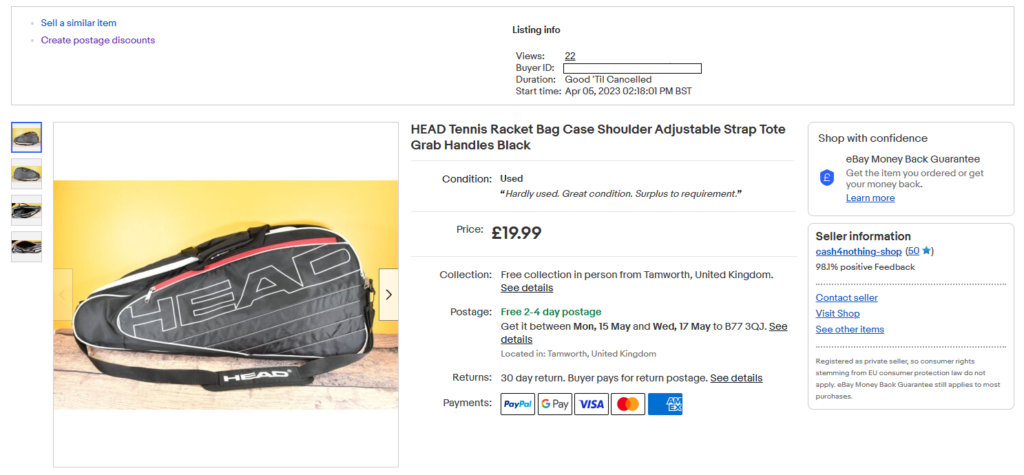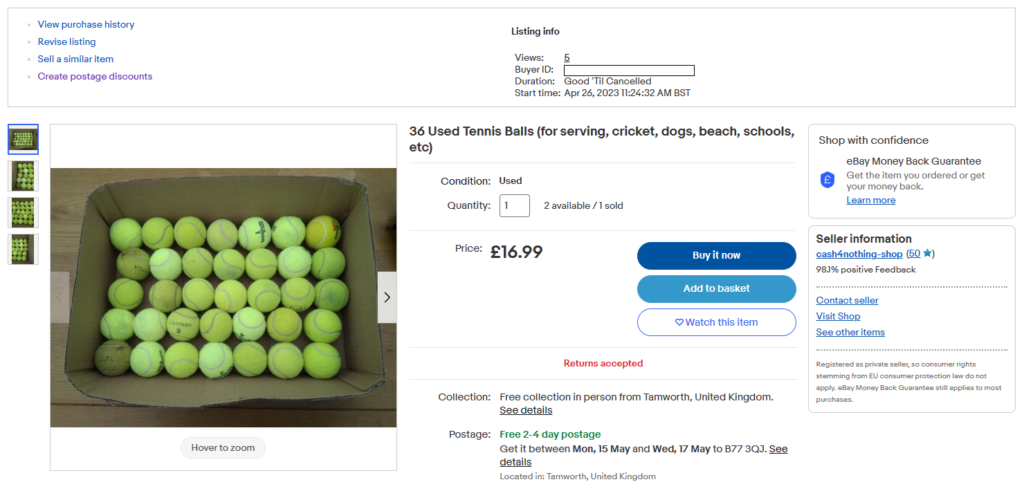 Cashback. I cashed in on my biggest single cashback reward I can recall. I received £250 for opening and funding a Junior ISA for my son. I have elaborated in full detail on the post £250 Cashback for opening a Junior ISA. I am breaking all records in the cashback box this year. So far is £400 pounds and there is plenty more left to collect. Good, good, good.
Bank Switch Rewards. Last but not least, TSB credited my account with a £125 cash reward for switching bank accounts. It also deserved its own post in order to capture the whole process in detail TSB £200 Bank Switch Reward + £20 Cashback. All things going according to plan, I will find myself £220 better-off on this deal only.
I wish Free Money earnings came in a more levelled fashion but months like this bring a smile to my face nevertheless. The counter shows £776 in the first quarter of 2023 or £194 per month as an average. The bar is set at £125 per month and I find myself half way to reaching my £1,500 annual target. Great numbers and all kinds of reasons for feeling upbeat. May is looking good already. I am touching a Grand earnings with my fingertips…