TSB £200 Bank Switch Reward + £20 Cashback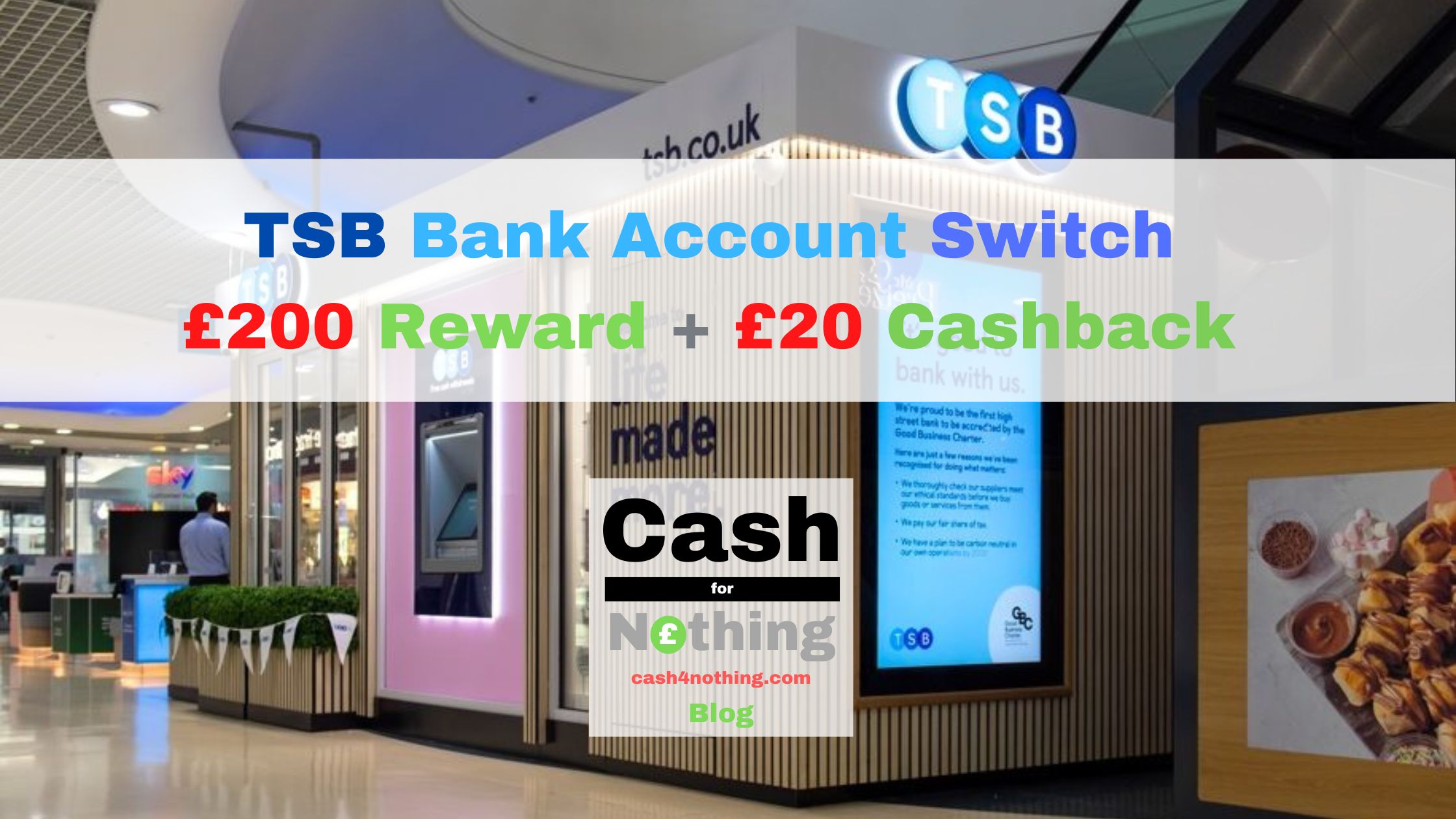 I did not have to wait long to find a suitable Bank Switch Reward for me in 2023. Contrary to the last two previous years where I needed to keep an eye for six and even nine months, this one from TSB came by in February and it is a great offer. I can aim for up to £220 pounds broken down as: £125 for switching, £75 for keeping the account until October 2023 and £20 as cashback if I open the account via TopCashback. It really does not get any easier in terms of Free Money from Bank Account Switches.
First step is to study the Terms & Condition of the offer. I have captured the requirements for the record below (February 2023).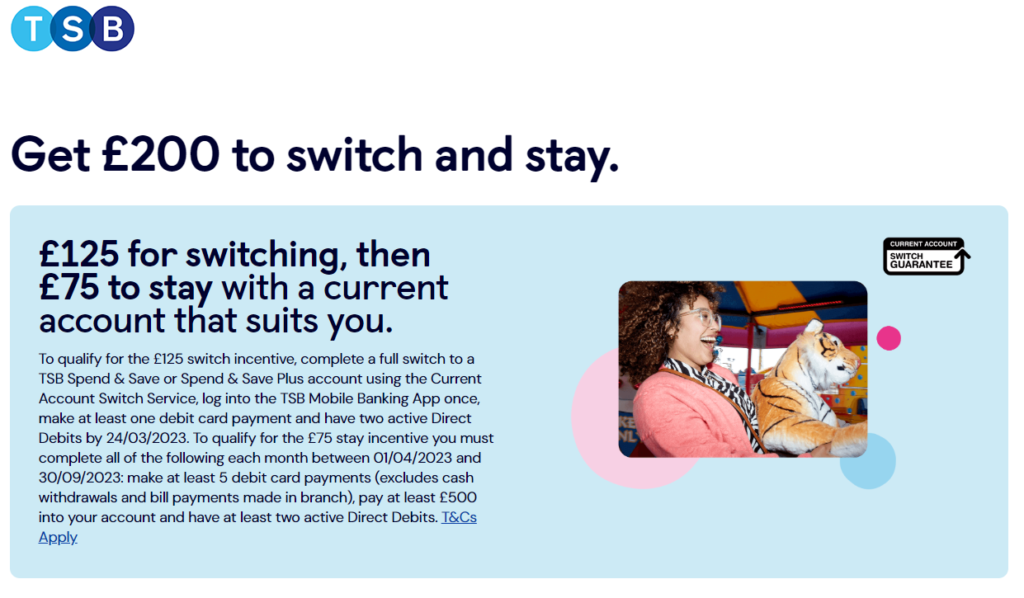 Switching Reward
£125
Additional bonus
£75 extra cashback
Cashback site bonus
£20 if applying via TopCashback
Bonus paid
First payment by 21 April 2023 & second by 31 October 2023
Open to existing customers
Yes
Switching requirements
Switch using the Current Account Switch Service and close old account by 24 March 2023
Switch two direct debits
Use the debit card
Log in to online or app banking
Additional bonus requirements
Pay in £500 a month between February and July
Make 5 debit card transactions between February and July
Keep two active direct debits between February and July
Cashback site bonus requirements
Make two debit payments in three of the four months from opening
Pay in £500 a month in three of the four months from opening
Exclusions
Not already have received a TSB switching bonus since 1 October 2022
Offer limited to once per person and account
Offer ends
3 March 2023 (last date to start a switch)
As a means of a validation questionnaire and also as a plan of action, I need to answer the questions posed and tick the relevant boxes.
Have I received a TSB switching bonus since 1 October 2022? No.
Do I have a donor account for the switch with two active direct debits? Yes. My Santander Everyday Account from which I collected a £160 Switch Reward last time round (see post Santander Bank Account Switch Offer £160 up for grabs).
Can I apply via TopCashback? Yes.
Can I pay £500 into the account until October 2023? Yes. Most likely out of need as one of the direct debits is for my spending credit card.
Can I use the TSB debit card at least five times a month? Yes. For a number of small purchases.
Having answered all my FAQs, this will be my plan in a nutshell:
1. Apply for a TSB account via TopCashback providing the previous account I switched to as the donor for the switch (£125).
2. Pay in £500 a month and use the debit card 5 times a month until October 2023, at which point, I will use this account for the next switch (£75 + £20).
I think I can effortlessly manage that. If I stick to this plan, not only I will meet my annual target of £200 from bank switches but I will get £20 cashback on top. Done deal.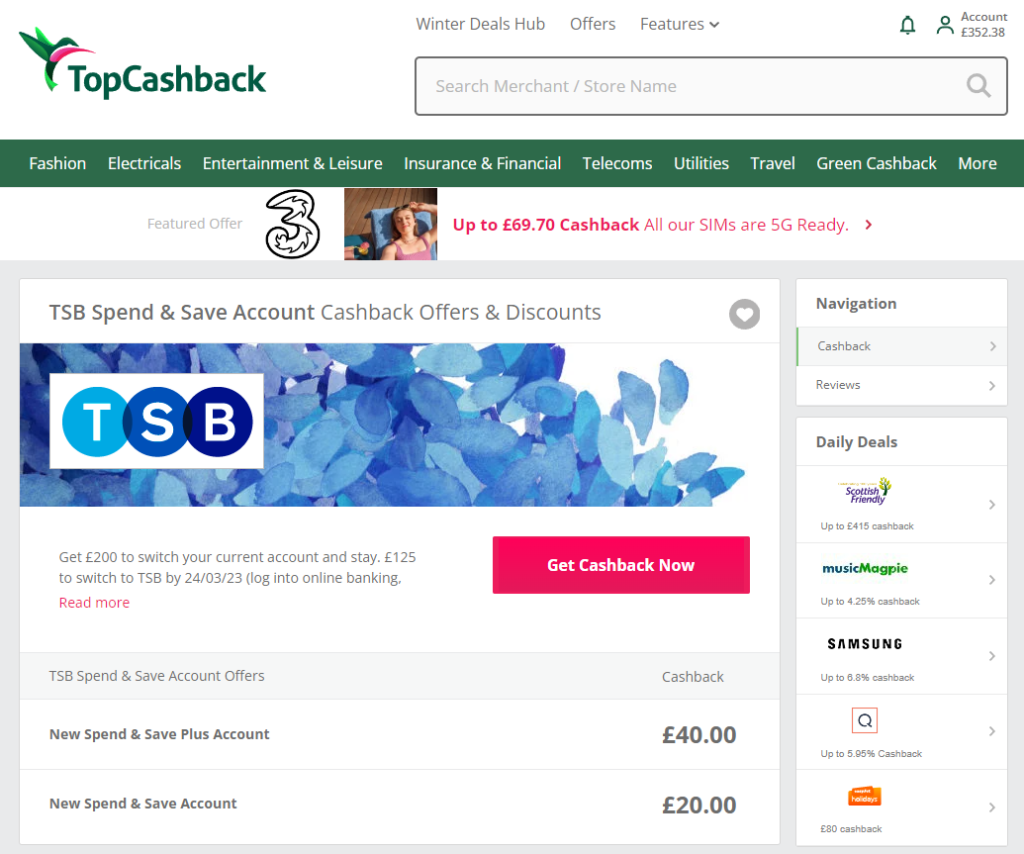 Right then. Let's do this. So I logged into TopCashback only to find that I was presented with two options to open a TSB account. One offering £40 cashback and the second offering £20. Which one should I pick?
After delving into the details, I found that the Plus Account attracts a £3 monthly Fee. Since I need to keep the account opened until September to qualify for the £75 extra bonus, that would mean seven months of fees (7 months x £3 = £21). Not really worth it. I will go for the basic Spend & Save Account.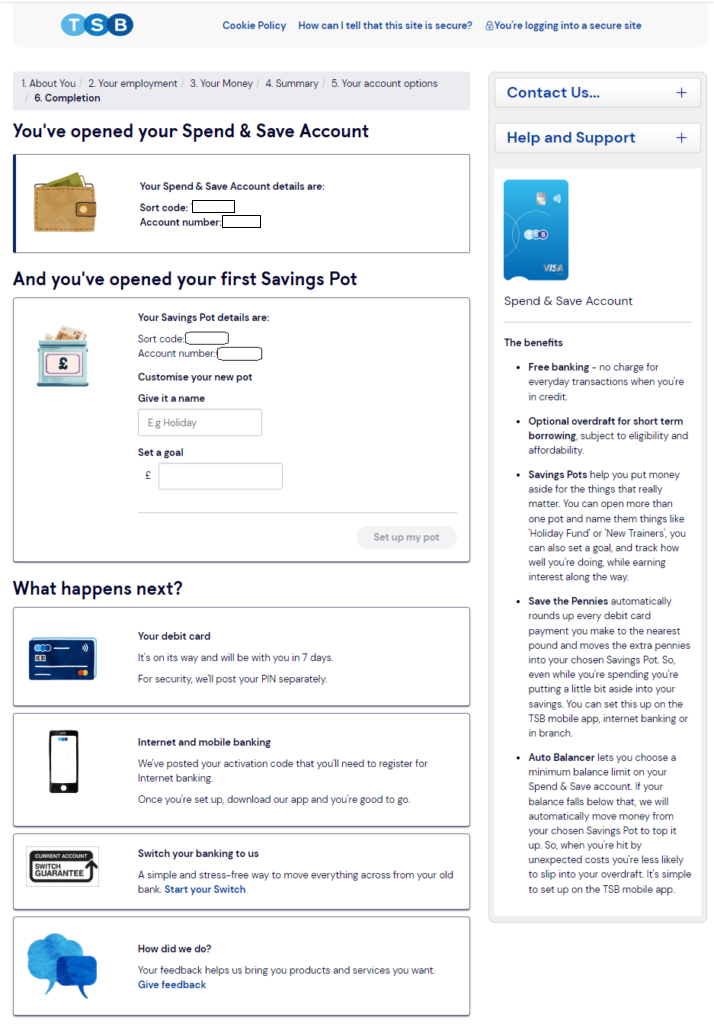 As it is usually the case, it took five minutes to open the account and get immediate approval. From then on, they will take care of the switch and all I need to do is to make sure cash flows and expenditure are within the parameters of the offer.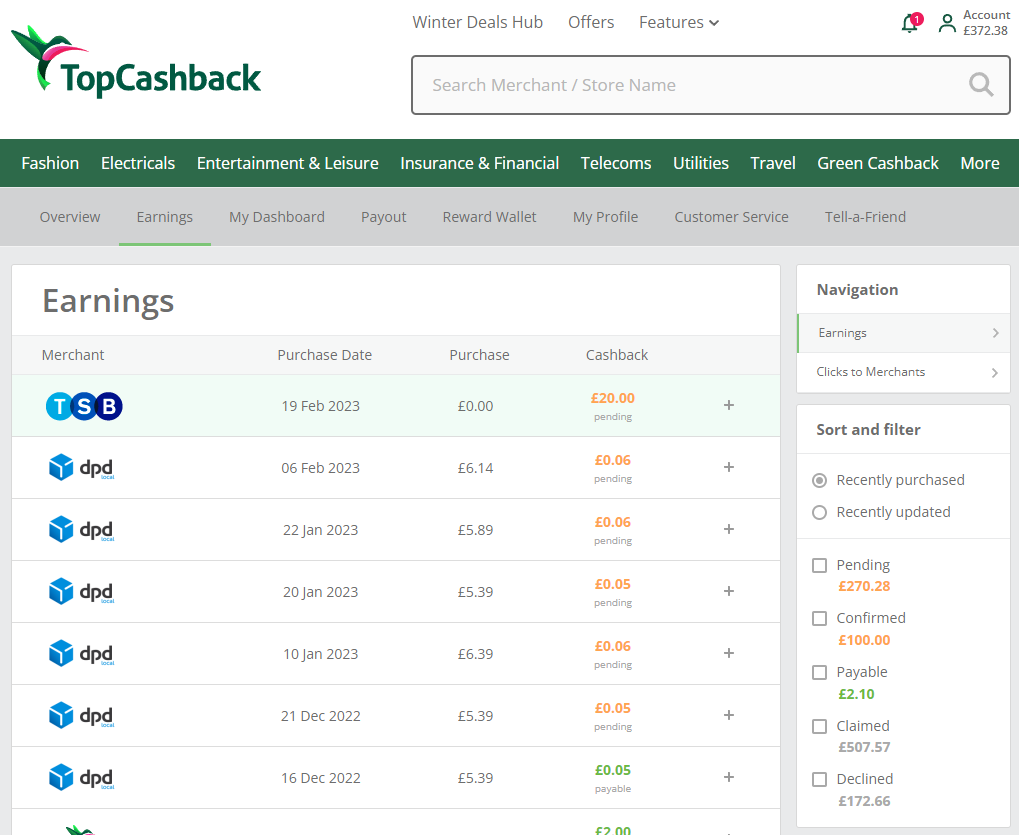 The transaction tracked on the day (19th of February 2023) and the bonus got credited nearly two month later (17th of April 2023).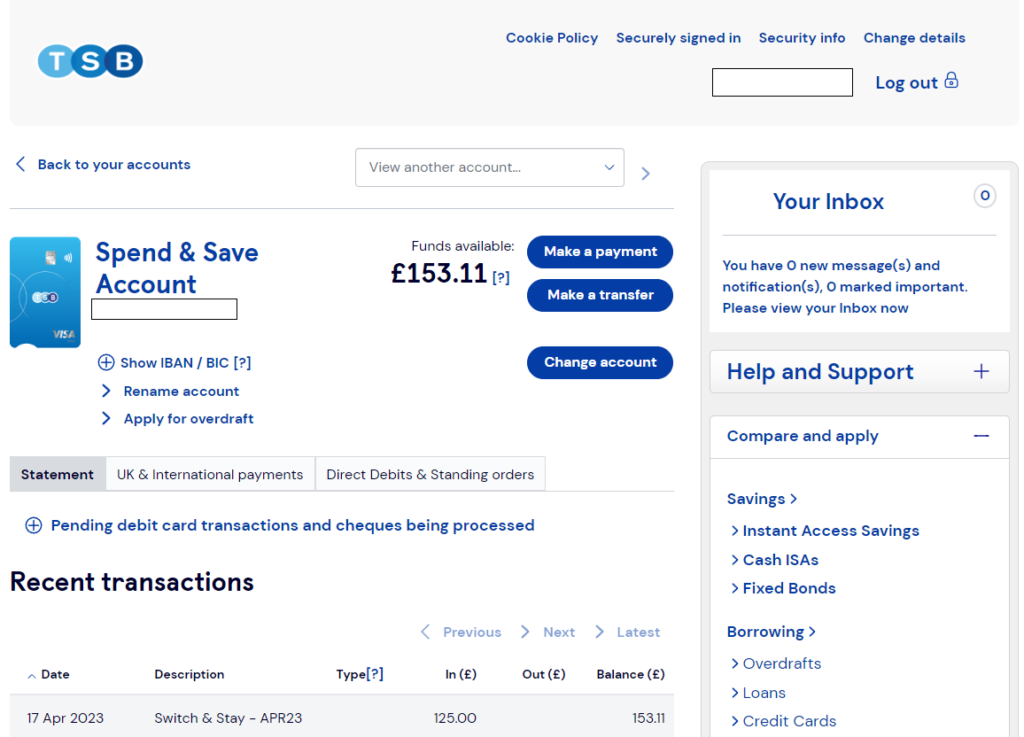 Thanks very much Mr TSB, I will be meeting my end of the deal for a few more months and will be looking forward to an additional £95 pounds of Free Money. It is no sacrifice. At all.
Current Account Switch Service
The Current Account Switch Service (CASS) process is automatic and straightforward. All it takes is to request a switch during the application process at the time of opening a new account with the bank of your choice. Most banks are signed up to CASS, meaning that the switching service will work on the background closing the old account and moving money, direct debits, standing orders, payments (ie: salary), etc. to the new bank account. The process is completed in seven working days.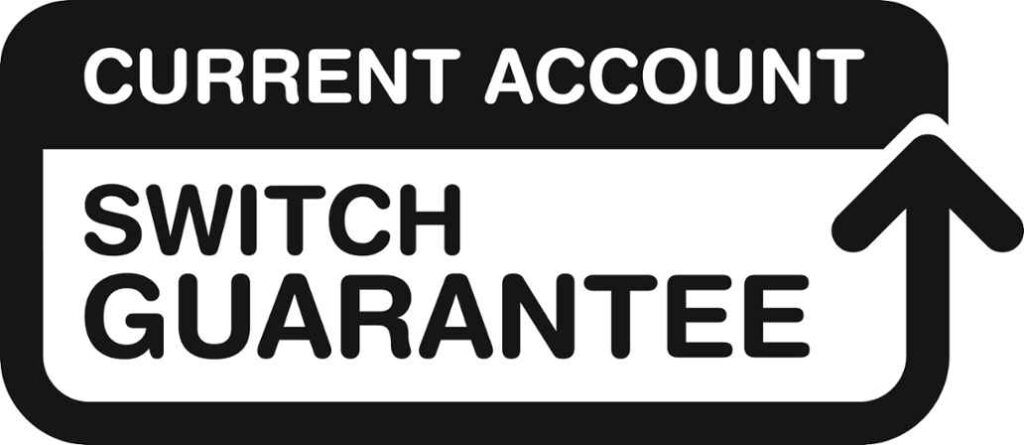 Should the unexpected happen, CASS makes sure that during the first three years after the switch, any moneys paid into the old account or mistakenly coming out of it will be transferred to the new account. Also, if there are charges involved due to an error during the switch process, they will be refunded by the new bank.