July 2023 Free Cash Earnings Report £77 Free Money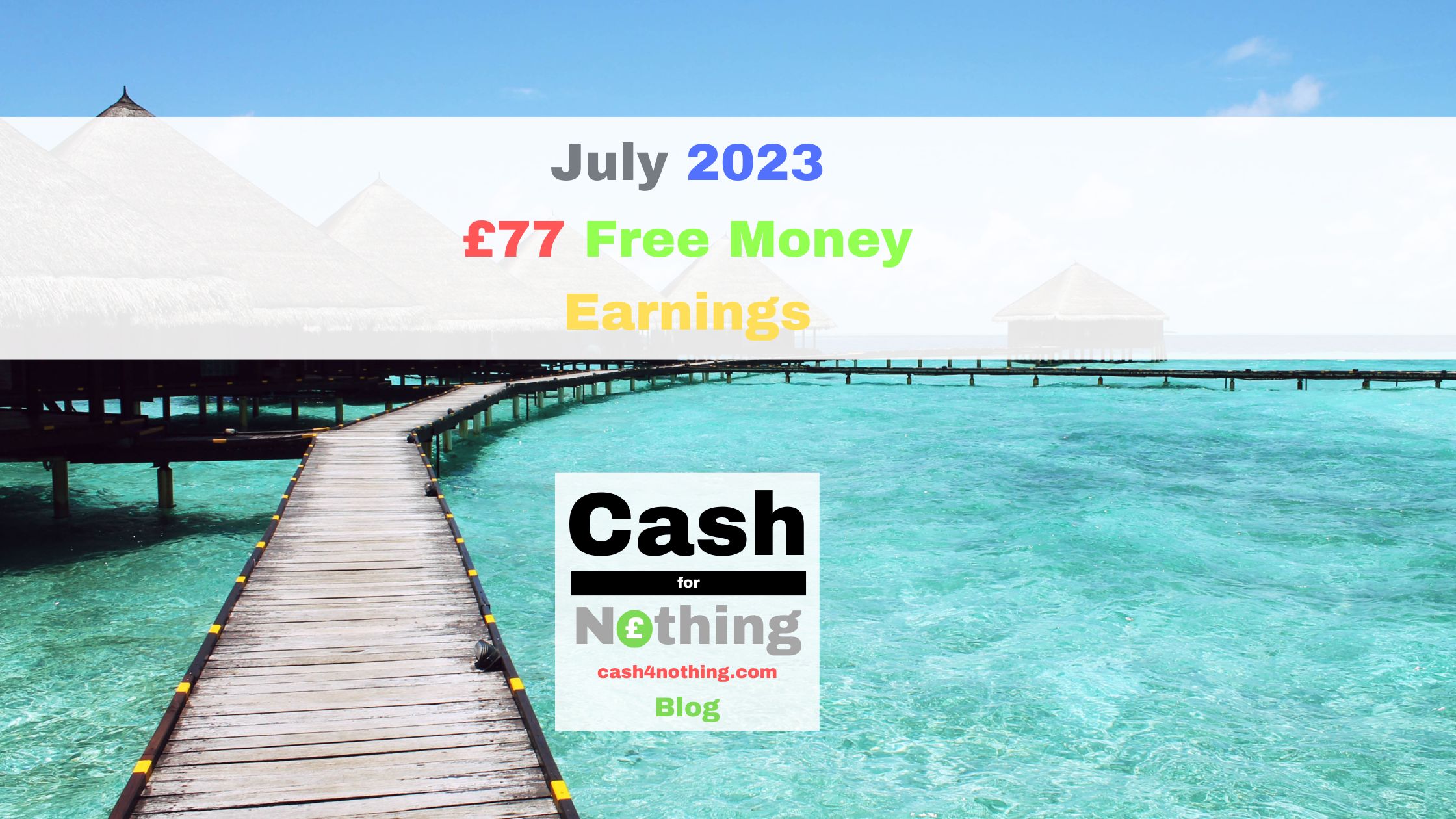 Bank Rewards: £30
Santander Lite Bank Account: £11
Halifax Reward Account 1: £5
Halifax Reward Account 2: £5
Barclays Blue Rewards: £3
RBS My Rewards: £3
Natwest My Rewards: £3
Interest on Savings: £25
Barclays Rainy Day Savings Account: £13
RBS Regular Saver: £6
Natwest Regular Saver: £6
Cashback: £22
TSB Bank Account: £20
Casual purchases: £2
| | | |
| --- | --- | --- |
| Free Money Income Stream | Contribution | % Weight |
| Bank Rewards | £30 | 39% |
| Interest on Savings | £25 | 32% |
| Cashback | £22 | 29% |
| Total | £77 | 100% |
July 2023 Total: £77
£48 bellow £125 monthly target
---
| | | | | |
| --- | --- | --- | --- | --- |
| Month | Free Money Earnings | +/- Monthly Target (£125) | Accumulative | to Year End Objective (£1,500) |
| January | £124 | -£1 | £124 | £1,376 |
| February | £42 | -£83 | £166 | £1,334 |
| March | £146 | +£21 | £312 | £1,188 |
| April | £464 | +£339 | £776 | £724 |
| May | £211 | +£86 | £987 | £513 |
| June | £159 | +£34 | £1,146 | £354 |
| July | £77 | -£48 | £1,223 | £277 |
2023 Free Money Earnings: £1,223
£277 to £1,500 Annual Target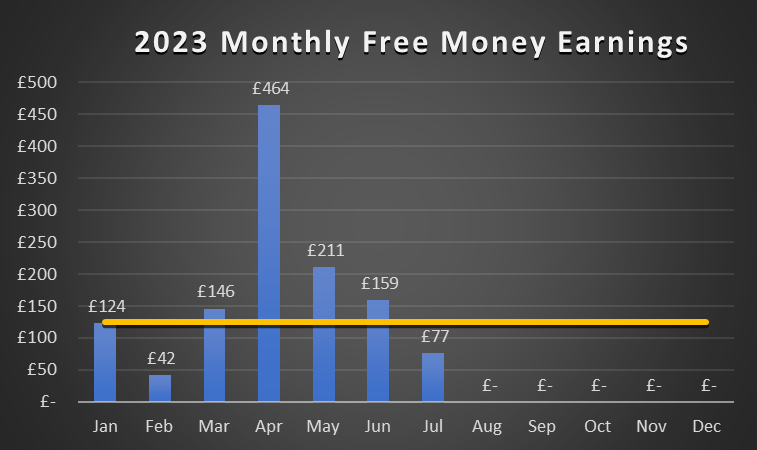 Only £77 pounds Free Money in July 2023. £48 pounds bellow £125 monthly target but still £175 as a monthly average if I divide total earnings of £1,223 by seven months. There is a £277 gap to be bridged to deliver £1,500 in Free Money earnings in 2023. It is not a matter of maybe but a case of how long before December. I just know.
Bank rewards. I was awarded £11 pounds from my Santander bank account. As for the other five accounts, all sums remaining equal ensured an additional £19 pounds. £30 in total out of nothing.
Interest on Savings. I had to make use of some of my savings meaning a small reduction in interest payment takings. £25 pounds out of thin air is still a more than decent proposition for money already committed.
Cashback. A couple of casual purchases brought in £2 pounds but the relevant gain came from switching bank accounts to TSB back in February 2023 (see post TSB £200 Bank Switch Reward + £20 Cashback). I was paid £125 pounds for the switch in April and should be expecting £75 pounds more by October for keeping the account opened. Alongside the £200 switch reward, a £20 cashback bonus was finally made available for payment. All in all £22 pounds cashback into the pot.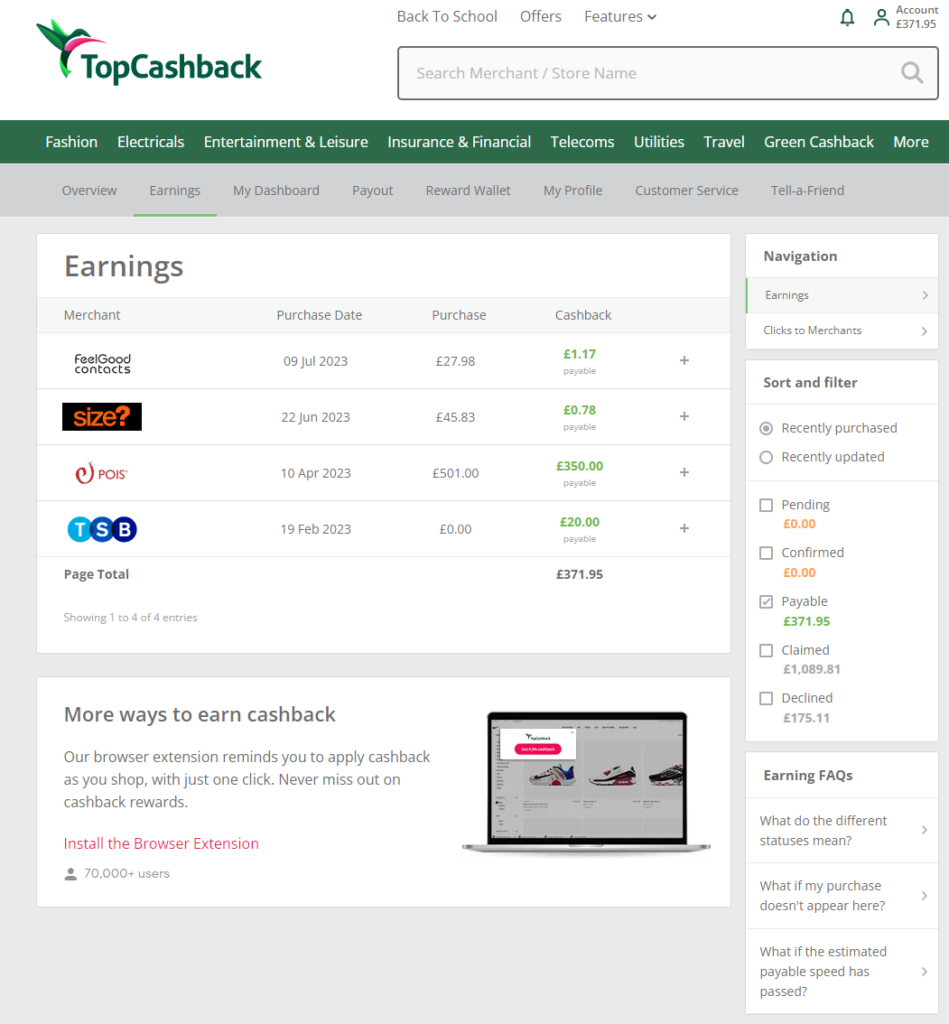 That's it. Not a lot to report really other than steady effortless earnings. I will pick things up after the summer break. I have a bunch of Free Money making activities to tackle ideally taking me to the £2,000 mark for the year. For the time being, I will sip away a few cocktails by the beach. See you shortly.