£350 Cashback for opening a Stocks & Shares ISA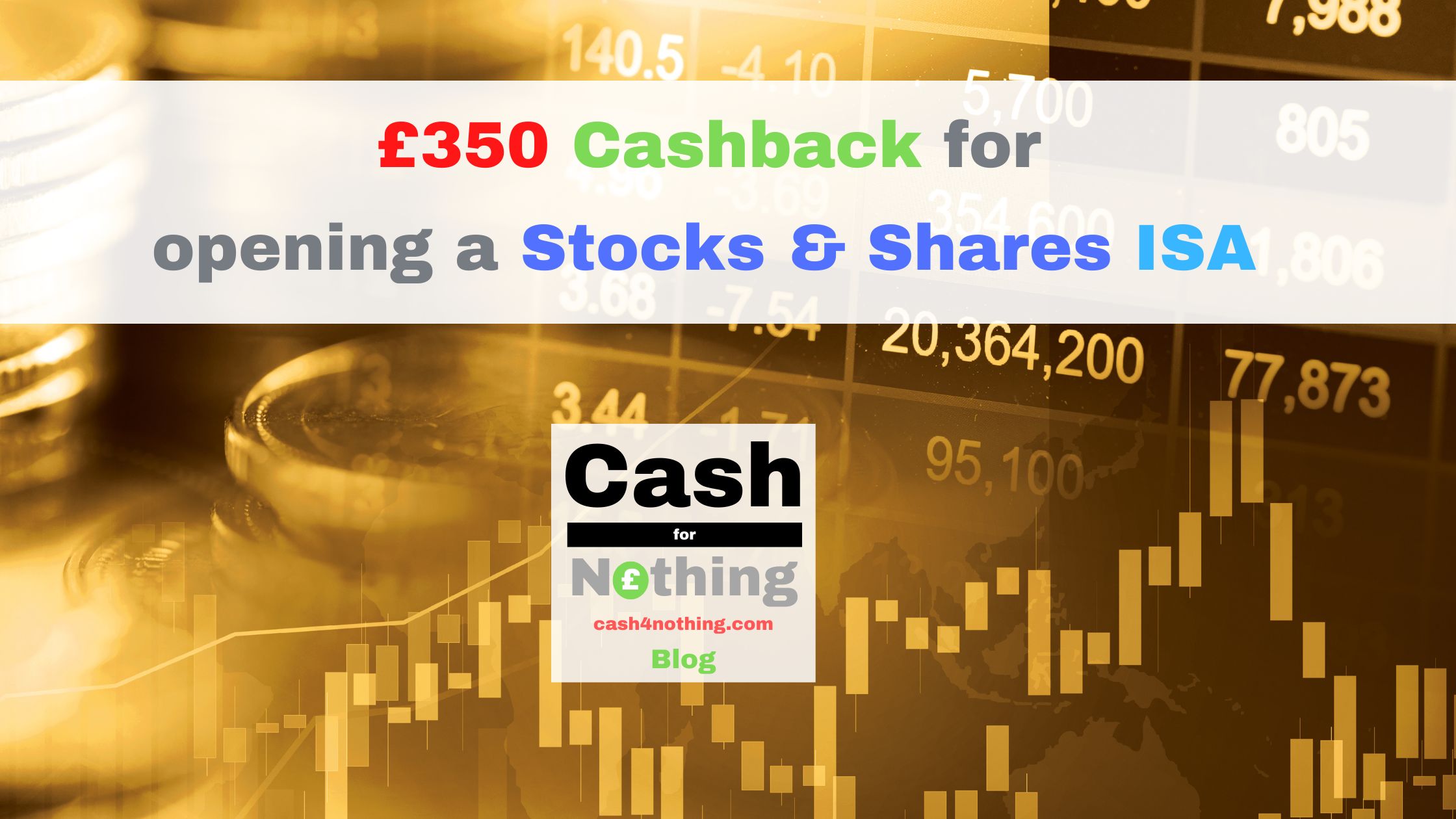 Free Money on top of Free Money on top of Free Money. What I am meaning is that I am using Free Money to make Free Money which I then place in ISAs to make additional Free Money. It is a triple whammy strategy which delivers nice returns out of nothing. Allow me to elaborate.
Resources
It is now April 2023 which marks the beginning of the New Financial Year. At this point, I happen to have put together approximately £2,000 pounds in my Stocks & Shares ISA Pot all of them coming from my Free Money proceeds over the last two years. As a refresher, let me remind you that my Investment Strategy dictates that 60% of my earnings are deposited in a Cash ISA, 30% goes towards a S&S ISA and 10% is not deployed and kept as Cash Reserves. I also do this in multiples of a hundred pounds so, as for example, if I earned £242 in March 2023, I would deploy £200 in this fashion (£120 Cash ISA, £60 S&S ISA and £20 Cash Reserves) and keep the remaining £42 as awaiting deployment to be added to the following month's earnings.
To illustrate the current state of affairs, the make up of my Free Money Fund as of March 2023 is shown on the graph bellow.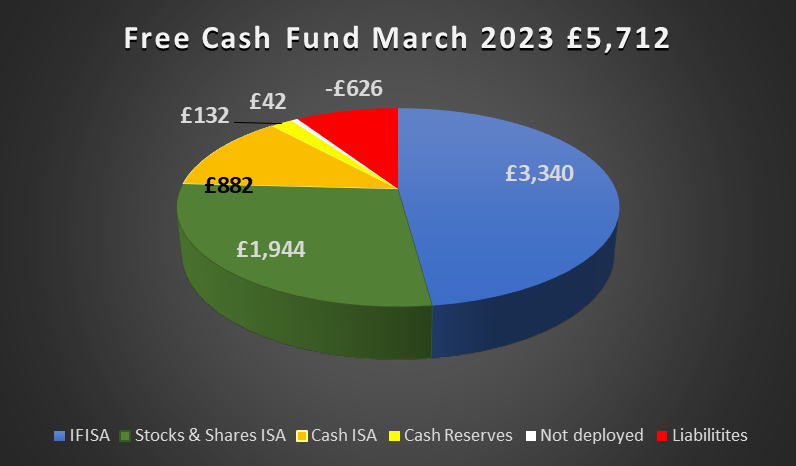 On the other hand, I have made £312 Free Money up to this point and need to be making £1,200 more over the remaining nine months of the calendar year to meet my £1,500 Free Money Earnings Objective. From a resource availability point of view, my logic is: first, I can expect at least £360 (30% of £1,200) to find a home in my S&S ISA Pot from now until January 2024, and second, if need be, I can withdraw moneys from my ISA accounts and make use of those funds as I deem fit.
Goal
A key element to consider is the fact that the HMRC rules that I can have as many ISA accounts as I wish but I can only contribute to one of them in a given financial year. On this basis, the question I pose to myself is: what is stopping me from opening a Stocks and Shares ISA every financial year and contribute into it from my S&S Pot in order to gain the highest Cashback Reward possible? You guessed right: absolutely nothing.
Is this not line of thinking somewhat risky and/or whimsical? Again, let me remind you that my mindset is that since this is Free Money that is not supposed to be there in the first place I can afford to lose it. The other point is that I have an Investment Strategy I do adhere to regardless. In my head, it will be a waste not to make good use of the cashback opportunities out there as long as they are in alignment with my long term investment goals.
In a nutshell:
Resources: £2,000 in ISA accounts + £40 approximately per month over the next nine months.
Goal: maximise cashback reward from opening a Stocks & Shares ISA account.
Plan: navigate cashback offers studying Terms & Conditions individually in view to selecting the highest cashback for my money resources.
Plan
Having established resources and defined my goal, it is time to go ahead with the Plan. What I need to do is to produce a list of potential candidates and look at each one by one. I will then shortlist the most appealing ones and eventually will make a decision based on a reward/constraints ratio.
By visiting TopCashback and typing 'Stocks Shares ISA' in the search box, I come up with the following merchant list: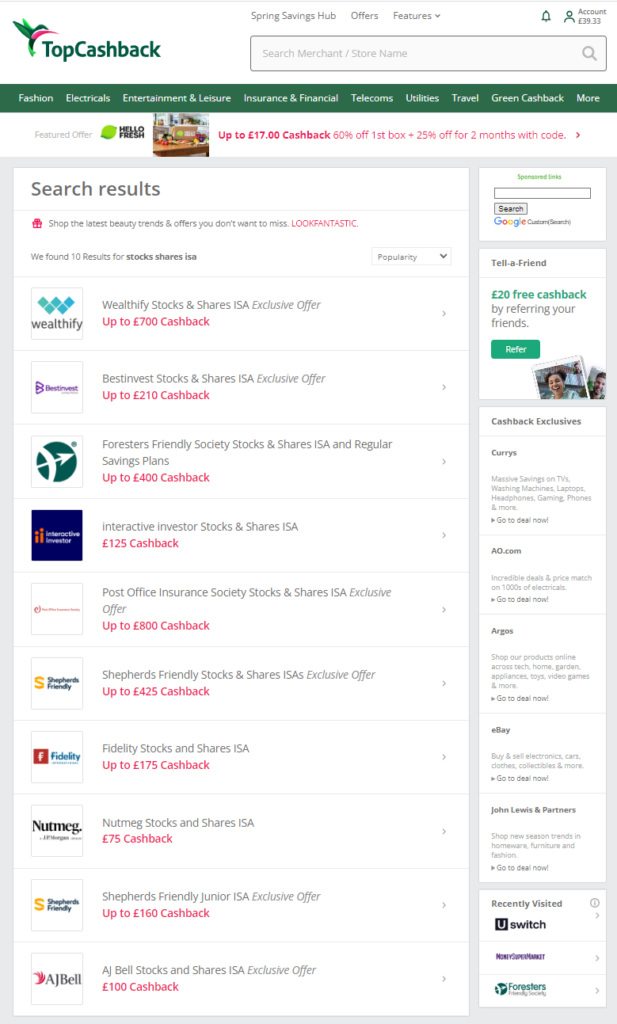 The cashback reward bracket goes from as little as £75 to a whopping £800. I need to delve into the fine detail in order to select the ones for which I potentially qualify.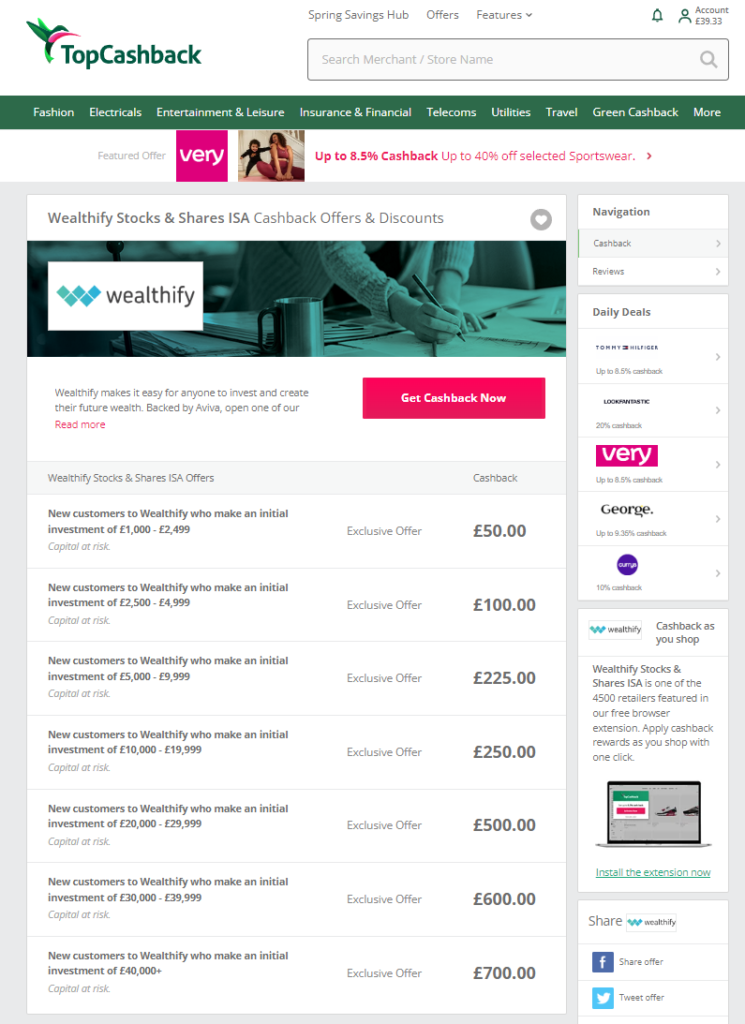 It would be nice to have £40,000 available for investing to pick up a £700 reward. In my case, I can aim for £100 if I really stretch myself.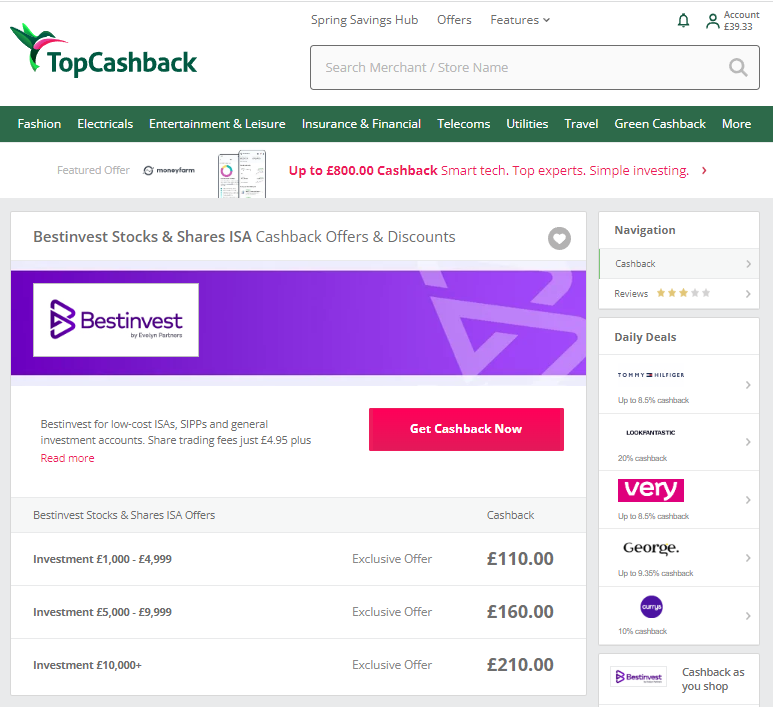 I do qualify for a £110 but I cannot reasonably expect to reach the higher cashback tiers on this one.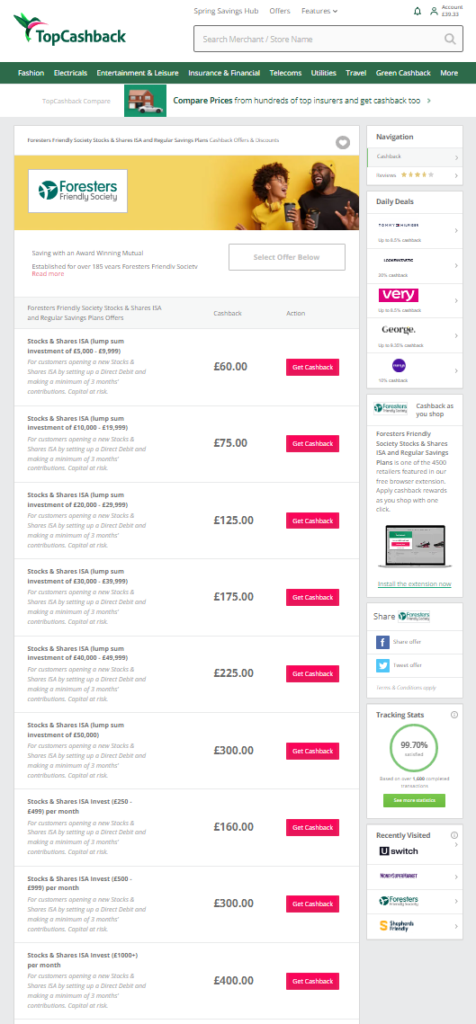 Lump sums of thousand of pounds are out of the question, however, I do fall into the £300 category by investing £500 per month for three months.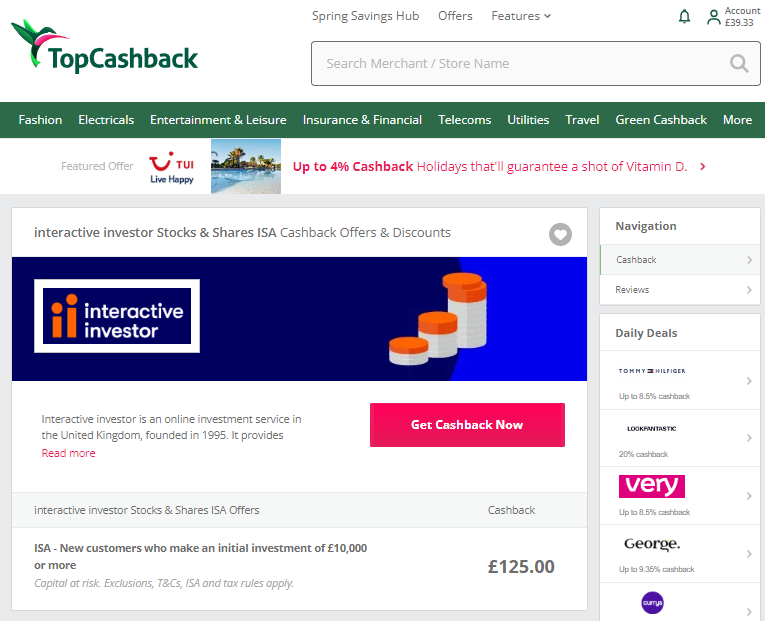 This offer is clearly unattractive by comparison with the previous three. It rules itself out.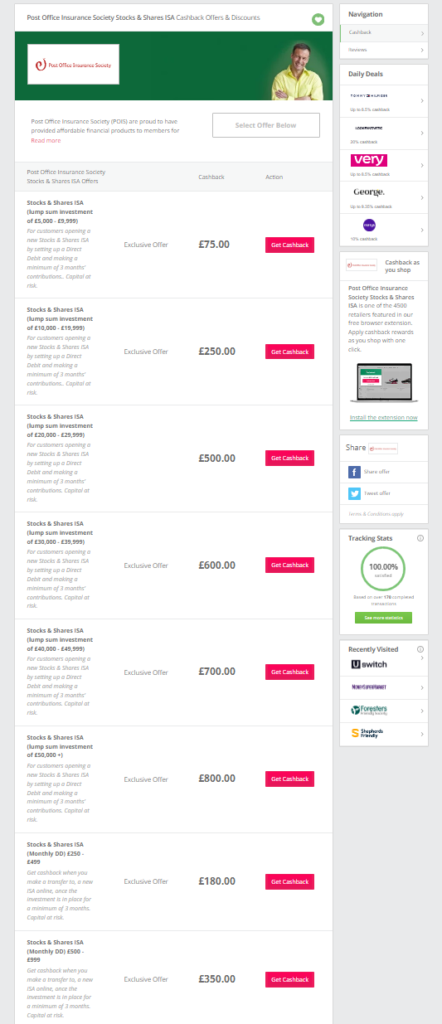 Similarly to Foresters, Lump sums of tenths of thousand of pounds will not do for me. By contrast, I can collect £350 cashback by investing £500 per month for a minimum of three months.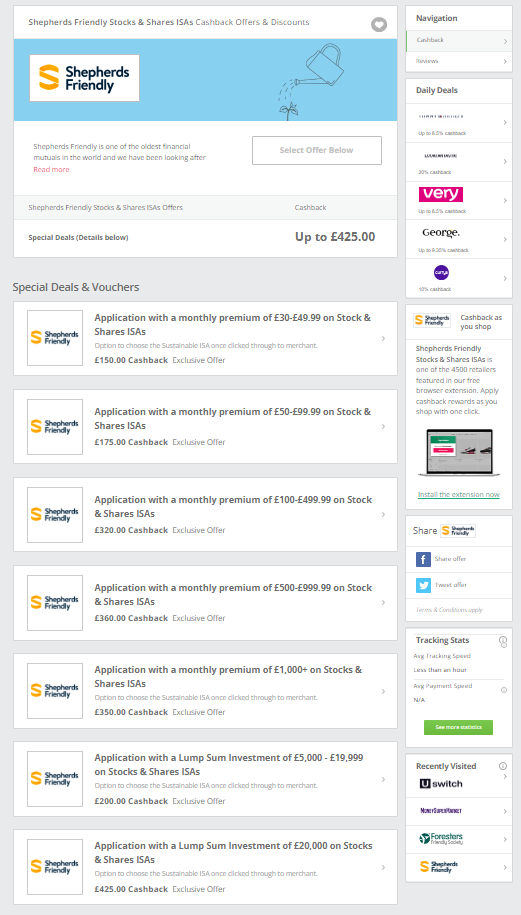 I can target £320 by contributing £100 to £499.99 or £360 by paying £500 to 999.99 into this ISA account. Problem is I will need to keep investing for at least nine months before cashback is made available for payment. A definite maybe.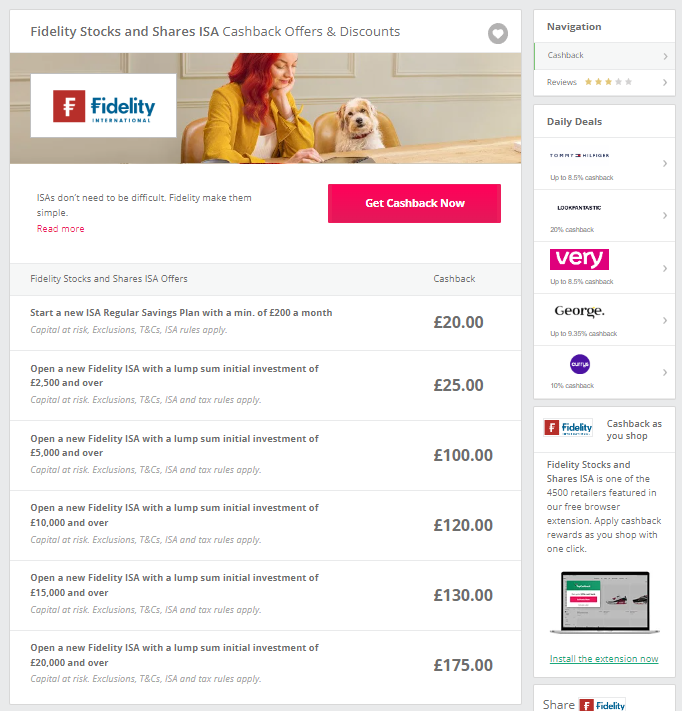 £20 or £25 cashback is not worth my while. At all. Let's move on quickly to the next deal.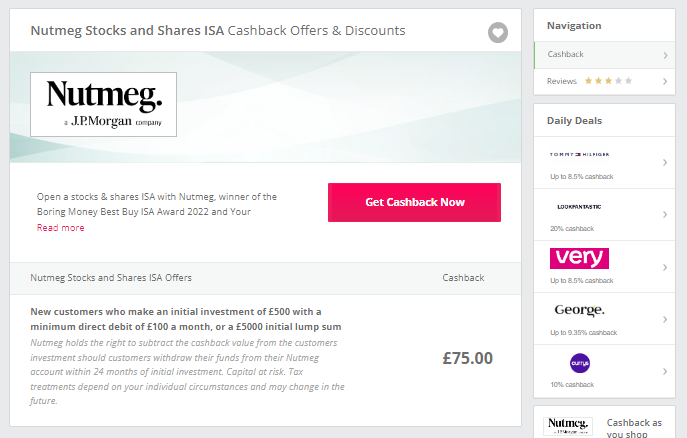 This offer is very much doable but not competitive enough in the context of other offers. It is a no.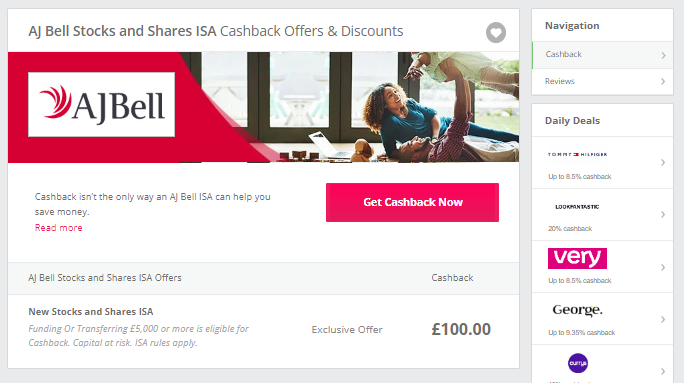 I just do not have £5K for a mere £100 reward. Another closed street.
Decision time
Right then. The undisputable winner is the Post Office Insurance Society with a huge £350 Cashback Reward. That is £50 more than the second contender falling within my means (Foresters). Having done the ground work, now comes the easy part. That is clicking on the TopCashback link to their site and applying for a Stocks & Shares ISA account making sure during the application process that my direct debits are set up to collect a minimum of £500 pounds per month.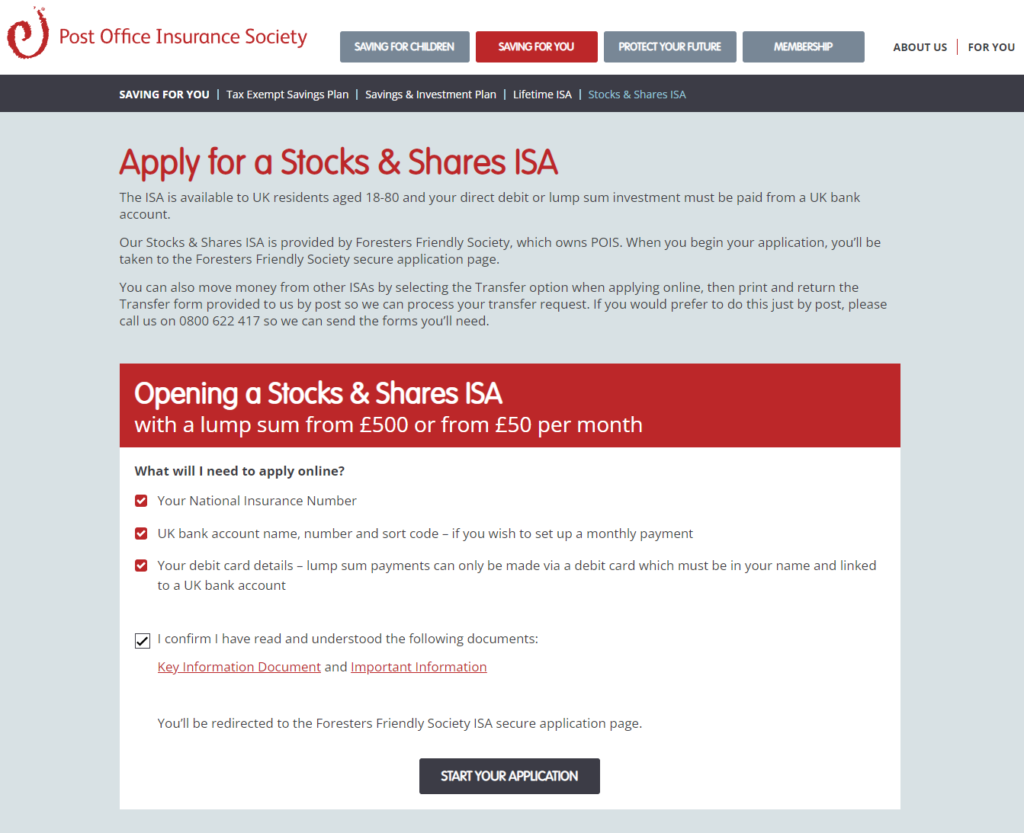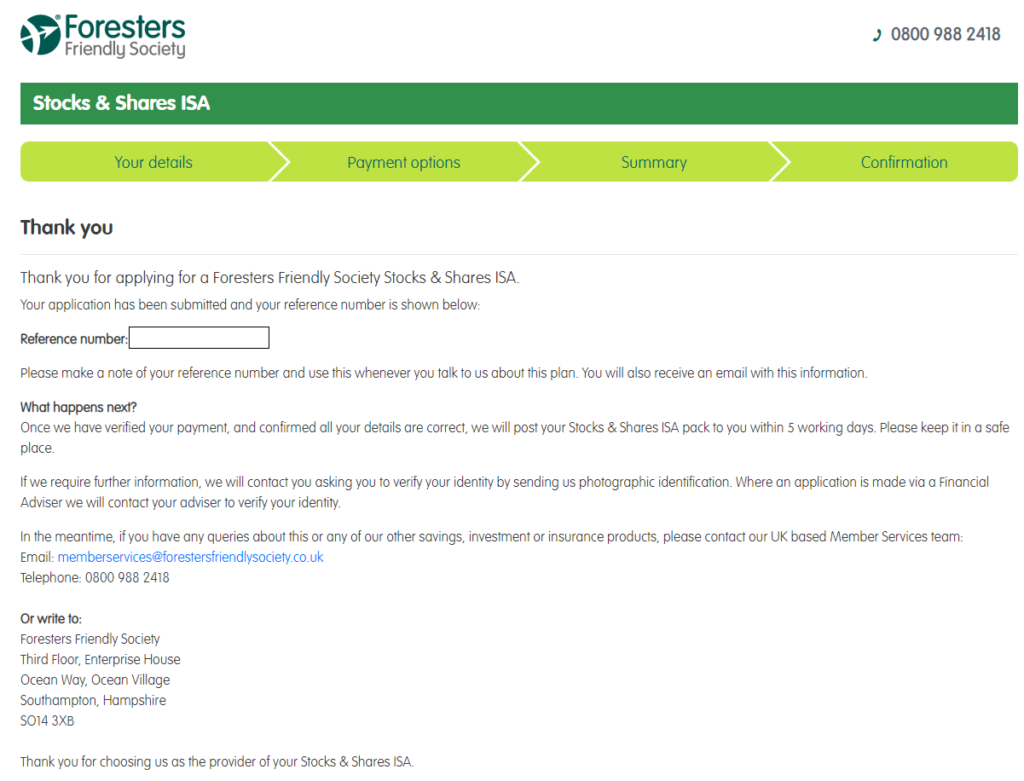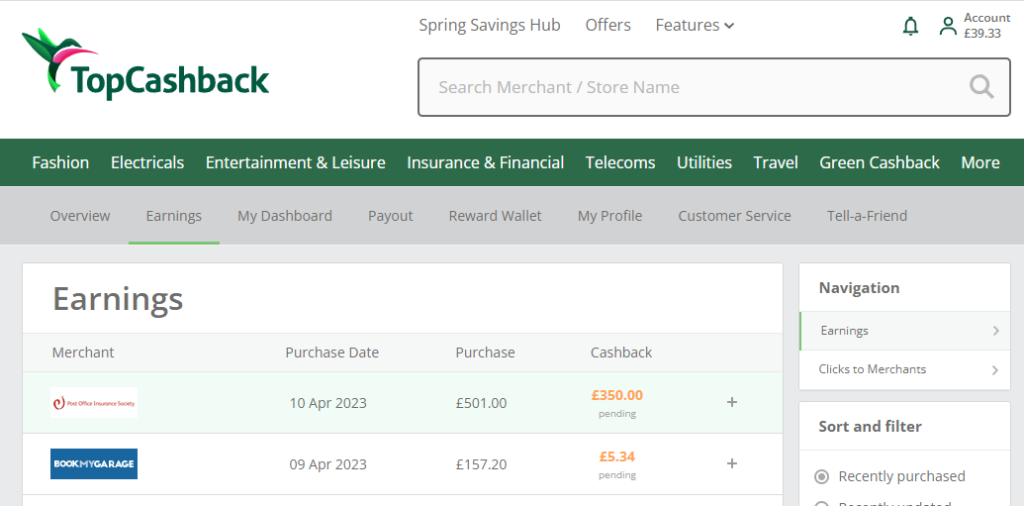 As it is usually the case, once the account was opened, the transaction tracked correctly and was captured in my TopCashback account. My task from now is to send £501 pounds every month over the next three months as a mixture of a 30% of my Free Money Earnings and withdrawals from my existing S&S ISA accounts.
Time to collect the £350 Cashback Reward
Fast forward to mid August 2023 and the transaction has just been greened up. £350 is the single highest cashback earning I have ever collected. By far. Needless to say that I do feel ecstatic with my takings. If there is a definition of free easy money this is it. I trust that some of you out there are making a good note.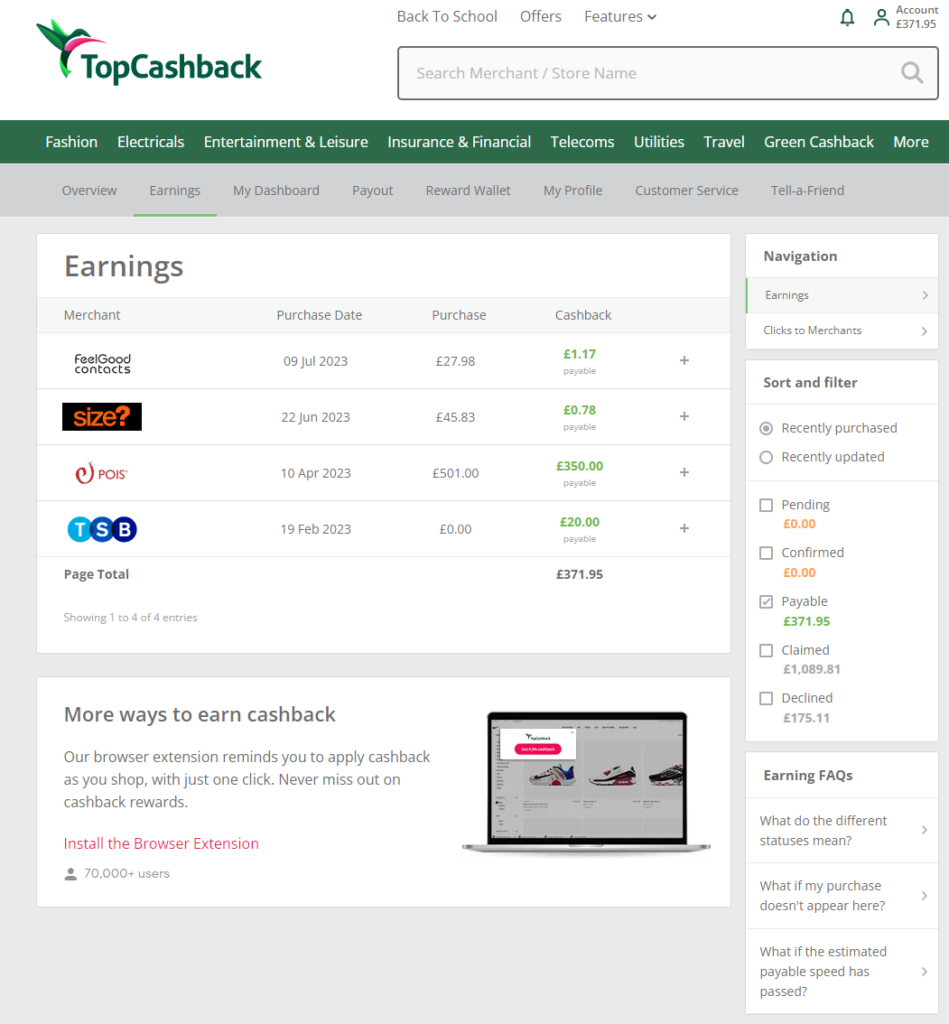 Since my S&S Money Pot will keep growing, I do fully intend to repeat this exercise at the beginning of every financial year. I do strongly feel that I will be at a loss if I was not to pursue this avenue.
My intention throughout this post has been to exemplify the fact that I used Free Money (S&S ISA Pot) to make Free Money (Cashback) which will be making additional Free Money (Fund will be appreciating in value over time, I hope). For the time being, I am £350 pounds better-off and have made £981 pounds from cashback alone so far this year. As tremendous as it feels there is still more to come. Stay tuned.