£230 Cashback for opening a Stocks & Shares ISA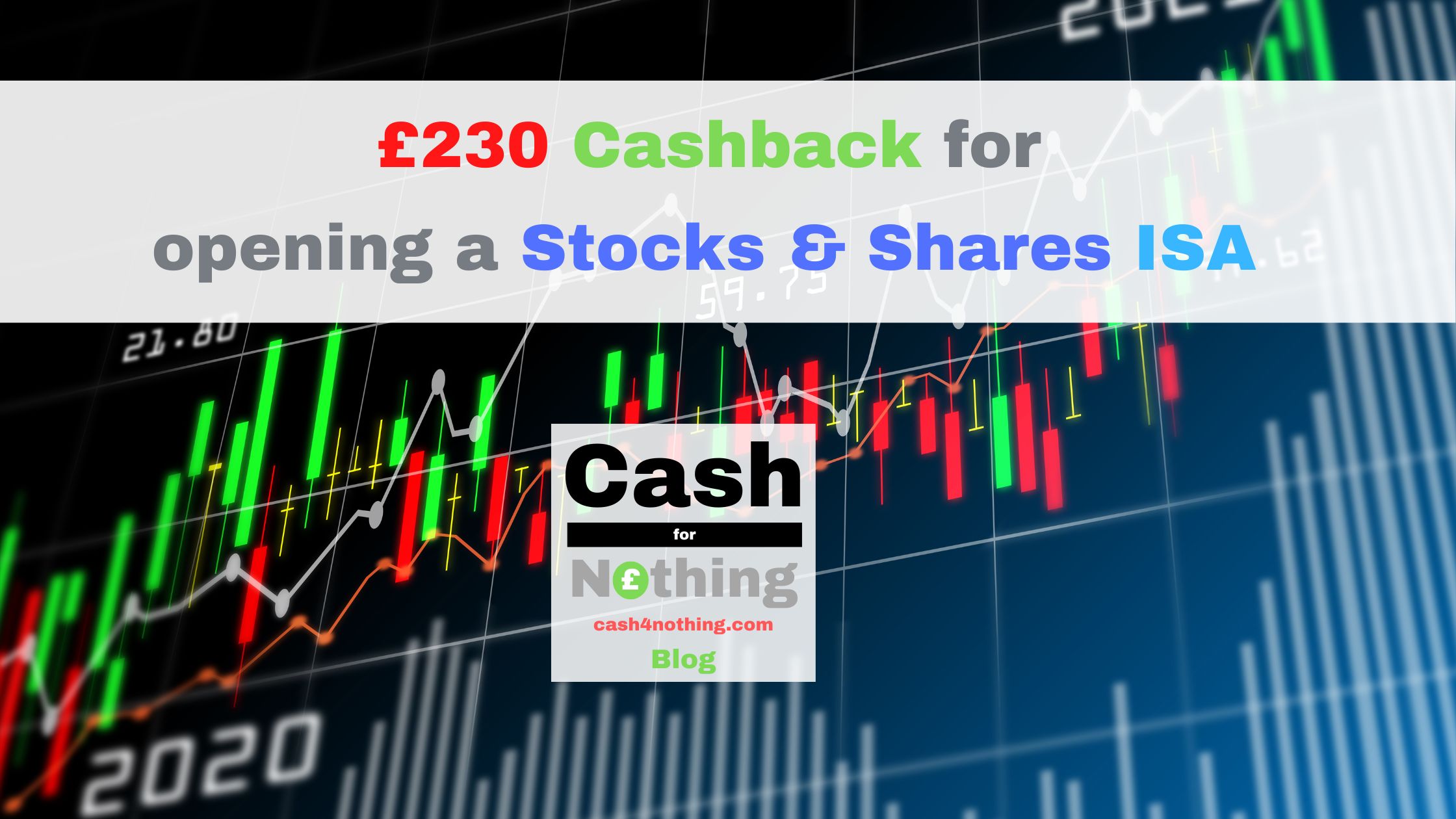 No question in my mind that all of you fellow free money makers have noticed already, but just in case, I needed to point out that I have not made any deposits into my Moneybox Stocks & Shares ISA since the advent of the New Financial Year back in April 2022. Is not that I have forgotten to do so, quite on the contrary, it is all part of a cunningly calculated Plan as there are a number of reasons for me to act in this fashion. Let me lay them down for your interest:
S&S Moneybox ISA growth has been negative over the last few months. Not only all gains accrued have vanished but the value of the Fund is below net contributions made up to this point.
Moneybox raised the minimum deposit amount to £100. That is stopping me from transferring single £30 lump sums as of when they are made available.
There is a wide variety of S&S ISA providers out there, many of them offering juicy Cashback Incentives for opening and funding an ISA Account.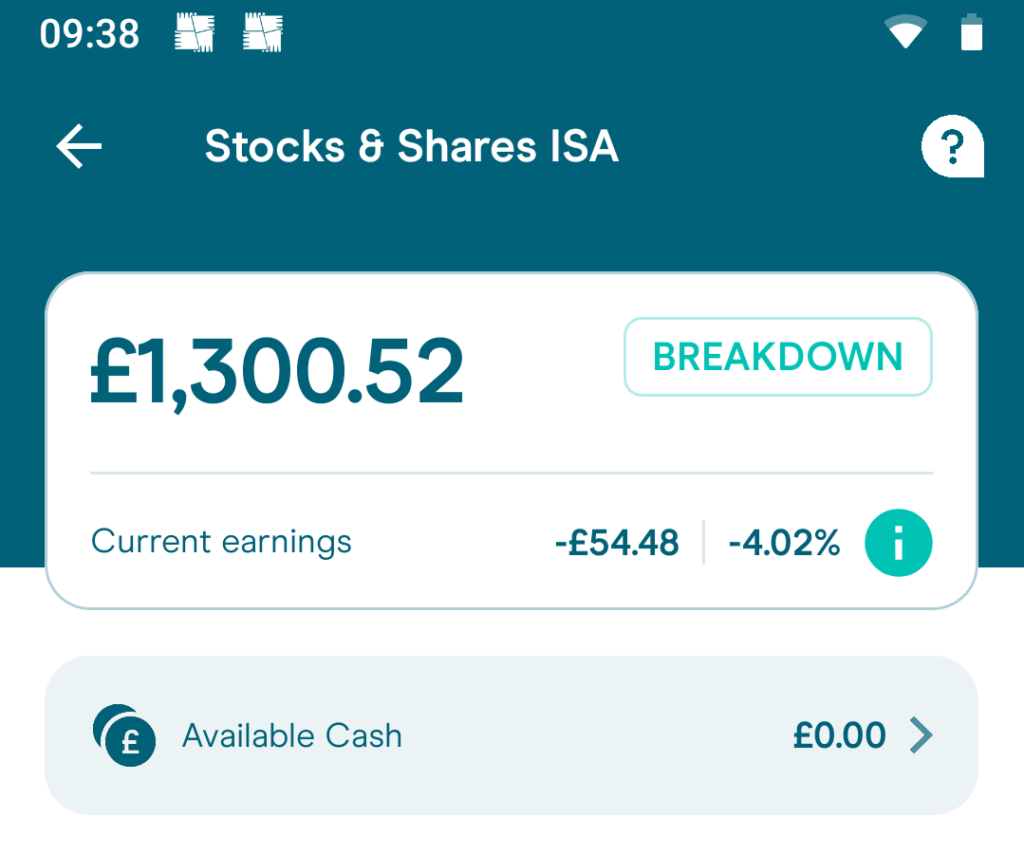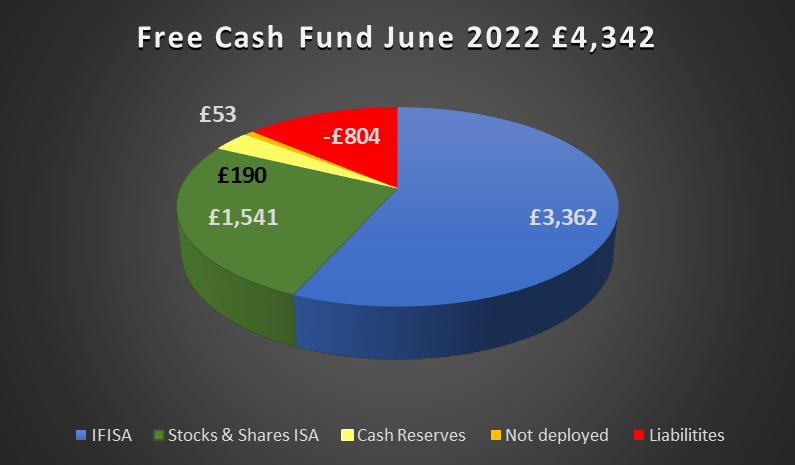 My logic is that since the Investment Strategy I developed for my Free Money Earnings requires a 30% of all takings to be allocated to a Stocks & Shares ISA, I would much rather jump ship at the end of Every Financial Year and look for a new provider in order to take advantage of the Cashback Rewards on offer. Last time I checked, the HMRC ruled that I can have several S&S ISA accounts, however, I am only allowed to make contributions into one of them during the Financial Year. On this basis, it would make sense to me to start the search for a new ISA provider compatible with my self-imposed criteria:
I have not made deposits since April 2022 but Free Money have kept flowing in meaning I have £240 in the S&S Pot available for deployment.
Looking at my Free Money Earnings Cash Flow up to this point, I can 'safely' make the assumption that I can bring in £100 per month. Since 30% of it will be destined to a S&S ISA, £30 is a given as an available sum for investment on a monthly basis.
Taking these two funding constraints into consideration, I need to maximise my Cashback Reward.
Stocks & Shares ISAs Cashback Offers
So the question is: are there any Cashback offers available for opening a S&S ISA? I have a strong feeling that there are but the only way to be 100% sure is by running a search on TopCashback using the term 'Stocks Shares ISA'. The results of this hugely complex task are shown below: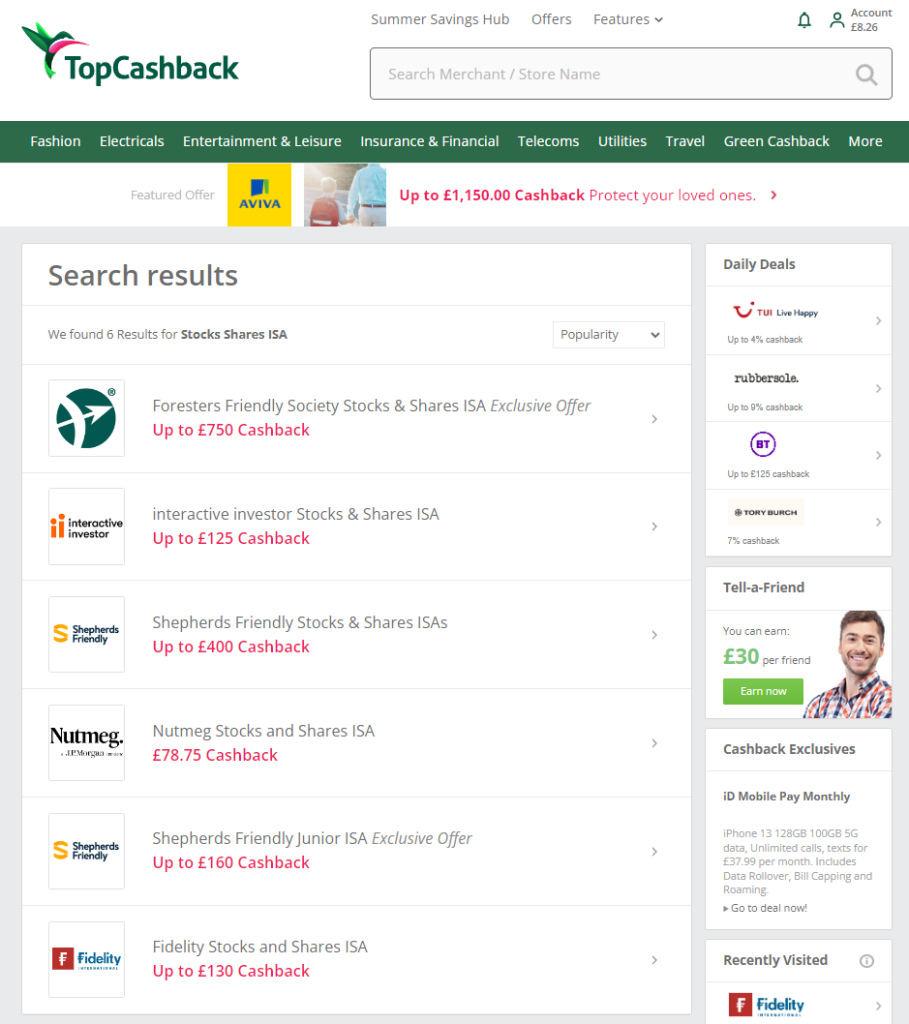 There we have it, I found six potential providers offering a cashback reward ranging from £78.75 to a whopping £750. Not a bad start and I am definitely interested, however, I need to fully understand the Terms & Conditions of every single Cashback Incentive to make sure whether or not I qualify for it first, and second, if my availability of funds (£240 + £30/month) can put me in a position where I can bring the cashback home. As a rule of thumb, I will be required either to make a lump sum deposit, a monthly contribution, or both. The only way of finding out is by studying carefully every cashback offer shown on the search results. Let's get to it.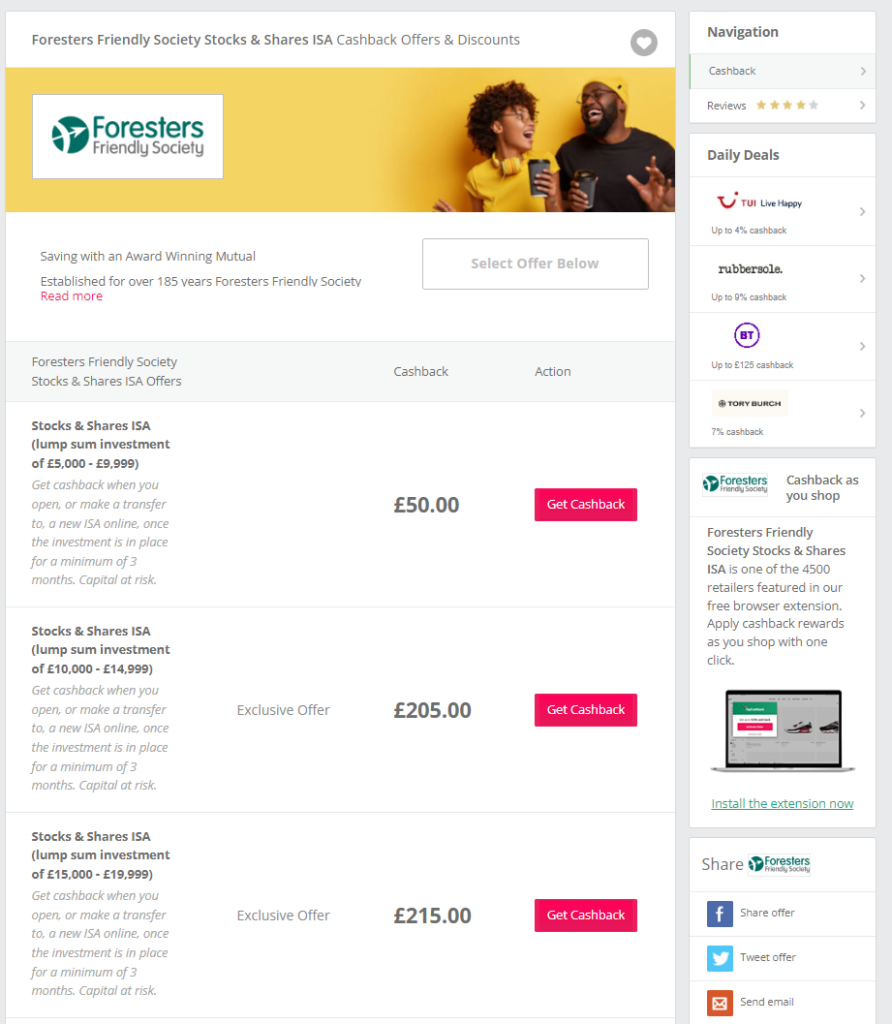 It is unfortunate, but I do not have £5,000 to £19,999 available to deposit in a Foresters ISA. Even if I had, I am not entirely sure I would be inclined to put it in there. All in all, it is a non-starter for me. I need to swiftly move on.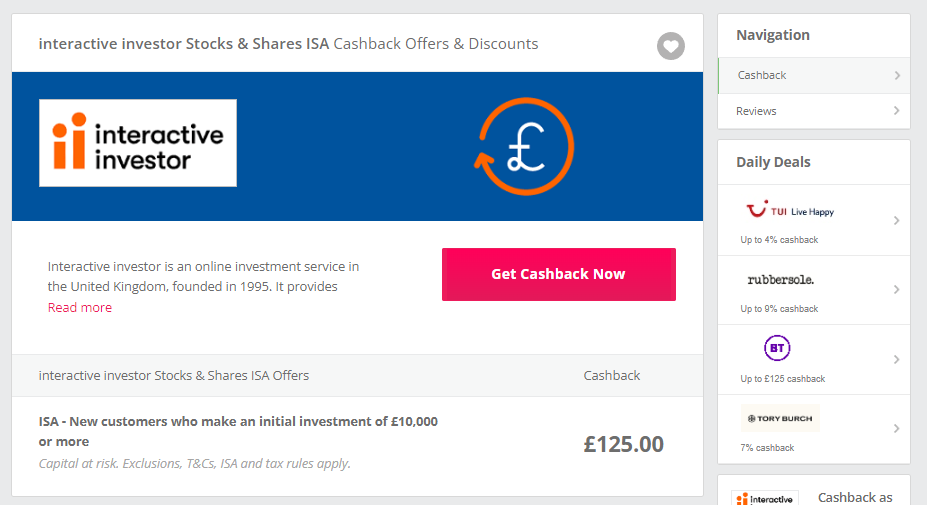 I am sorry but again, I just do not have £10K or the willingness to credit an ISA with that sum. Straight no I am afraid. Next please.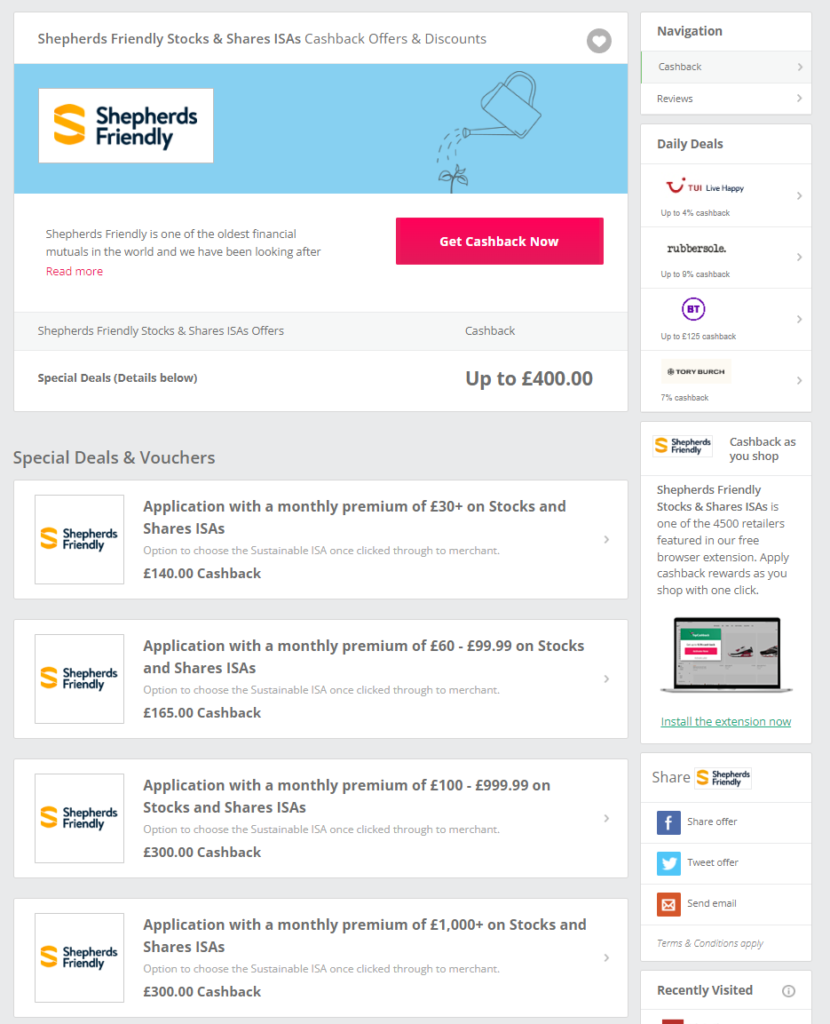 This is more like it. I can potentially land any of the first two deals. Shephers Friendly will be in my shortlist.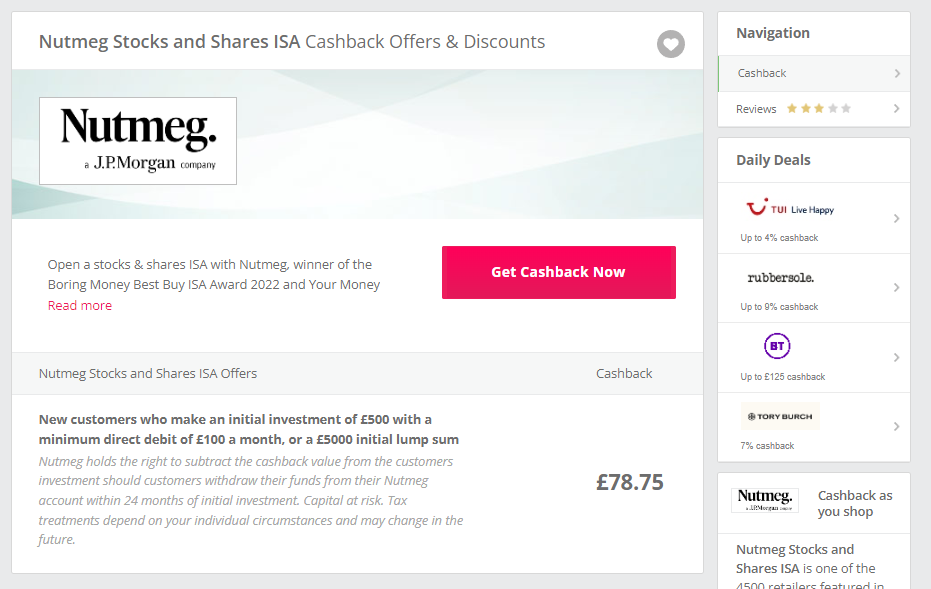 Do not have access to £500 or £100 per month let alone a £5,000 lump sum. In any event, cashback offer is not competitive in the context of the search results. Thanks but no thanks.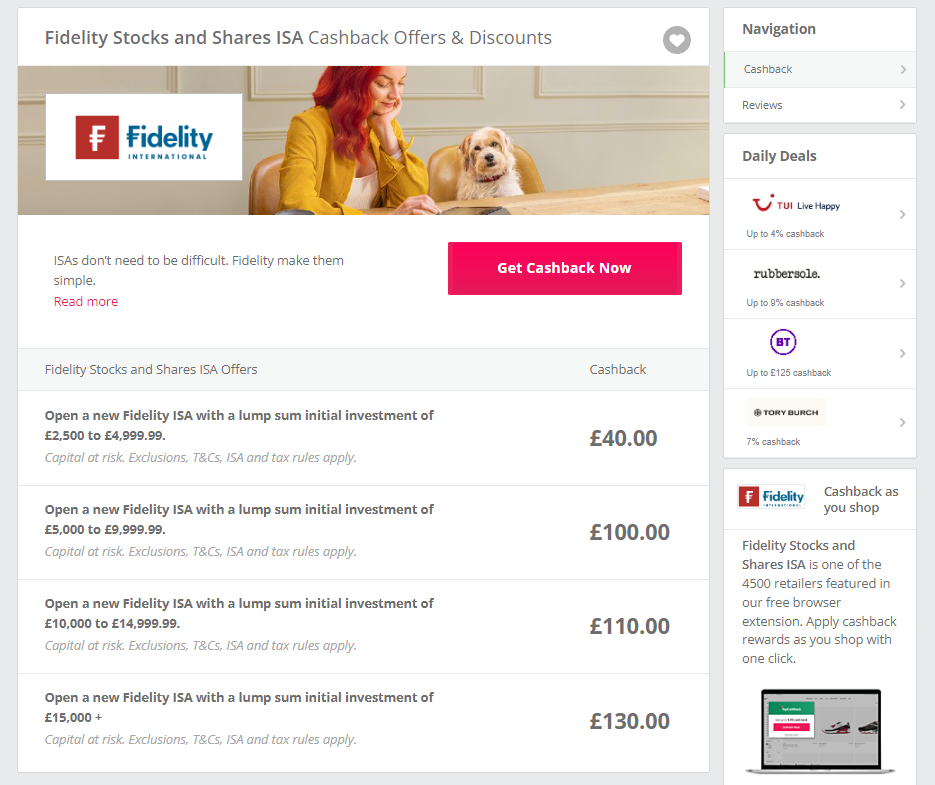 Lump sums from £2,500 to £15,000+. I am really sorry but no, no, no and definitely no.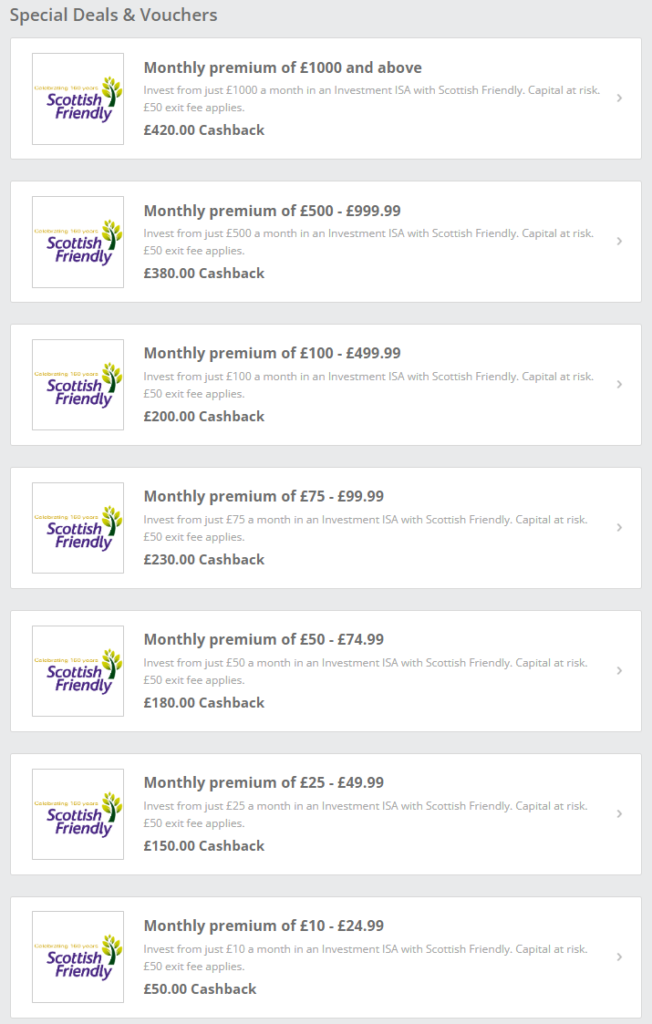 Scottish Friendly is making things easier for me and for anyone with limited monthly contributions available to invest for that matter. There are four brackets from £24.99 to £99.99 per month and three additional brackets from £100 to £1,000. I am not in a position to challenge for the top three cashback tiers, but I most certainly will be looking at the bottom four.
Decision Time
Ok. I have two Friendly candidates in the running and I am aiming at the top Monthly Premium brackets just below the £100 mark. It is a matter of personal taste but I find that a matrix helps me visualise my options better.
| | | |
| --- | --- | --- |
| Stocks & Shares ISA Provider | Monthly Premium | Cashback Reward |
| Shephers Friendly | £60-£99.99 | £165 |
| Scottish Friendly | £75-£99.99 | £230 |
They are both Friendly by name but I find Scottish £65 more cashback friendly to me than Shephers for the same Monthly Premiums. Thanks Shephers for the efforts but I will go with Scottish Friendly this time round.
According to the T&Cs of the Scottish Friendly cashback offer (see screenshot below), if I am in a position to contribute with £75+ per month for a number of months I can get £230 Free Money as Cashback. My understanding from reading the essential bullet points is that I will need to make contributions matching or surpassing the cashback reward. There is no mention to the maturation periods or the minimum number of months before the cashback is made payable. On the other hand, I can infer that at a top £99.99 contribution, it will take three months to accrue a bigger amount than the £230 cashback promised.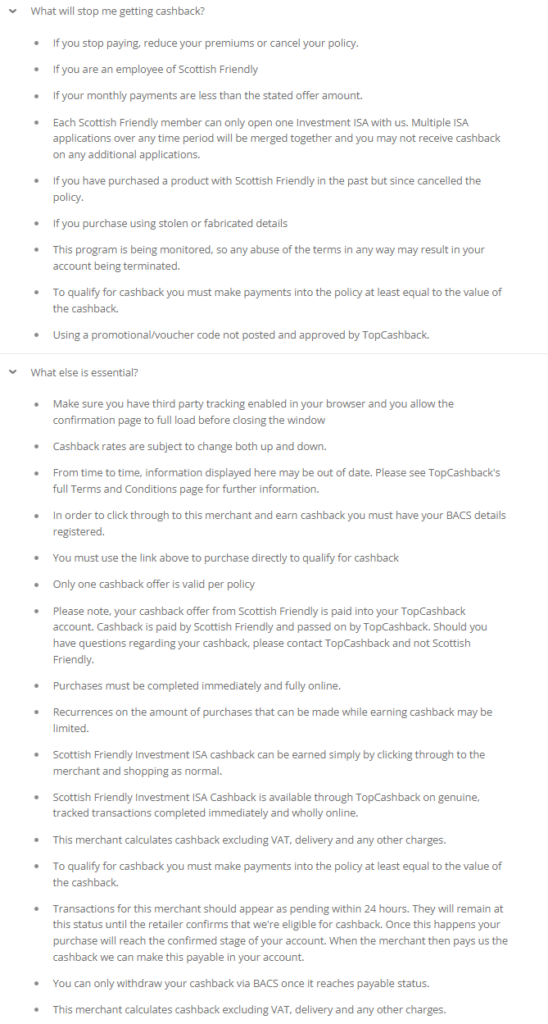 In summary, I need to make contributions of £75+ for a minimum of three and an undisclosed number of months before the cashback sum is made payable.
I have £240 in the Pot. If I contribute with £80 per month, I will exhaust the Pot and match the cashback reward in three months. If the cashback is not paid by then, I will need to keep depositing a minimum of £75 until the cashback is available for payment. After that, I will reconsider my S&S ISA contributions.
All good to me so far but what is my Contingency Plan after the third month when the Pot is fully deployed?
£30 Cash Flow/month x 3 months = £90 means one extra month worth of funding after three months.
If the £230 cashback is not paid after the fourth month and no sufficient S&S funds are available in the Pot for another month's contribution, I will either have to modify my Investment Strategy, or in the worst case scenario, withdraw money from the Moneybox ISA to service the monthly premiums. Still some time before that. I will make a decision on due course. For the time being, this is the Plan I intend to stick to.
Opening a Stocks & Shares ISA Account with Scottish Friendly
I feel confident in my reasoning to choose a provider and in my Plan to fund the ISA account. All is left to do is to click on the TopCashback link, apply for an ISA and set up a direct debit for a £80 monthly premium.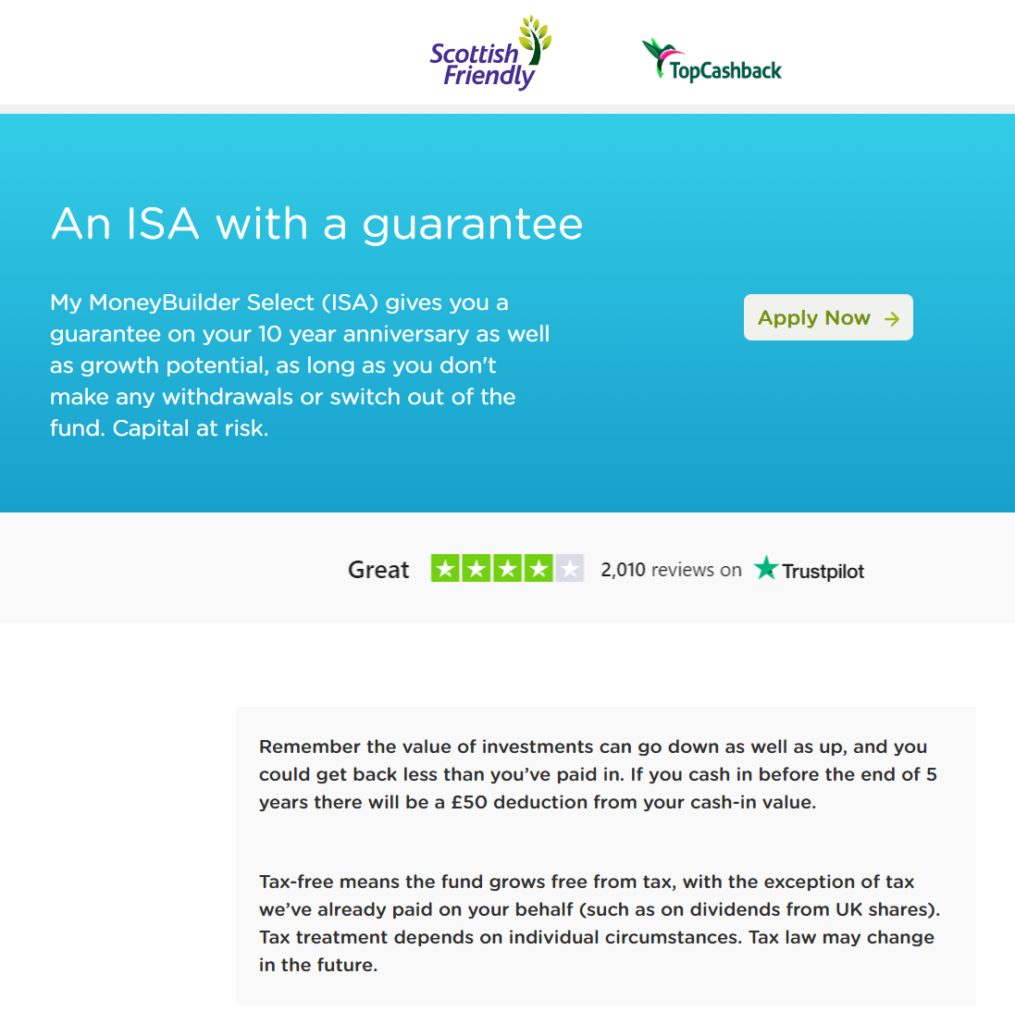 I spent five minutes in the process of opening the ISA account. I just need to make sure that the £240 S&S Pot is deposited in the Bank Account where the £80 direct debit monthly premium will be taken from. My next job is the best: watch and wait. Time is on my side.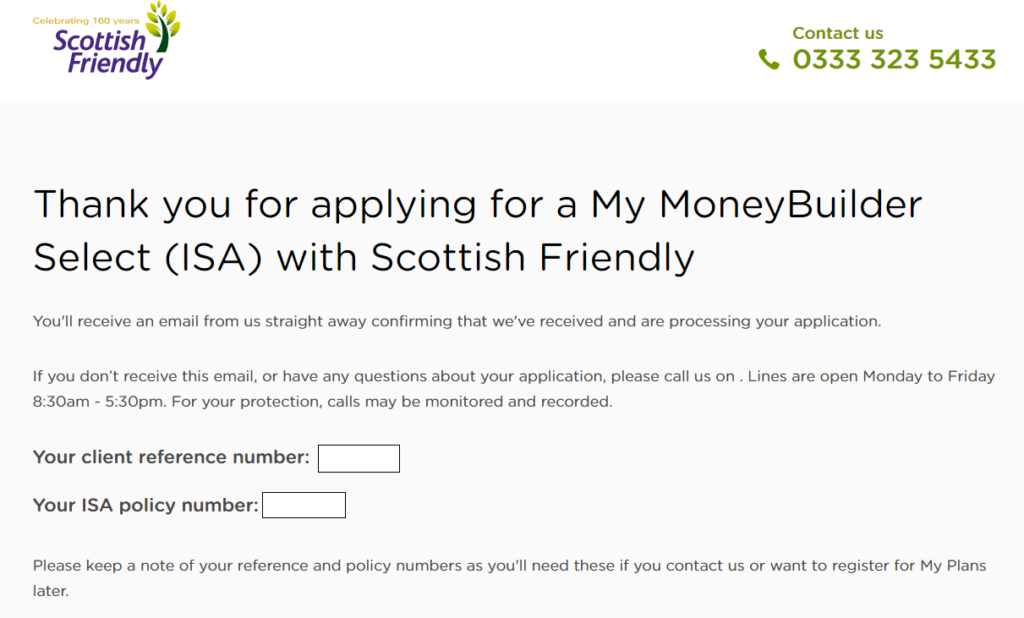 I waited for a couple of days before checking my TopCashback account. The transaction tracked capturing £80 as the correct direct debit amount but showed a £100 interim cashback reward. It seems that £100 are a given and it should be updated to £230 when the cashback is confirmed by the merchant (see T&Cs). There is always the option of raising a claim if need be. I will have to sit on it until it gets greened up. I am not stressing about it though.

Can I also get Cashback from opening a new IFISA?
The short answer is: yes, I can. The problem is that I will need to come up with a minimum of £1,000 to qualify. Not available at the moment and not making any arrangements to release this money either. It is always nice to have the option but I will stay where I am until April 2023 to reassess at that point. Until then, I will watch it grow from the back seat.