A £110 Cashback Reward for my New Broadband Contract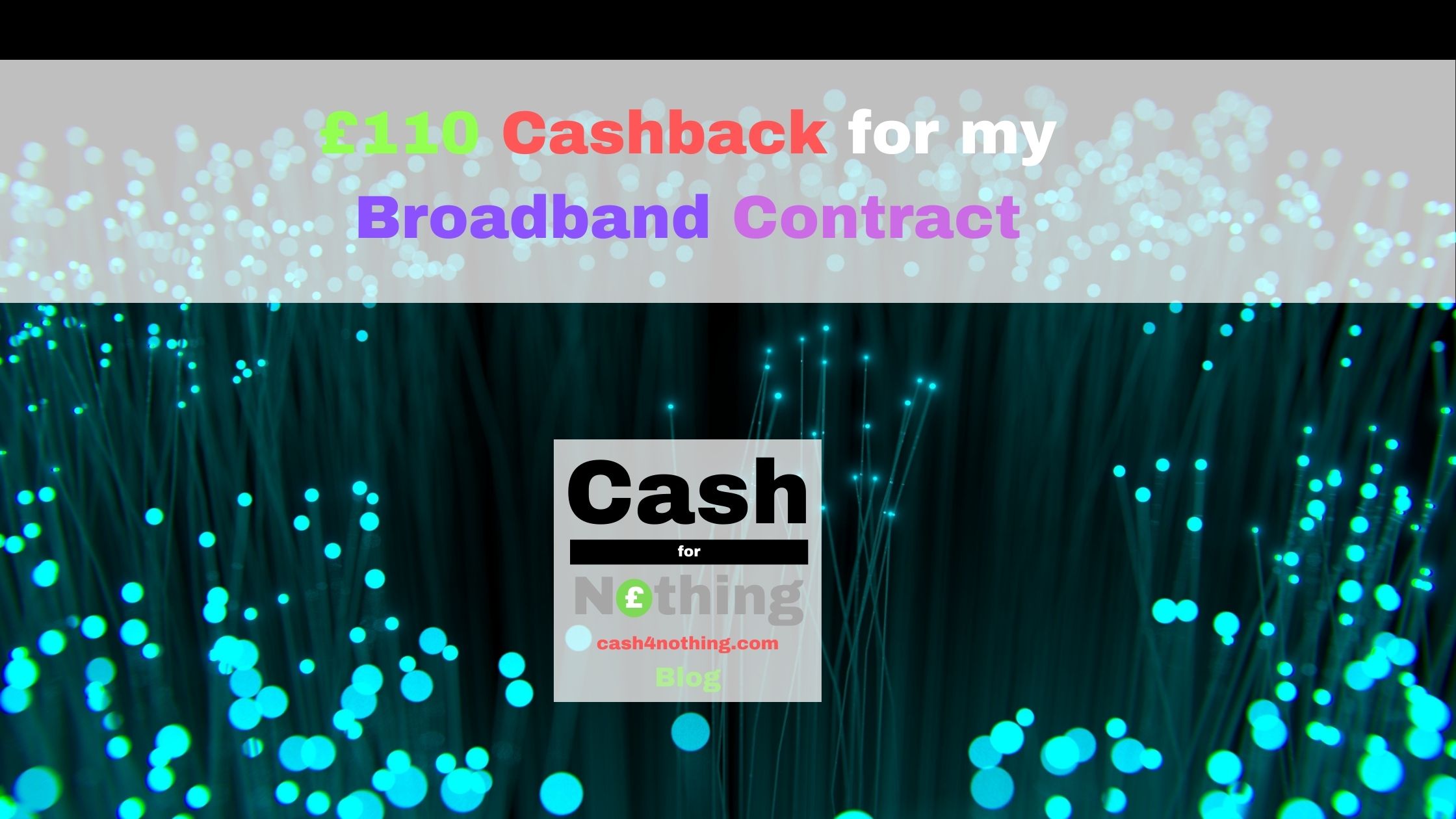 As per my previous post (2021 2nd quarter review), I just need a little push to meet my £250 Cashback Objective contribution towards the Free Money Pot (£175 cashback accrued so far). My self-imposed requirement is that the expenditure generating the cashback has to originate from a non-avoidable household item. What I mean by that is, that for example, I can get cashback from a holiday booking which will class as discretional expenditure; by contrast, and to use a different example, I will always need to purchase insurance for my car, which will fall into the compulsory expenditure basket. Should I decide to take a holiday and collect cashback in the process, that will qualify as a bonus, but the overall weight of the cashback pot needs to be allocated to expenses I just cannot avoid. The point I am trying to put across is that I will not allow myself to spend money just to achieve my cashback goal, since it can be perceived as 'cheating' or deceiving the purpose.

So far, I have collected cashback from Car Insurance, Switching Energy Suppliers, Home Insurance and various small casual purchases. It is at this time of the year (second week of September) that my Broadband contract comes to an end. I must admit that I could not wait to switch to a new broadband supplier, and my motivation was not necessarily the cashback reward up for grabs. For a number of reasons I will care not to mention, I have not been particularly impressed with the level of service delivered over the last 18 months. I was looking forward to the anniversary date, so that I could upgrade and leave my current provider behind. Time to move on.
As for my approach to selecting providers, it was captured in fine detail in my post Home Insurance Switch £20 Savings + £45 Cashback. However, I will re-visit my process for your interest:
Find the best deal using a comparison engine. Use three different 'independent' comparison tools (ie: Broadband Choices, Broadband Genie and Uswitch).
Select the top three deals coming of the comparison process.
Run searches for the top three deals in Cashback websites such as Quidco and TopCashback in order to get a better understanding about the highest cashback rates.
Sign-up via a cashback site to collect cashback rewards.
As an exception to the rule, I will not be following this particular process this time round. Reason being is that I am biased towards a personal choice which had gained momentum due to Fibre Optic availability being made in the area where I live. My intention is to sign with BT and go for one of the fibre optic packages on offer in my postcode. My only question is which package and which cashback site offers the most for what I want.
I had decided to go for BT Full Fibre 100. My logic is that the speed will more than satisfy our household requirements (I just don't need to kill a fly using a canon) and the monthly cost will be practically the same as my current provider. I am upgrading to a ten fold higher speed and allegedly, a much better service, but I will not be getting a hard money saving. Oh well. Good enough for me. The only downside is that I will be tied up with them for 24 months. Again, not a deal breaker.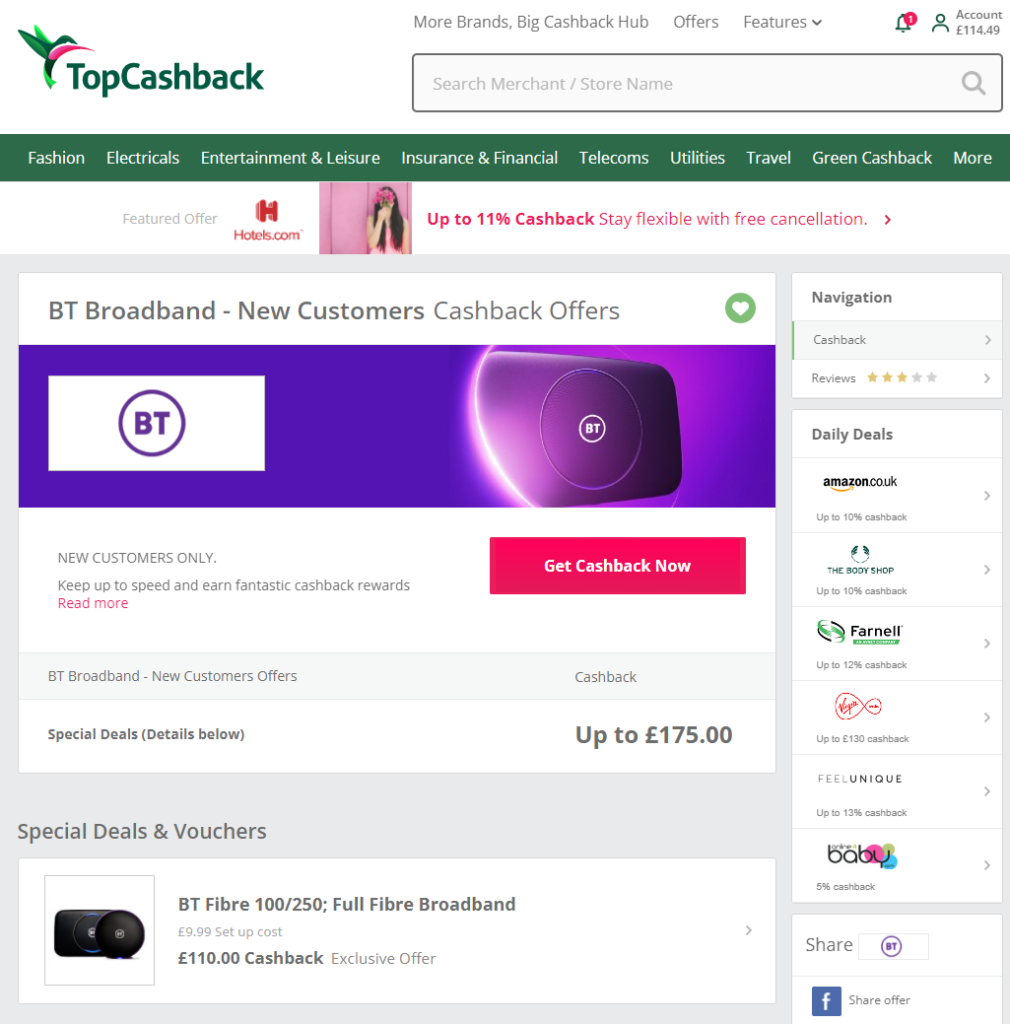 Next step is to decide which cashback site I will be signing up through. Quidco offers £80, whereas TopCashback £110. A no brainer really. After clicking on the link, selecting my package and registering as a BT Customer, I was notified within the hour that my transaction was tracked and that the cashback will be paid nine weeks down the line. Just a smooth process. If the cashback is paid within the projected timeline, I should hit and surpass my £250 cashback target by early December. I am confident that I will. Until then, all I have to do is nothing. Quite literally, Cash 4 Nothing. Nice.