October 2023 Free Cash Earnings Report £120 Free Money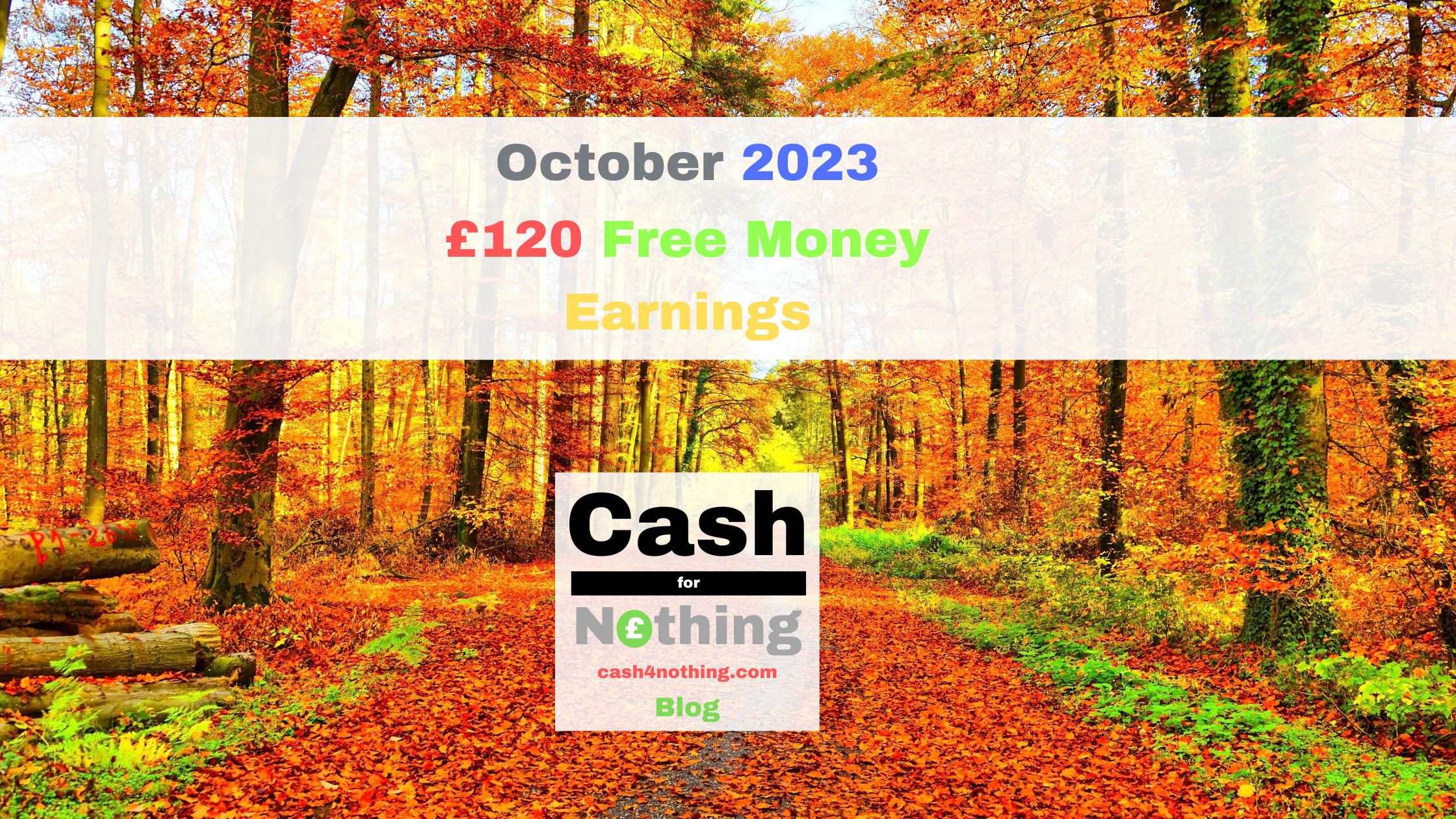 Bank Rewards: £18
Santander Lite Bank Account: £4
Halifax Reward Account 1: £5
Barclays Blue Rewards: £3
RBS My Rewards: £3
Natwest My Rewards: £3
Interest on Savings: £27
Barclays Rainy Day Savings Account: £11
RBS Regular Saver: £8
Natwest Regular Saver: £8
Promotions: £75
| | | |
| --- | --- | --- |
| Free Money Income Stream | Contribution | % Weight |
| Bank Rewards | £18 | 15% |
| Interest on Savings | £27 | 23% |
| Promotions | £75 | 62% |
| Total | £120 | 100% |
October 2023 Total: £120
£5 bellow £125 monthly target
---
| | | | | |
| --- | --- | --- | --- | --- |
| Month | Free Money Earnings | +/- Monthly Target (£125) | Accumulative | to Year End Objective (£1,500) |
| January | £124 | -£1 | £124 | £1,376 |
| February | £42 | -£83 | £166 | £1,334 |
| March | £146 | +£21 | £312 | £1,188 |
| April | £464 | +£339 | £776 | £724 |
| May | £211 | +£86 | £987 | £513 |
| June | £159 | +£34 | £1,146 | £354 |
| July | £77 | -£48 | £1,223 | £277 |
| August | £396 | +£271 | £1,619 | +£119 |
| September | £71 | -£54 | £1,690 | +£190 |
| October | £120 | -£5 | £1,810 | +£310 |
2023 Free Money Earnings: £1,810
£310 over £1,500 Annual Target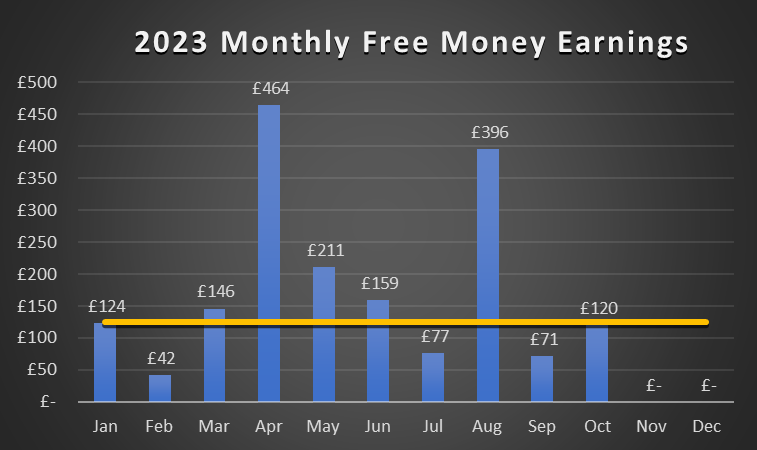 £120 Free Money in October 2023. Only £5 pounds short of my monthly £125 target. I am incredibly busy at the moment and that is somehow showing in my Blog updates. I am doing absolutely nothing at this time to bring Free Money in, which in turn, is the whole philosophy of my method to be fair. I have made £1,810 Free Money in 2023, and that is £310 over a £1,500 objective. Since my plan from now is to count my chips and cash-in, I am not certain as to whether or not I might able to beat the £1,901 I made in 2022. I am guessing that it is going to be close.
Bank rewards. Yet another £18 from my standing order loop with zero effort or input from my end. That brings a total of £233 against a target of £250 for the whole of 2023. All things being equal, it will be achieved this time next month.
Interest on Savings. A combined £27 in interest payments from my personal saving accounts. This money will be put to good use between November and December meaning cash flows from this source will sadly come to a stop. I had a great run by making £235 from this Free Money stream only from January until now. I also assigned an overall figure of £250 for the year. A few days wait more will take me there.
Bank Switch Promotions. My only bank switch this year was back in April. I opened an account with TSB (see post TSB £200 Bank Switch Reward + £20 Cashback) where the £200 bonus cash payment was split into two: £125 for opening the account + £75 for keeping it and remaining active by means of crediting the account with £500 and making five debit card payments on a monthly basis. I have followed this script to the letter for the last six months and they eventually made the second payment on the 18th of October. The £200 are mine now and I have a donor account at my disposal for the next switch. Another single stream objective delivered (£200 vs £200).

I have enjoyed an easy ride this year apart from personal item sales. It is just not happening for me and I have to come to terms with it. Only £161 from decluttering sales. Really poor performance here. Sometimes you win and sometimes you lose. I will have to accept defeat on this one and move on. That is going to be my only red in years. I am going to have to prove to myself that this one-off will be down to statistical noise.