September 2023 Free Cash Earnings Report £71 Free Money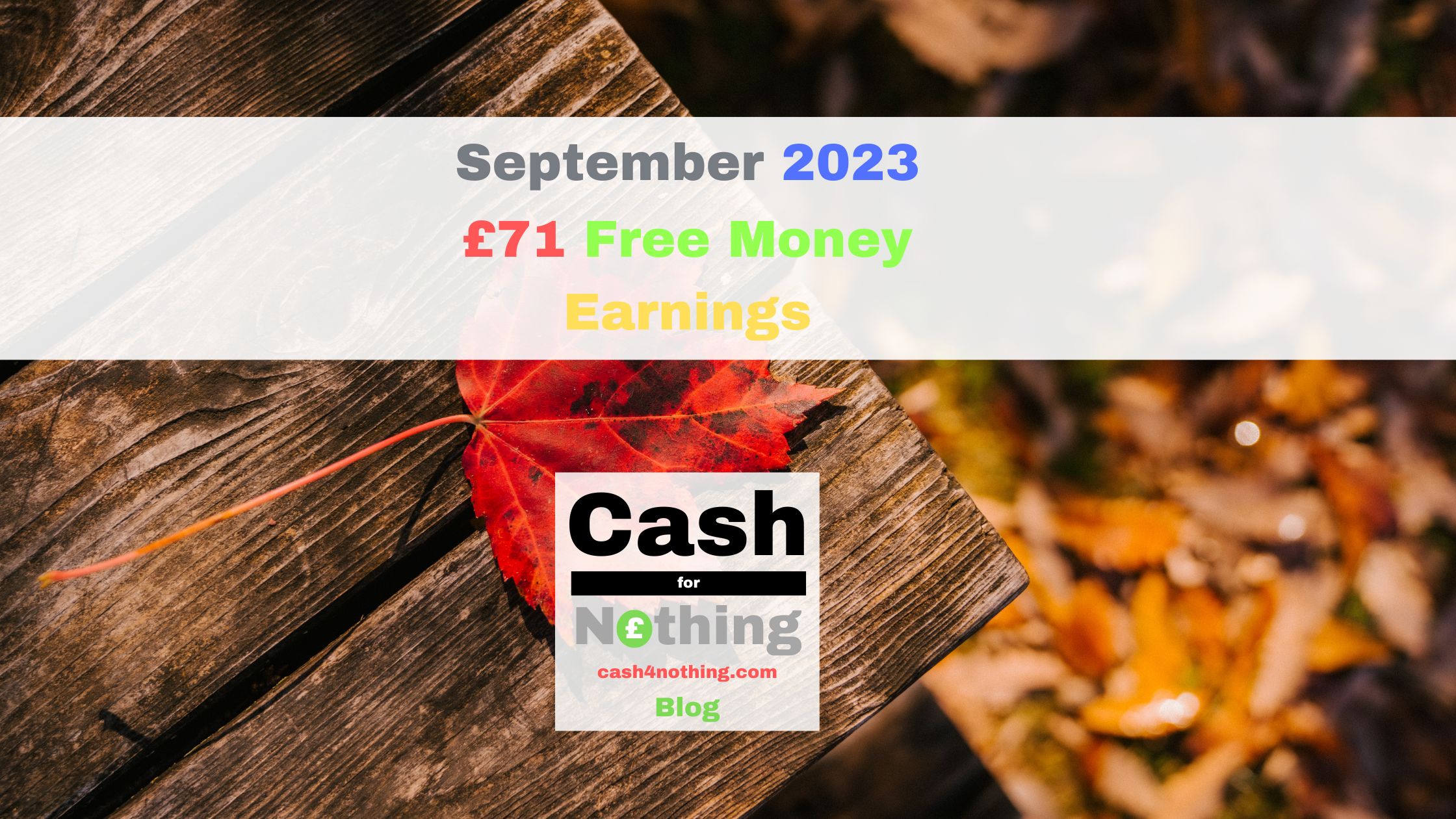 Bank Rewards: £18
Santander Lite Bank Account: £4
Halifax Reward Account 1: £5
Barclays Blue Rewards: £3
RBS My Rewards: £3
Natwest My Rewards: £3
Interest on Savings: £27
Barclays Rainy Day Savings Account: £11
RBS Regular Saver: £7
Natwest Regular Saver: £7
Decluttering Sales: £26
| | | |
| --- | --- | --- |
| Free Money Income Stream | Contribution | % Weight |
| Bank Rewards | £18 | 25% |
| Interest on Savings | £27 | 38% |
| Cashback | £26 | 37% |
| Total | £71 | 100% |
September 2023 Total: £71
£54 bellow £125 monthly target
---
| | | | | |
| --- | --- | --- | --- | --- |
| Month | Free Money Earnings | +/- Monthly Target (£125) | Accumulative | to Year End Objective (£1,500) |
| January | £124 | -£1 | £124 | £1,376 |
| February | £42 | -£83 | £166 | £1,334 |
| March | £146 | +£21 | £312 | £1,188 |
| April | £464 | +£339 | £776 | £724 |
| May | £211 | +£86 | £987 | £513 |
| June | £159 | +£34 | £1,146 | £354 |
| July | £77 | -£48 | £1,223 | £277 |
| August | £396 | +£271 | £1,619 | +£119 |
| September | £71 | -£54 | £1,690 | +£190 |
2023 Free Money Earnings: £1,690
£190 over £1,500 Annual Target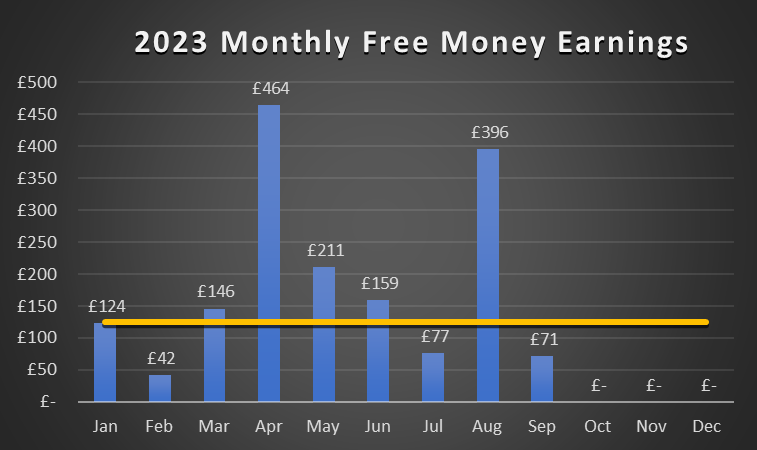 Not a lot to show for it in September 2023 with only £71 Free Money coming in. Since I hit my annual target of £1,500 in August, I allowed myself to put my feet on the desk and chill out a bit but this pitiful earnings seem way too relaxing for me. Anyhow, £1,690 topping 2023 up so far or £190 over the finish line. That's comforting.
Bank rewards. Down to £18 from an expected £23. I think I shot myself in the foot on this one. Let me explain. As it turns out, it seems that I need to confirm how I want my rewards being paid into my two Halifax accounts on the anniversary date of opening. They can be exchanged for cinema tickets, discounts and the like or just hard cash. I also need to select how to qualify for the reward: ie by keeping £5,000 in the account and paying in £1,500 on a monthly basis or by spending £500 on the debit card and paying in £1,500 per month. My vehicle has always been the second one (£500 expenditure and £1,500 flowing in). Fact is I am not really sure what I did wrong exactly at the time of ticking my options but now one of the accounts requires £5,000 being kept on it. Short answer is a categorical NO meaning I can say good bye to a fiver a month for a year. Somewhat annoying but not a major. I guess I now have a donor bank account for a switch. Gosh, I really can't wait to shift it.
Interest on Savings. Up to £27 from last months £24 earnings. Just ticking along. My savings will go in a couple of months so I might as well enjoy the Free Money they are providing me with for a little bit longer.
Decluttering sales. Last time I sold a personal item was back in June. On this occasion I managed to sell a selection of used tennis balls for a profit of £26. The buyer wanted a discount for buying in bulk but was kind enough to collect them from my address. Done deal because I saved myself the bother of packing and dropping the box at the post office plus delivery costs. Game, set and match.
On the other hand, I must admit that I am having a miserable year sales wise. Nobody out there seems to be appealed by my magnificent selection of pre-loved items on offer. I assigned myself a goal of £500 in sales and I will be happy if I can get half of that amount. So far earnings tracker are showing £161. A disgrace by my standards so whoever is reading, I compel you to buy from me. My stuff is prime and you will not be disappointed. Check for yourself at the Cash4Nothing eBay Shop.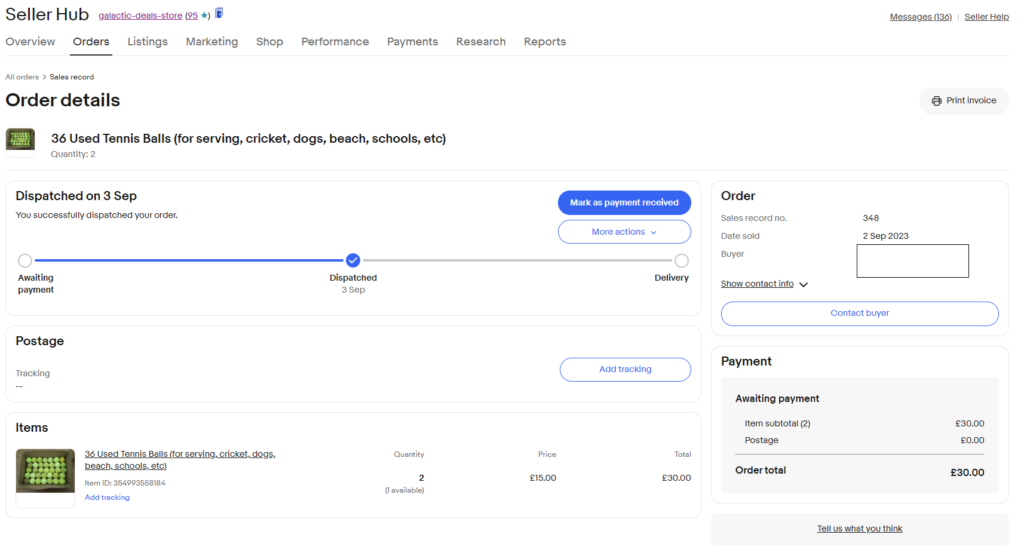 All performance indicators either on track or on the green apart from decluttering sales. Even Steven I suppose if I look back and re-visit my records of all the rubbish (sorry, second hand items) I managed to flog over the years. In practical terms, my only real chance of pushing it to £2,000 will be by selling a couple hundred worth of 'things'. Let's give it a try.