Nationwide Bank Account Switch £125 Cash Reward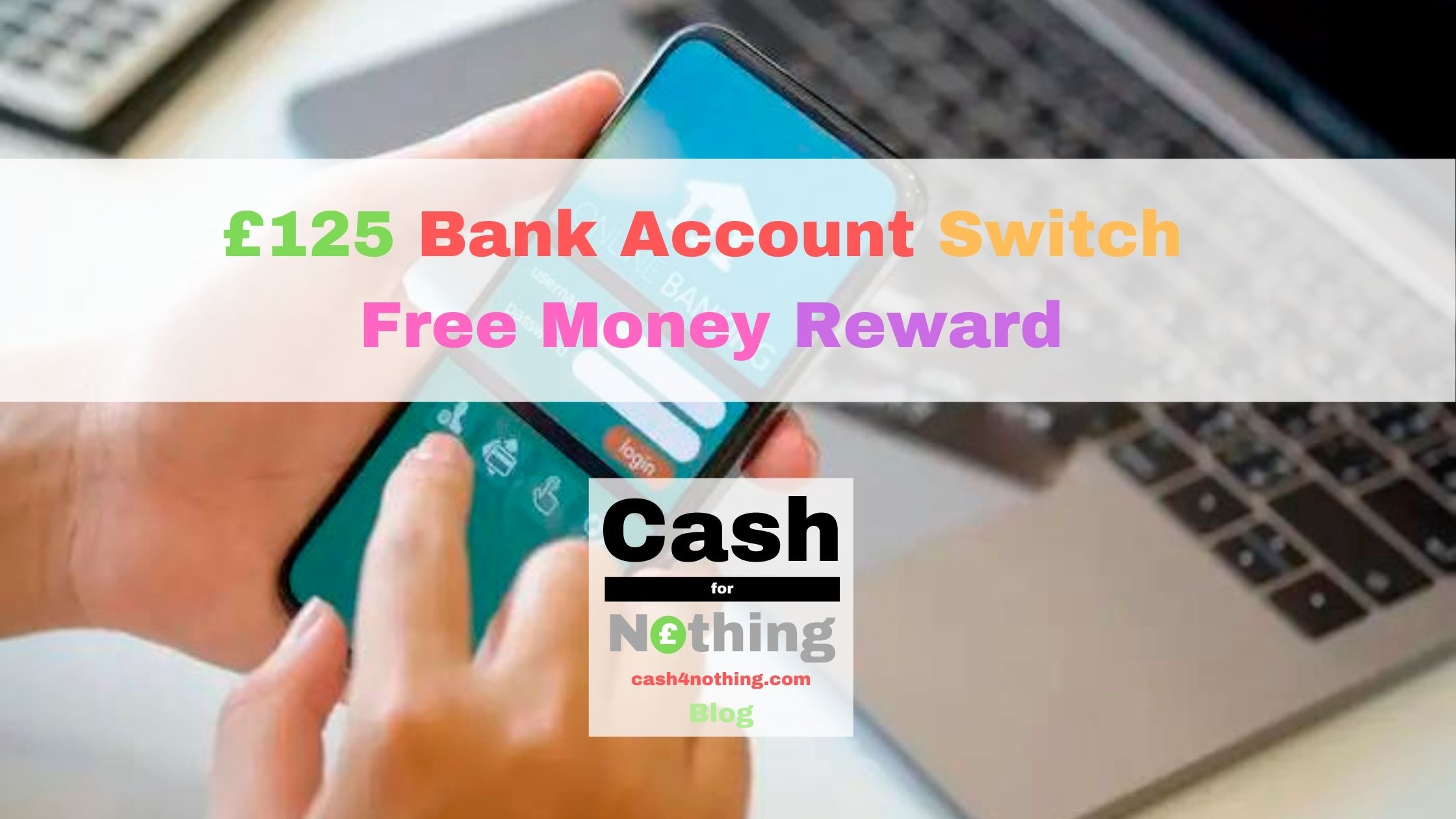 My first bank switch promotion of 2021. At last. I am literally pinching myself to actually believe that it has finally arrived. I have drawn blank for nine consecutive months, but eventually, the bank account switching war has broken out. Banks are on the hunt for new customers and they are enticing us all with succulent switching incentives (for the latest list of bank account switching rewards click here). There are hundreds of pounds up for grabs just by switching bank accounts.
How does it work?
The reward is awarded by applying for a new bank account and make use of the switching services provided (see box at end of post for more details about the Current Account Switch Service – CASS) to close the old account and transfer direct debits plus the remaining balance into the new bank account. Once completed, and subject to the Terms & Conditions of the promotion, the reward is credited in the new account within days.
Nationwide turned out to be my bank of choice this time round for three main reasons: first, is one of the few banks I do not hold an account with, second, their straight forward application process, and third, a juicy £125 Switch Incentive Reward for opening a Nationwide Flexdirect Account. As for their requirements to qualify for the cash reward, they are captured below.
Nationwide FlexDirect Account Switching Bonus Requirements
To get the Reward: new or existing Nationwide customers can apply for a full switch to a FlexDirect account online. The switch requires for at least two direct debits to be transferred. The switch must be completed within 30 days from the application date. The bonus is paid within 10 days of switch completion.
Minimum monthly pay-in: exempt from minimum pay-ins to qualify for the bonus or to keep the account. However, a minimum of £1,000/mth is necessary to accrue any interest in the account.
In-credit interest: 2% AER fixed in the first year on balances of up to £1,500. From the second year onwards, 0.25% AER variable (on up to £1,500).
Eligibility: the only condition is not having an existing frozen or in debt collection Nationwide Account.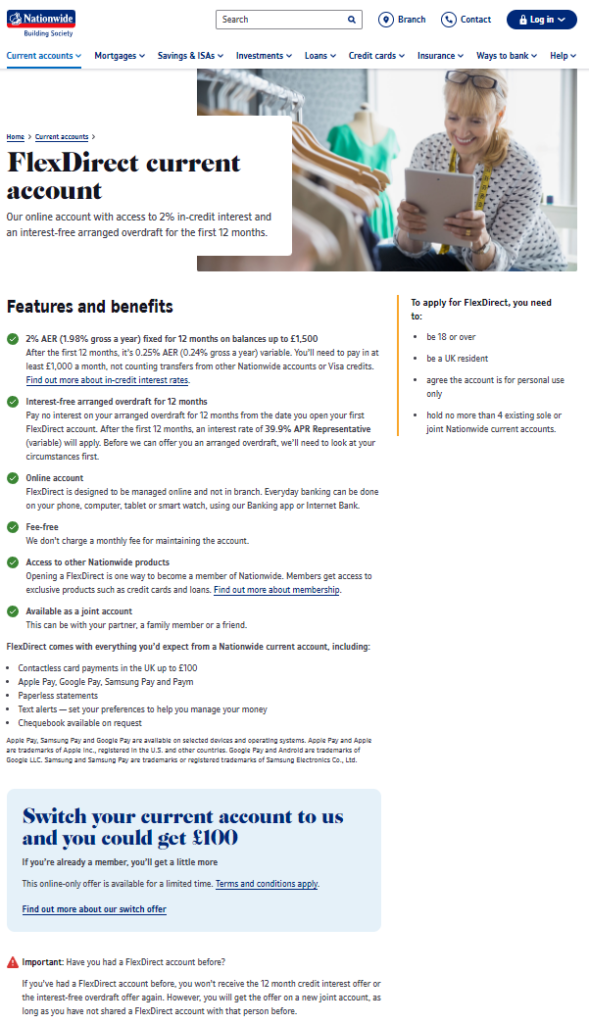 My dormant TSB Account as tool for the Switch
Going back to my post Bank Account Perks Review from March this year, TSB stopped paying interests over savings as of January 2021. I have kept this TSB account solely for a switching purpose. To qualify for the Nationwide Switching Cash Incentive, I have to transfer two direct debits from my old bank account (TSB in my case). Unsurprisingly, I had to set them up in the first instance as I had kept the TSB account dormant and unused. Having done that, I need to make sure that they are live by means of waiting for confirmation that they in place and ready to go before applying for my new bank account. That is adding a little bit of time into the process but it is a necessary step to get to an end. I proceeded to set up the two direct debits and after a few days wait, they eventually shown up into my TSB account.
Switch Complete and £125 Bonus Credited
All requirements met as regards to the old bank account, the next step is to apply online for a Nationwide Flexdirect Account, tick on their switching service when prompted and supply with the old TSB details for their automatic switching service to complete the process. That's it. I do not need to do anything else at all. Just wait for the correspondence to arrive by post (ie: account opening confirmation and debit card) and log in every so often to check on the status of the application. Smooth and painless process.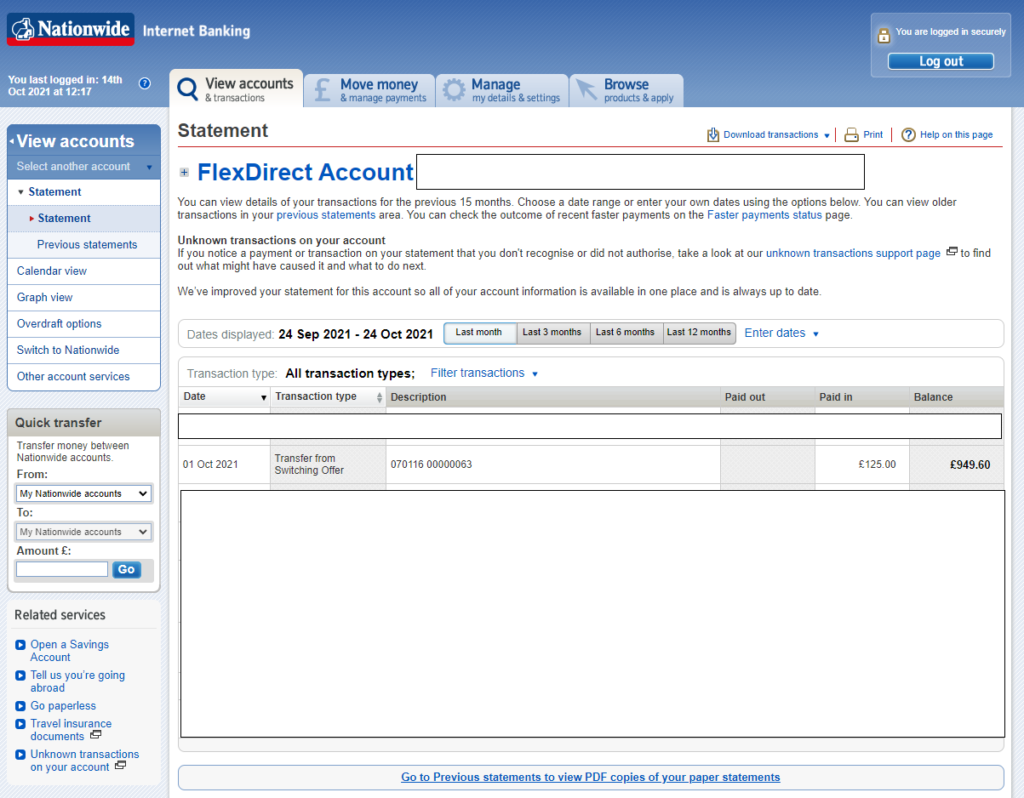 Within two weeks, the account was opened, the remaining balance transferred, the old TSB account closed (one less thing for me to do) and the £125 reward credited. Truth to be said, I had completely forgot about it at some point. Total time spent: 15 minutes. Reward: £125. Proper and bookcase cash for nothing example. I have accrued £130 in incentives up to this point, I need another switch to reach my end of year goal. Good news is that I do not have to wait for one promotion to show up now, I just need to pick the right one for me. Nice situation to be in.
Current Account Switch Service
The Current Account Switch Service (CASS) process is automatic and straightforward. All it takes is to request a switch during the application process at the time of opening a new account with the bank of your choice. Most banks are signed up to CASS, meaning that the switching service will work on the background closing the old account and moving money, direct debits, standing orders, payments (ie: salary), etc. to the new bank account. The process is completed in seven working days.
Should the unexpected happen, CASS makes sure that during the first three years after the switch, any moneys paid into the old account or mistakenly coming out of it will be transferred to the new account. Also, if there are charges involved due to an error during the switch process, they will be refunded by the new bank.