February 2023 Free Cash Earnings Report £42 Free Money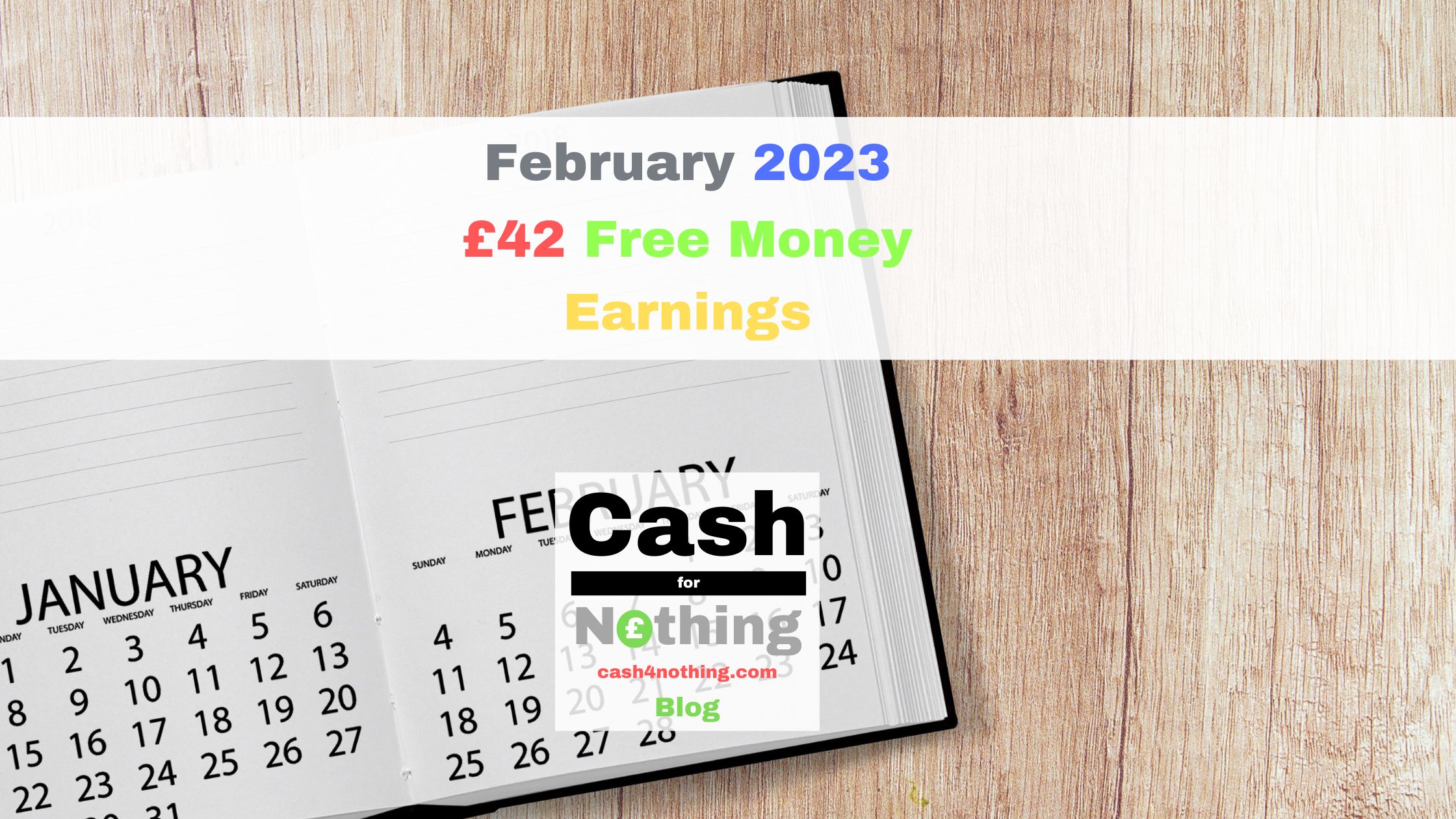 Bank Rewards: £21
Santander Lite Bank Account: £2
Halifax Reward Account 1: £5
Halifax Reward Account 2: £5
Barclays Blue Rewards: £3
RBS My Rewards: £3
Natwest My Rewards: £3
Interest on Savings: £19
Barclays Rainy Day Savings Account: £15
RBS Regular Saver: £2
Natwest Regular Saver: £2
Cashback: £2
| | | |
| --- | --- | --- |
| Free Money Income Stream | Contribution | % Weight |
| Bank Rewards | £21 | 50% |
| Interest on Savings | £19 | 48% |
| Cashback | £2 | 2% |
| Total | £42 | 100% |
February 2023 Total: £42
-£83 below £125 monthly target
---
| | | | | |
| --- | --- | --- | --- | --- |
| Month | Free Money Earnings | +/- Monthly Target (£125) | Accumulative | to Year End Objective (£1,500) |
| January | £124 | -£1 | £124 | £1,376 |
| February | £42 | -£83 | £166 | £1,334 |
2023 Free Money Earnings: £166
£1,334 to £1,500 Annual Target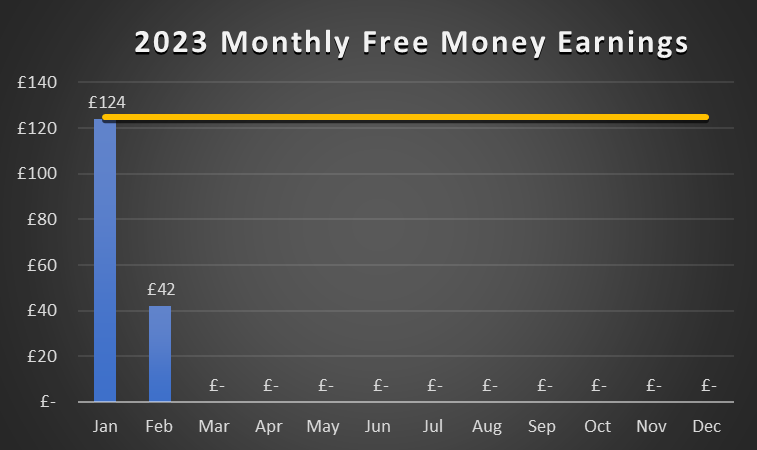 Somewhat disappointed with only £42 pounds added to the coffers in February 2023. I have a number of pay outs lined up, problem is that I have no input into the timing of the event. I am expecting hundreds of pounds in the short term as cashback and bank switch bonuses and was hoping to get my hands on at least one of them this month. It just did not happen so I have to accept the fact that February will signify a big through in the Free Money Earnings tally for the year. Not much I can do other than patiently wait really.
Bank Rewards. Council Tax break for a couple months. That's good. Really good. The flip side is that I only collect £2 from Santander as cashback from direct debits. Other than that, there is not much to report in that department. £21 to £26 per month passive income is to be expected.
Interest on Savings. My personal savings pots are delivering in alignment with projections. Let me remind you that this is my own money (not the Free Money Fund) that I save and keep in savings accounts in view of using it later on during the year (ie: holidays). Until is needed for the intended purpose, it will generate Free Money as Interest Payments. Since I am contributing to my savings accounts on a monthly basis, I would foresee an uptrend from this stream. Passive income again.
Cashback. A £2 bonus from TopCashback was made available for payment as a result of the activity on my account. Not a lot but better than nothing. Every little counts.
Really looking forward to a huge £350 cashback payment and a £125 bank switch bonus. I am hoping for a fruitful March as February was clearly a month to forget. This payments alone will take me halfway to my annual objective for 2023. They will happen. Just not sure exactly when. Stay with me to find out.