January 2023 Free Cash Earnings Report £124 Free Money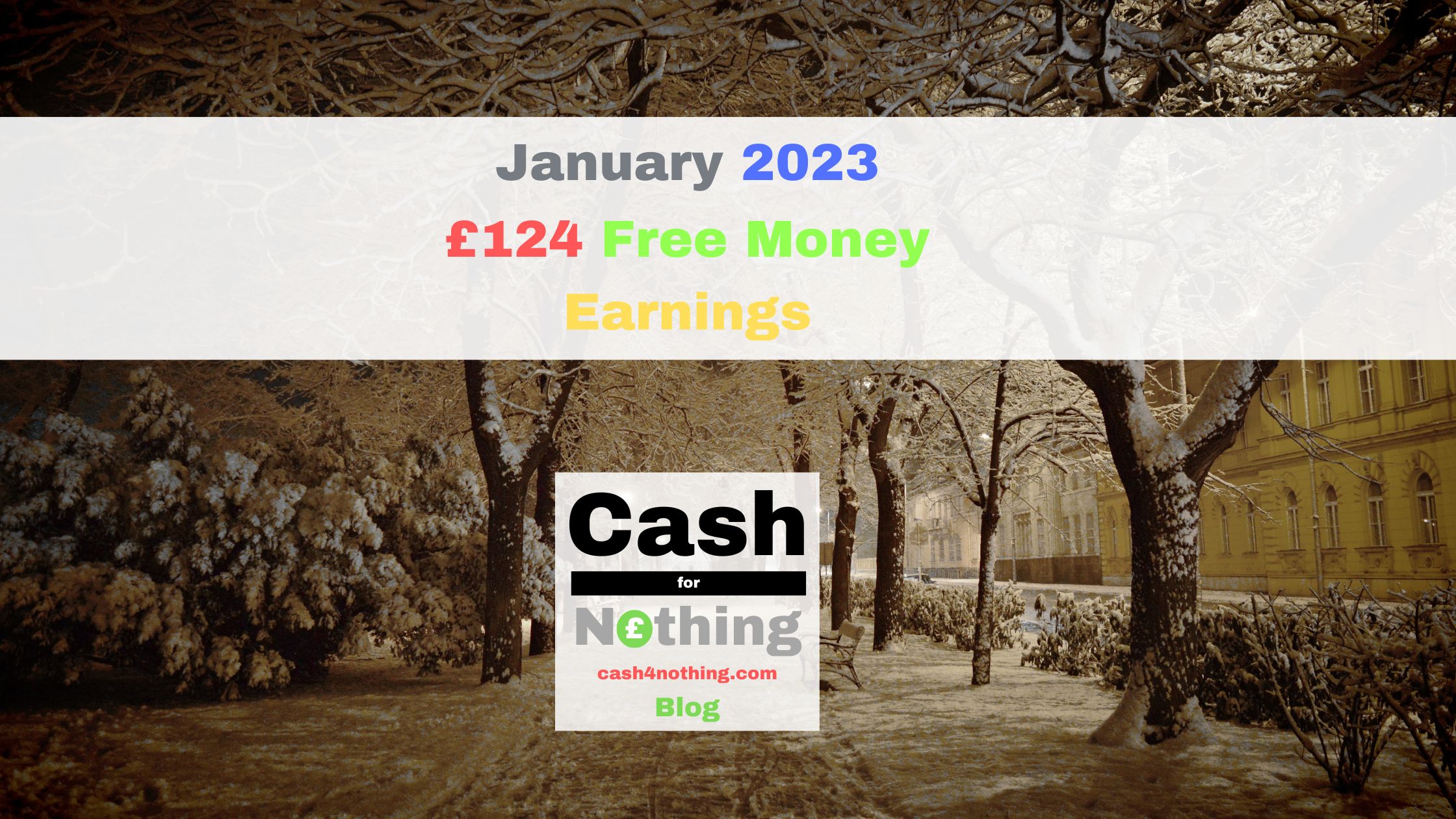 Bank Rewards: £28
Santander Lite Bank Account: £9
Halifax Reward Account 1: £5
Halifax Reward Account 2: £5
Barclays Blue Rewards: £3
RBS My Rewards: £3
Natwest My Rewards: £3
Interest on Savings: £21
Barclays Rainy Day Savings Account: £17
RBS Regular Saver: £2
Natwest Regular Saver: £2
Decluttering Sales: 48
Card Reader: £8
Rolling Pin: £7
XPERIA L3 Smartphone: £33
Cashback: £27
Cashback bonus: £2
Referral bonus: £25
| | | |
| --- | --- | --- |
| Free Money Income Stream | Contribution | % Weight |
| Bank Rewards | £28 | 22% |
| Interest on Savings | £21 | 17% |
| Decluttering Sales | £48 | 39% |
| Cashback | £27 | 22% |
| Total | £124 | 100% |
January 2023 Total: £124
-£1 below £125 monthly target
---
| | | | | |
| --- | --- | --- | --- | --- |
| Month | Free Money Earnings | +/- Monthly Target (£125) | Accumulative | to Year End Objective (£1,500) |
| January | £124 | -£1 | £124 | £1,376 |
2023 Free Money Earnings: £124
£1,376 to £1,500 Annual Target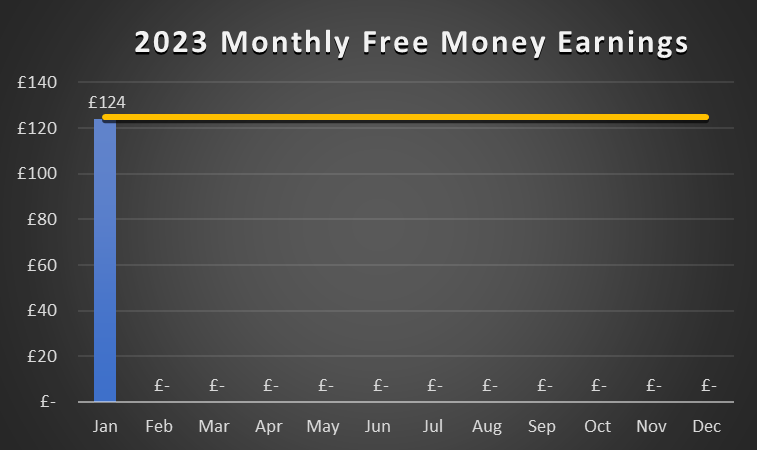 Just one pound short off my £125 pounds Free Money monthly objective for 2023 in January. It is not that I have not looked hard into trying to round up a pound somewhere but I just could not find it. I mean £124 pounds is still a strong and positive start for 2023. Particularly bearing in mind that I did close to nothing to earn it.
Bank Rewards. My dues in January are higher than usual and that reflects on the cashback I get from direct debit payments. Santander credited my account with £9 pounds which is more than double I would expect to get on a regular month. Rest of bank accounts delivered in alignment with projected earnings. £28 pounds is a number I do like.

Interest on Savings. I had a hefty payment of £17 pounds credited on my Barclays Rainy Day Saver Account plus two additional payments of £2 pounds each from my RBS and Natwest Regular Savings Accounts. It is important to point out that this is my own money being saved there as opposed to the Cash4Nothing Free Money Fund. This money kept in savings account is intended for a personal use at some point (ie: holidays or debt repayment) but it will be generating Free Money as Interest until it is needed. £21 pounds out of nothing is pure magic. Maybe too good to be true.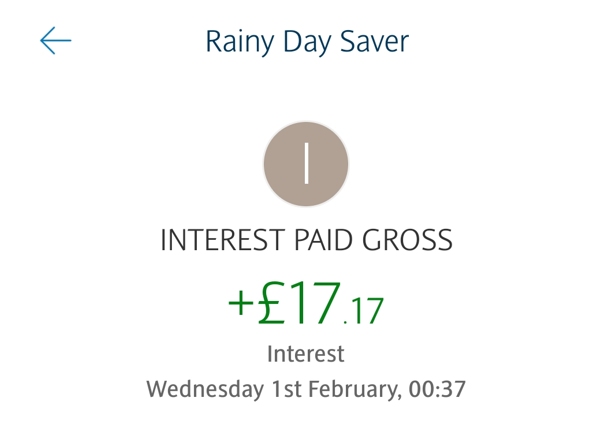 Decluttering Sales. I sold three items on eBay in January 2023. Sales are traditionally slow this time of the year so I can't really complain. A Bank Digipass Secure Key with a perished battery, an adjustable rolling pin (new and never used by the way) and an old and battered Sony Smartphone left behing £48 pounds after fees and postage costs. It is taking some time for some items whereas others go in a flash. Point is I am not desperate and do not mind the wait until they shift, and if they don't, they will find their way to the nearest charity shop.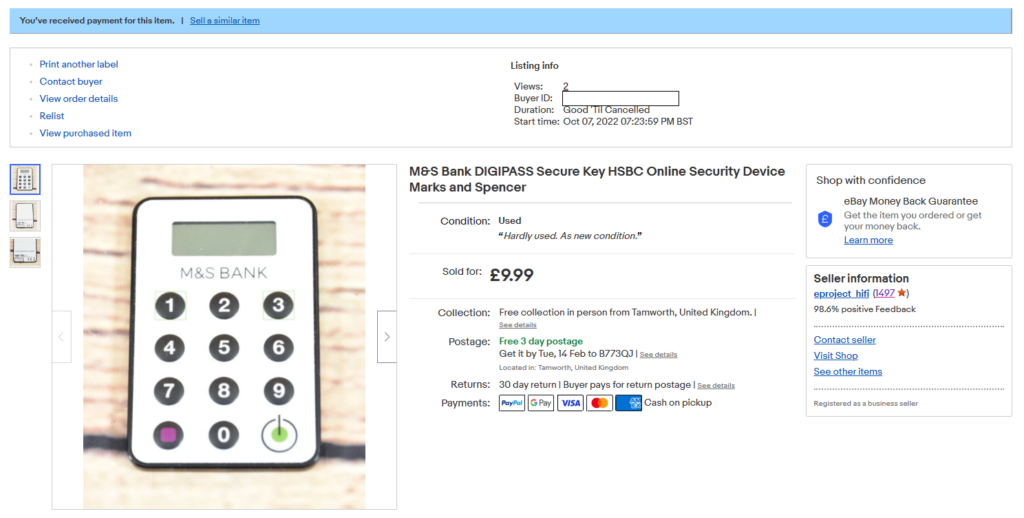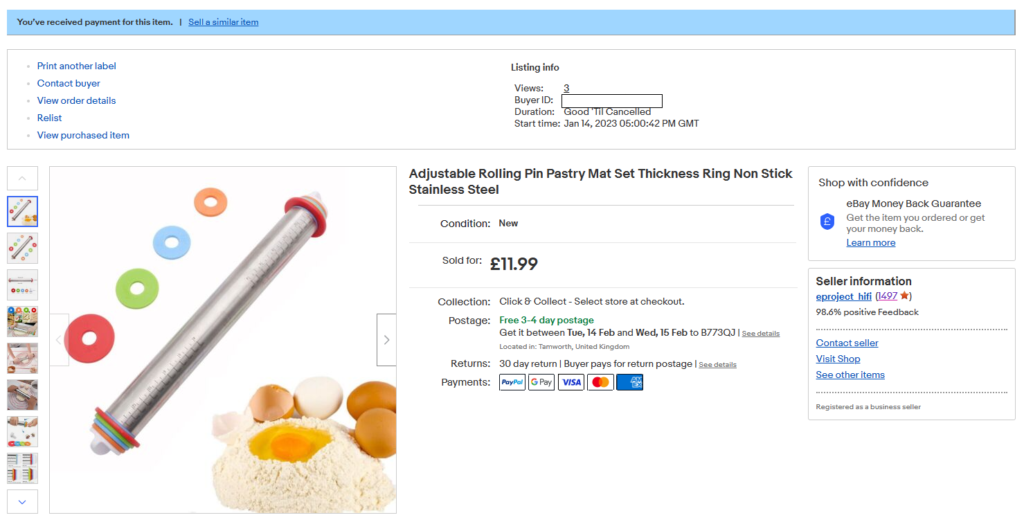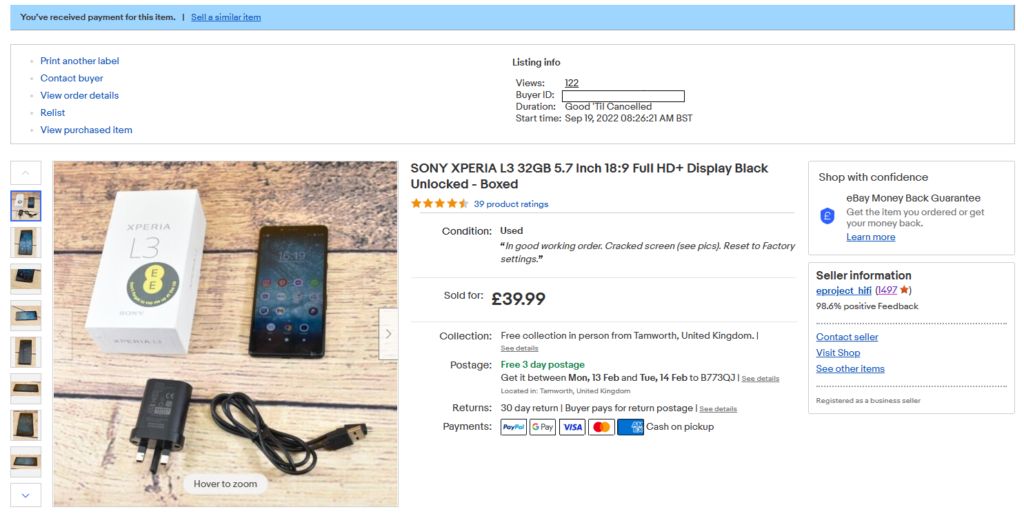 Cashback. My wife has been watching me quietly for a while until she finally decided to take action and make some Free Money of her own. She has opened and switched five bank accounts in a short period of time and collected nearly a grand in profits. Well done my lovely. Encouraged by these results, she also decided to open a TopCashback account in view of collecting cashback from her regular purchases. She kindly let me sponsor her in exchange of my wealth of knowledge. She has made nearly a £100 from cashback as well. I am really proud of her. As for myself, I made £25 from her referral and £2 from a promotional bonus on offer back in November 2022. £27 pounds and a few pennies for my strenuous educating efforts. No cuddling involved by the way.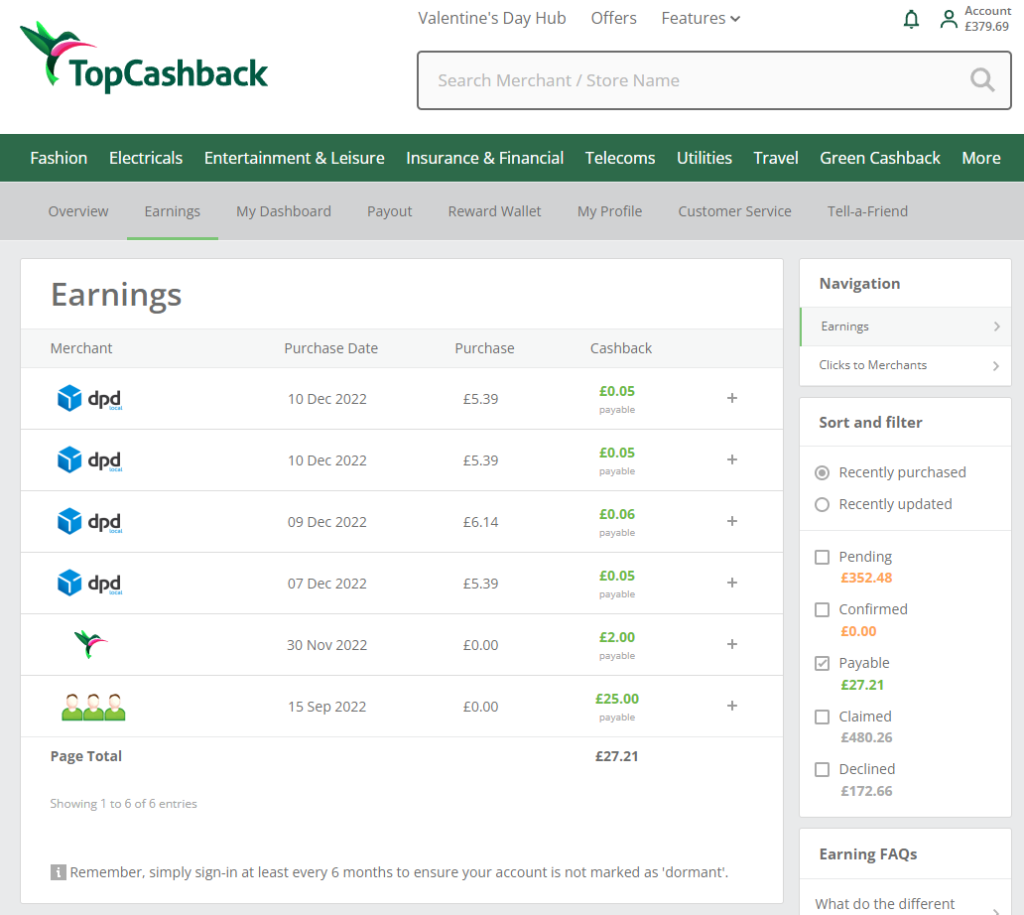 That's it. I wish I had higher Free Money Earnings this month but I also wish I was prettier. I am happy with my fantastic looks but not as much as I am with my £124 Free Money Earnings in January. I am sure I am going to feel happier next month. Not necessarily about my dazzling appearances though.