March 2023 Free Cash Earnings Report £146 Free Money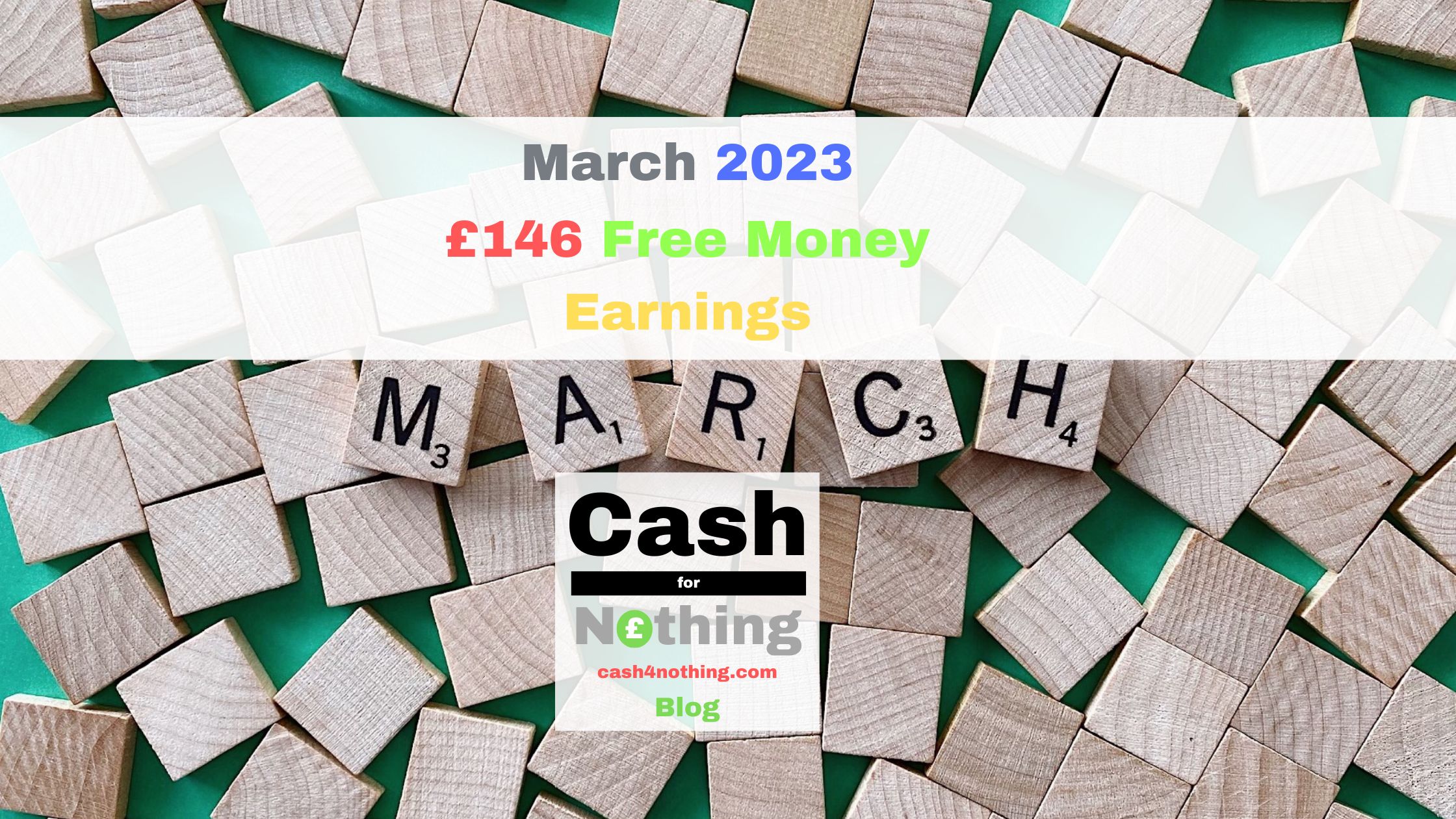 Bank Rewards: £21
Santander Lite Bank Account: £2
Halifax Reward Account 1: £5
Halifax Reward Account 2: £5
Barclays Blue Rewards: £3
RBS My Rewards: £3
Natwest My Rewards: £3
Interest on Savings: £22
Barclays Rainy Day Savings Account: £18
RBS Regular Saver: £2
Natwest Regular Saver: £2
Cashback: £103
Stocks & Shares ISA: £100
Courier services: £3
| | | |
| --- | --- | --- |
| Free Money Income Stream | Contribution | % Weight |
| Bank Rewards | £21 | 14% |
| Interest on Savings | £22 | 15% |
| Cashback | £103 | 71% |
| Total | £146 | 100% |
March 2023 Total: £146
£21 over £125 monthly target
---
| | | | | |
| --- | --- | --- | --- | --- |
| Month | Free Money Earnings | +/- Monthly Target (£125) | Accumulative | to Year End Objective (£1,500) |
| January | £124 | -£1 | £124 | £1,376 |
| February | £42 | -£83 | £166 | £1,334 |
| March | £146 | +£21 | £312 | £1,188 |
2023 Free Money Earnings: £312
£1,188 to £1,500 Annual Target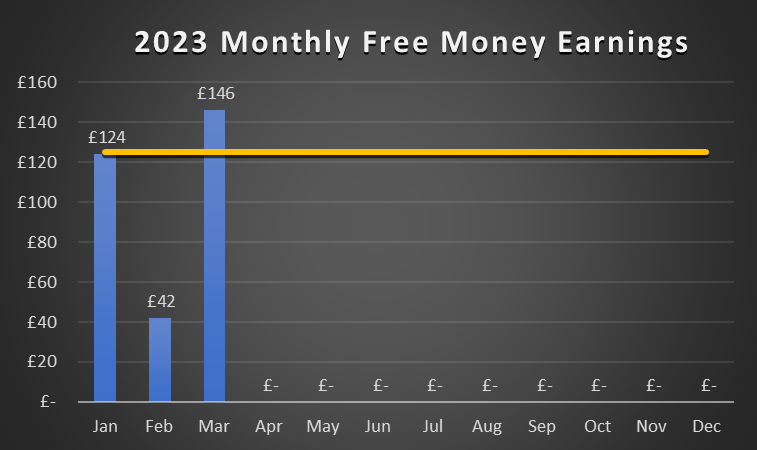 £146 pounds made in Free Money in March 2023. First month I deliver over the £125 target actually. Just a signal of the good things to come. Hopefully. There has been plenty of activity in the previous months that finally is starting to show, first of which is a £100 cashback payment for opening a Stocks & Shares ISA.
Bank Rewards. A carbon copy of February. I had to do nothing to collect my £21 pounds from bank perks. Money is moving between accounts and direct debits collected without any active participation on my side. Free Money keeps rolling in.
Interest on Savings. Same scenario here. As long as I keep my own money saved in the three savings accounts I cherry picked at the end of last year (Barclays, RBS and Natwest), I should be expecting interest payments from £21 to £25 pounds. This money is already committed, so when the time arrives to let it go, interest payments will cease to come in. I am hoping to have met my £200 objective by that time. The £22 pounds in March brings the grand total to £62 meaning I need a further £138 to go or another six months at this rate. Doable.
Cashback. A proper payment of £103 pounds from TopCashback. £3 pounds from courier services and £100 from opening a Stocks & Shares ISA with Scottish Friendly. You might think that this is a generous reward and I can agree in principle. However, the payout promised was £230 and needless to say that I am not happy at all about this (see post £230 Cashback for opening a Stocks & Shares ISA). I have been contributing with a monthly figure of £80 pounds into this ISA since July last year as per the Terms & Conditions of their offer but they delivered £130 short of their promises. I have lodged a claim but I am not holding my breath as regards to any positive outcome. I will update when I receive a reply, but I have a feeling that they will not budge. Basically they can promise anything and deliver whatever they want based on a set of discretional rules. Not only frustrating but plainly deceiving. A friendly rip-off. Please do make a note.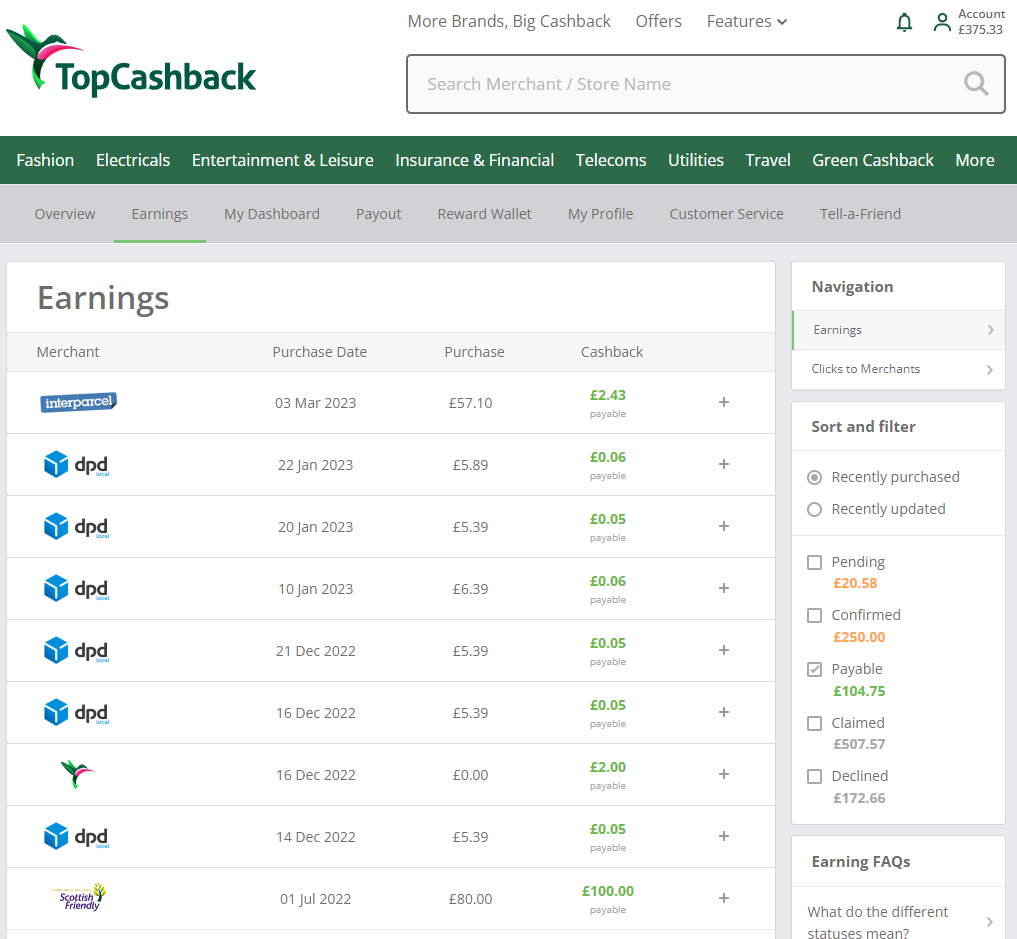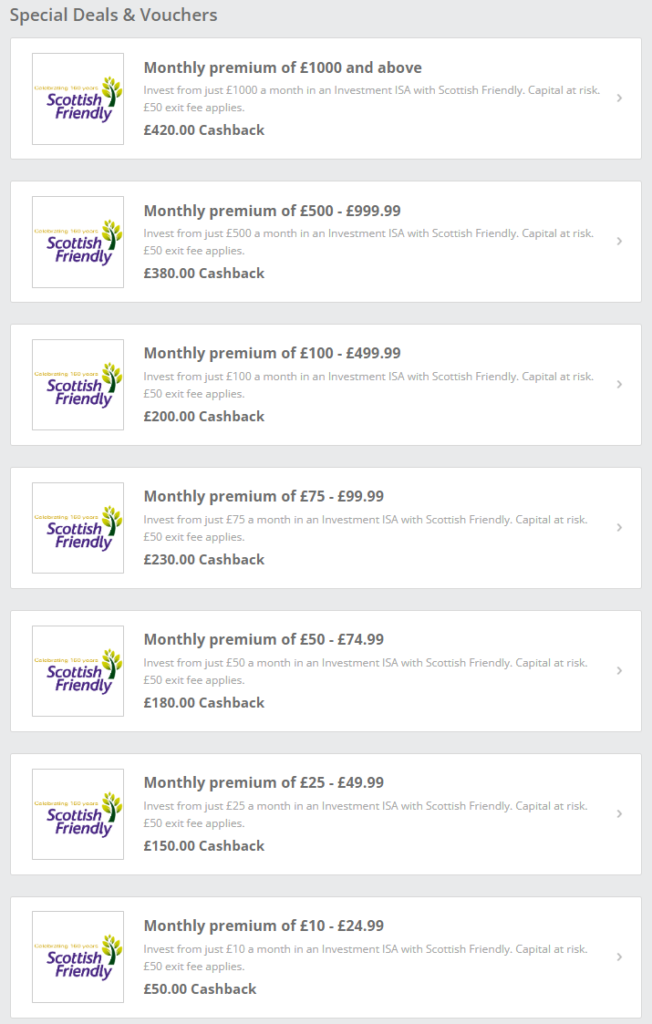 On the positive side, the reward matured in the nick of time. What I mean by that is that I can now open and contribute to another S&S ISA in view to collecting a juicy cashback reward all over again. Let me remind you that the HMRC rules that I can have as many ISA accounts as I wish but can only contribute into one during the financial year. That is to say that I will start the search from the 6th of April onwards. I will have to fund contributions from my 30% Free Money takings as per Investment Strategy. But I am jumping ahead of myself. I will capture my findings in a relevant post.
Ok. £312 Free Money down, another £1,188 to get to £1,500 as planned in 2023. Slow start but the important thing will be the ending. Some Free Money streams deliver consistently and steadily whereas others bring funds in bulk at a time. On this note, I can sense that April will be a good month. I just now it.