October 2022 Free Cash Earnings Report £268 Free Money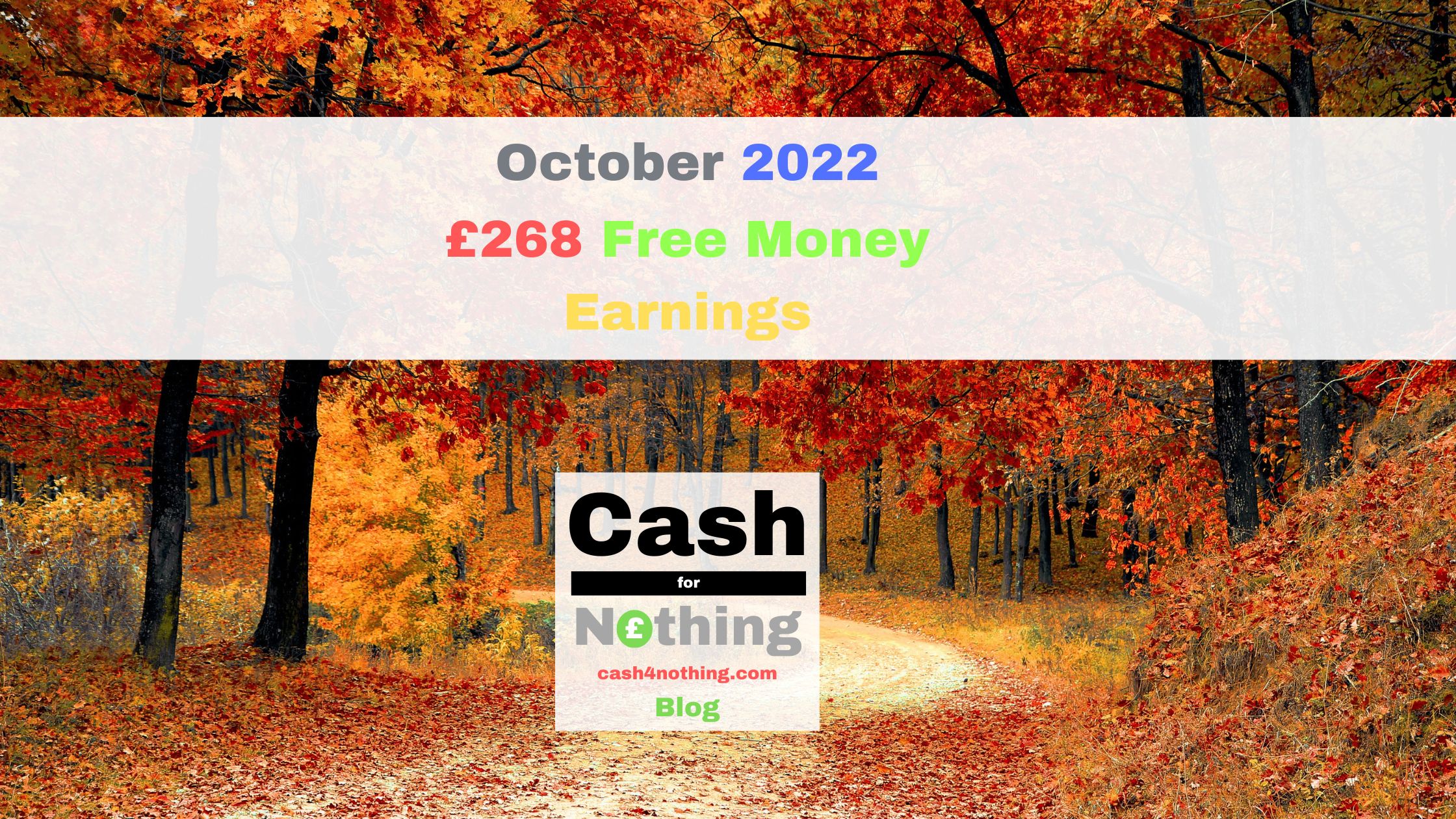 Bank Rewards & Interests: £25
Santander Lite Bank Account: £6
Halifax Reward Account 1: £5
Halifax Reward Account 2: £5
Barclays Blue Rewards: £3
RBS My Rewards: £3
Natwest My Rewards: £3
Decluttering Sales: £71
150L Tub: £20
Kids glasses x2: £16
Portable Speaker: £23
Card Reader x3: £12
Cashback: £12
Courier Services: £2
Casual purchases: £10
Bank Switch Promotions: £160
Santander Everyday Current Account Switch: £160
| | | |
| --- | --- | --- |
| Free Money Income Stream | Contribution | % Weight |
| Bank Perks | £25 | 9% |
| Decluttering Sales | £71 | 26% |
| Cashback | £12 | 4% |
| Bank Switch Promotions | £160 | 61% |
| Total | £268 | 100% |
October 2022 Total: £268
+£168 over £100 monthly target
---
| | | | | |
| --- | --- | --- | --- | --- |
| Month | Free Cash Earnings | +/- Monthly Target (£100) | Accumulative | to Year End Objective (£1,200) |
| January | £132 | +£32 | £132 | £1,068 |
| February | £139 | +£39 | £271 | £929 |
| March | £100 | – | £371 | £829 |
| April | £150 | +£50 | £521 | £679 |
| May | £399 | +£299 | £920 | £280 |
| June | £104 | +£4 | £1,024 | £176 |
| July | £58 | -£42 | £1,082 | £118 |
| August | £33 | -£67 | £1,115 | £85 |
| September | £256 | +£156 | £1,371 | +£171 |
| October | £268 | +£168 | £1,639 | +£439 |
2022 Free Money Earnings: £1,639
+£439 above £1,200 year target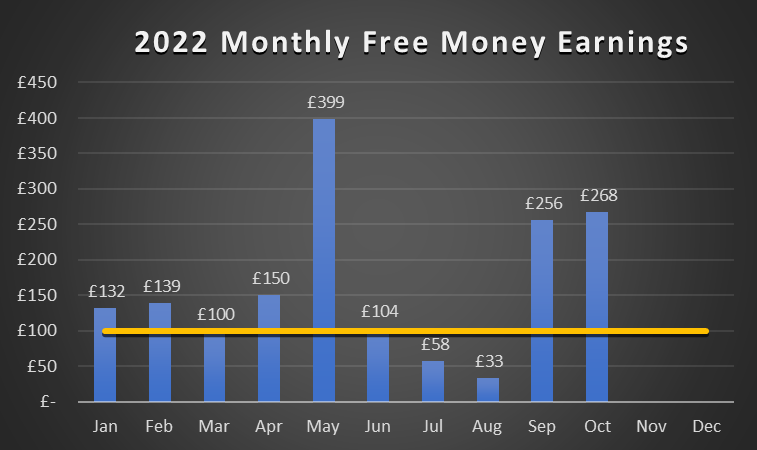 £268 Free Money Earnings in October 2022. Second highest earning month this year. All main contributors added into the Pot: bank perks, decluttering sales, cashback and bank switch promotions. No freebies I am sorry to report. Otherwise, it would have been a five out of five.
Bank rewards. No news is good news as far as I am concerned. My standing order loop, direct debits setup and card payments do the job for me effortlessly. My only task is to count up the cash at the end of the month. For some reason, I collected £6 from Santander rather than the usual fiver. As a result, I am £25 better off instead of the projected £24 figure. No complaints at all.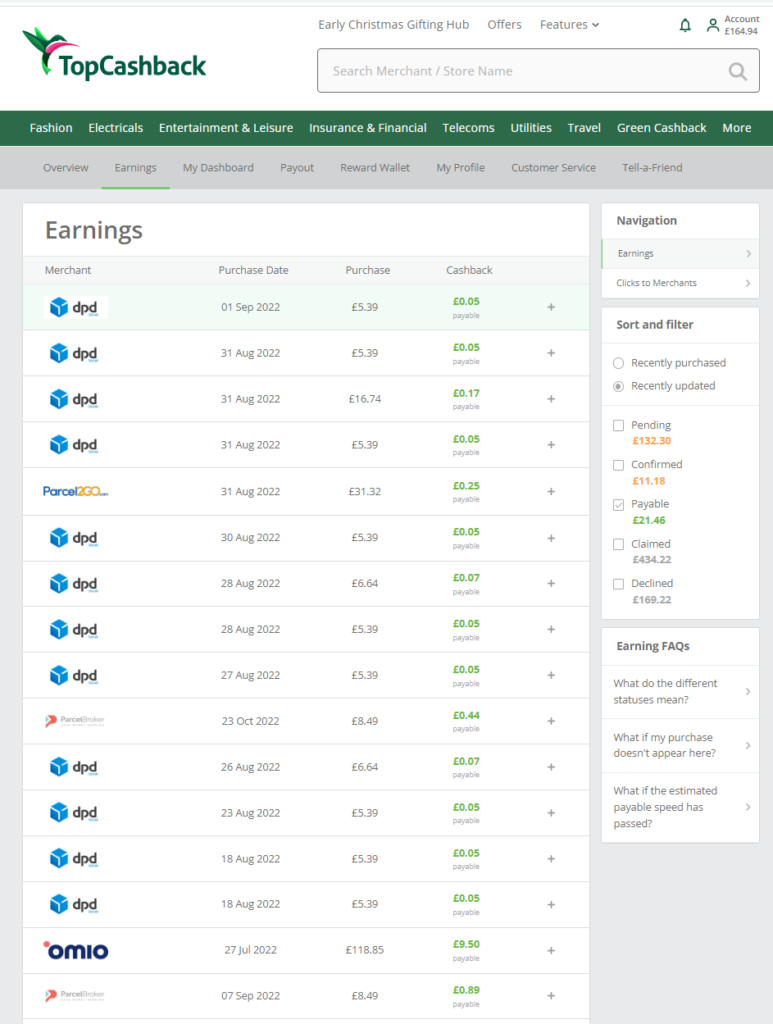 Cashback. Transactions at my TopCashback account matured slowly but surely. £12 got greened up and made available for payment. Anytime I need to buy a product or service online I always double check in the list of merchants just in case cashback is on offer for my online goods provider of choice. More often than not, an incentive is up for grabs. I am going to buy regardless, so I might as well collect some cashback if available. That is what I call Free Money. This time I received £10 cashback from a travel broker and £2 from aggregated courier purchases.
Decluttering. Sales seem to have picked up a bit after the previous quiet months. This time they brought an additional £71 home off 7 individual sales. A variety of items made a contribution. Amazing what people out there would buy for whatever the reason or intended use. Not for me for make a judgement but I will never stop at being surprised. I love online marketplaces. Greatest invention ever.
Bank Switch Promotions. It took forever and a day but Santander finally credited the promised £160 Reward on completion of a Switch. Mind due, I opened this account back in August and it was not until two months down the line when I received the cash reward. Always lovely to get Free Money out of the Banking System. I mean, really lovely. This particular one was not the easiest I should say but I got there in the end. I will elaborate on my experience in a future post.
So let's wrap up. It might not look like it but a number of milestones have been reached this month:
First. I now have £507 from decluttering sales from January to October against an objective of £500.
Second. My second bank account switch of 2022 took me to £285 as an individual free money stream against a £200 objective.
Third. The Free Cash Fund Value surpassed the £5,000 mark.
Yes, my fellow readers. I am proud to announce that at this very moment in time I have £5,051 of Free Money sitting in S&S ISAs, IFISAs and bank accounts. You may wonder where did it all come from. The answer will never cease to amaze me but it is quite straight forward: from absolutely nothing as a matter of fact. Please feel free to browse at will to verify for yourself this statement. Not my intention to blow my own trumpet, but as for myself, I truly and deeply enjoy revisiting my posts to get a taste of how it was made possible at every step of the way. I trust many of you out there share this feeling. For me, it feels as just another stepping stone. My eyes are now set on a £10,000 figure. How much longer will it take me to get there? Game on.