November 2022 Free Cash Earnings Report £234 Free Money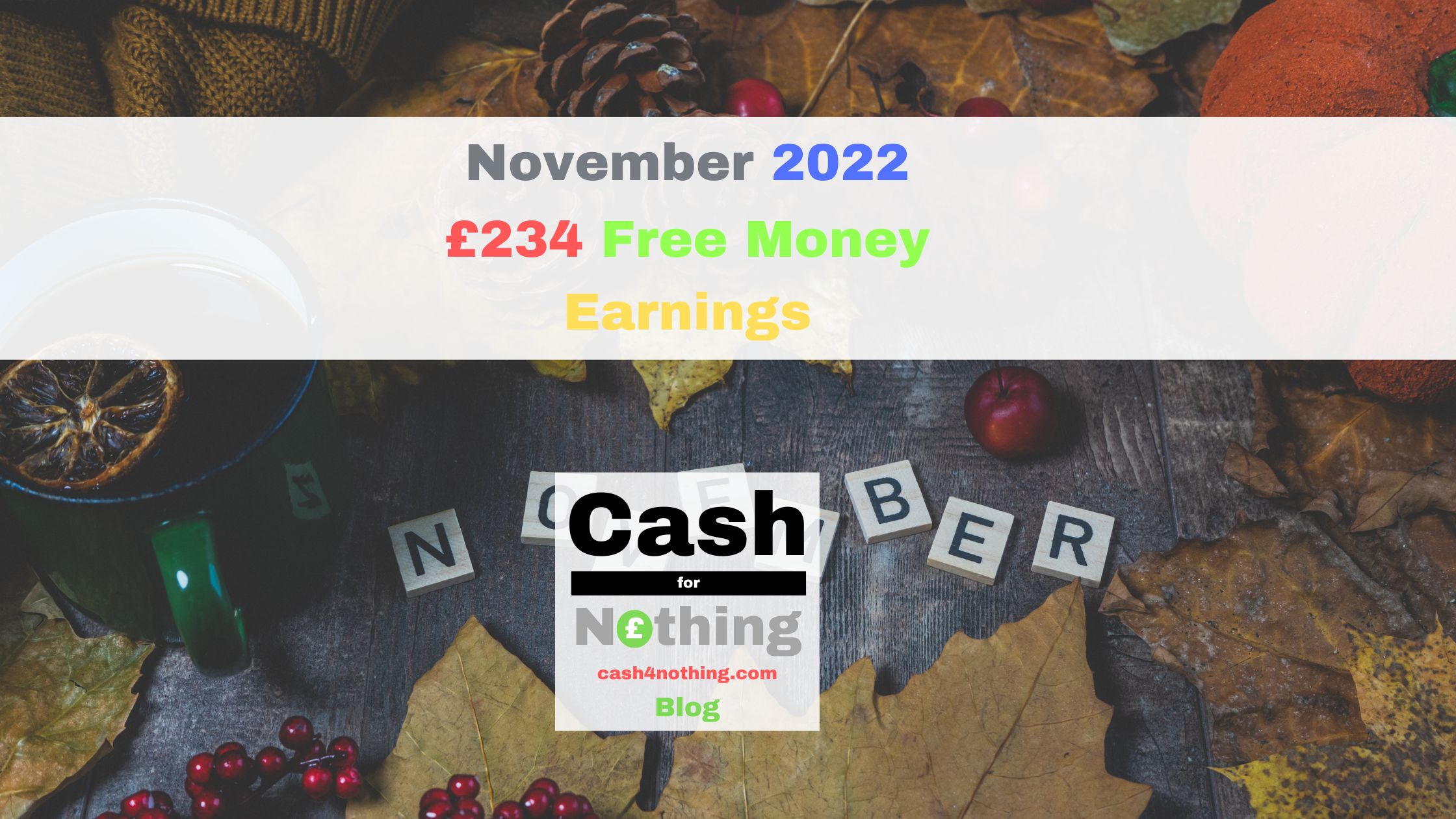 Bank Rewards & Interests: £27
Santander Lite Bank Account: £8
Halifax Reward Account 1: £5
Halifax Reward Account 2: £5
Barclays Blue Rewards: £3
RBS My Rewards: £3
Natwest My Rewards: £3
Decluttering Sales: £191
Chest of drawers: £57
Halogen lamp: £45
Bedside tables: £45
Lamp shades: £6
Guitar effects modeller: £46
Cashback: £16
Courier Services: £2
Casual purchases: £14
| | | |
| --- | --- | --- |
| Free Money Income Stream | Contribution | % Weight |
| Bank Perks | £27 | 12% |
| Decluttering Sales | £191 | 82% |
| Cashback | £16 | 6% |
| Total | £234 | 100% |
November 2022 Total: £234
+£134 over £100 monthly target
---
| | | | | |
| --- | --- | --- | --- | --- |
| Month | Free Cash Earnings | +/- Monthly Target (£100) | Accumulative | to Year End Objective (£1,200) |
| January | £132 | +£32 | £132 | £1,068 |
| February | £139 | +£39 | £271 | £929 |
| March | £100 | – | £371 | £829 |
| April | £150 | +£50 | £521 | £679 |
| May | £399 | +£299 | £920 | £280 |
| June | £104 | +£4 | £1,024 | £176 |
| July | £58 | -£42 | £1,082 | £118 |
| August | £33 | -£67 | £1,115 | £85 |
| September | £256 | +£156 | £1,371 | +£171 |
| October | £268 | +£168 | £1,639 | +£439 |
| November | £234 | +£134 | £1,873 | +£673 |
2022 Free Money Earnings: £1,873
+£673 above £1,200 year target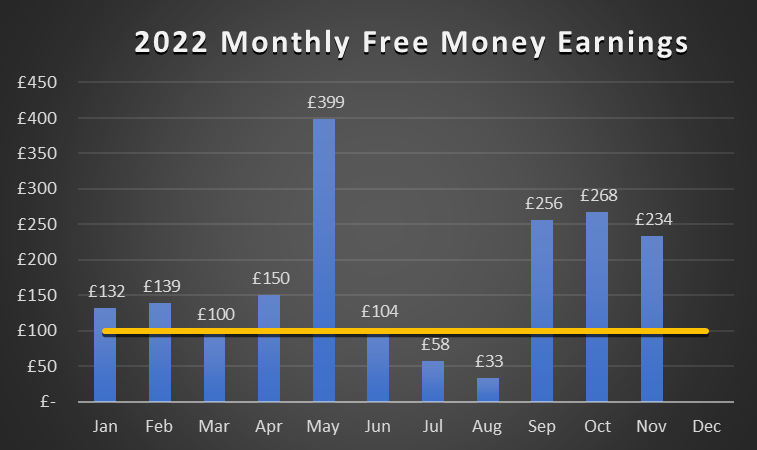 A handy £234 Free Money Earnings in November 2022. I mean I have met all my individual income stream objectives already apart from bank rewards (just another month and it will be in the bag as well). If I wanted to I could take a passive stance do nothing and wait it out until the next calendar year. Alternatively, I could casually carry on as it is still business as usual. As for myself, it does not work as an on/off switch I flick as of when. I see free money all around me up for grabs and I have the will to take it. Once you get the bug, there are no grey areas in between. I cannot unlearn this. Anyhow, this month round I had three free money contributors: bank rewards, cashback and decluttering sales.
Bank rewards. All my six bank accounts delivered free cash as expected. The positive surprise came from my Santander account. Cashback from direct debits is going up for two reasons: a) Santander is increasing the cashback rate for utility bills to 4% and, b) the payments debited are going up as well. I used to collect a pitiful £3 per month from my Santander Lite account. Now I am looking at £8. I am making the conscious decision to ignore the bill amounts because I strongly believe that it will be good for my mental health in the long run.
Cashback. I booked my airport parking via Topcashback a few months back. I also purchased some fancy trainers online and collected some cashback in the process. Pennies are also adding up every time I book a parcel delivery online. Since I am going to buy these products/services out of pure need, there is nothing wrong in picking up some cashback along the way. All of these transactions matured in November. Time to cash out on nearly £16 pounds.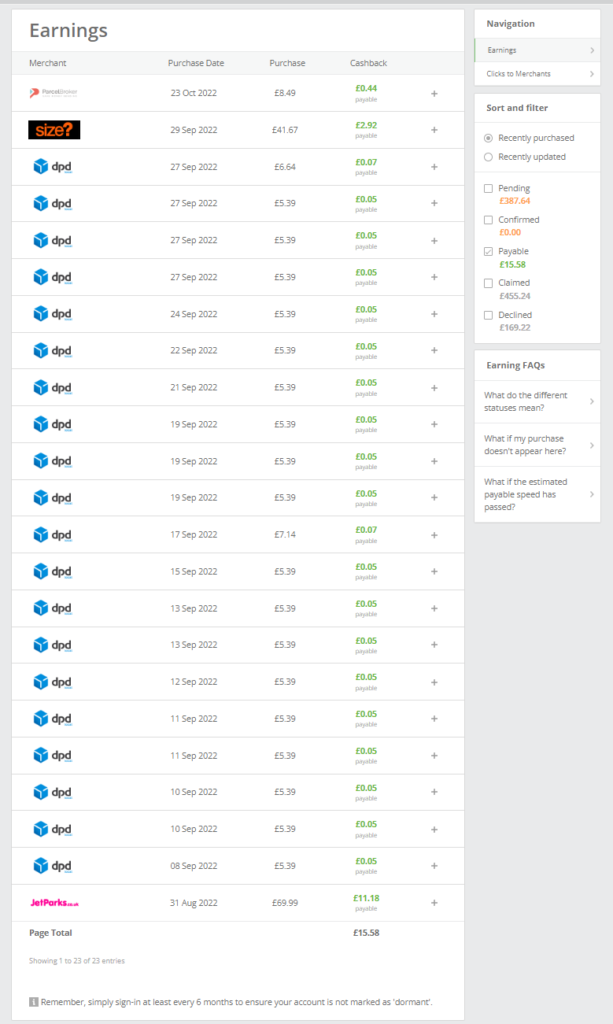 Decluttering Sales. We bought a number of pieces of new furniture for the house. The end result is that some others automatically become redundant. As suggested earlier, I have already made £500 pounds out of selling my clutter in the current year. Fact is, I am not in a position to wait until a new objective is set. My wife says that they need to go now and she is always right. Because I do well know what is good for me, I immediately proceeded to list all these items for sale. They sold fast and fetched good prices. Missus is happy and so am I. For now. I still need to rid off a few more. Pressure is on.
I am £1,900 better off thus far. That feels really good. However, there is still one month left. The £3,406 of 2021 is an impossibility, but wouldn't it be nice to deliver a round beautiful number like £2,000? I am aiming for it. Any eBayers out there, take your pick.