Clutter for Cash £166 Free Money Selling my Stuff on eBay and FB Marketplace in November 2022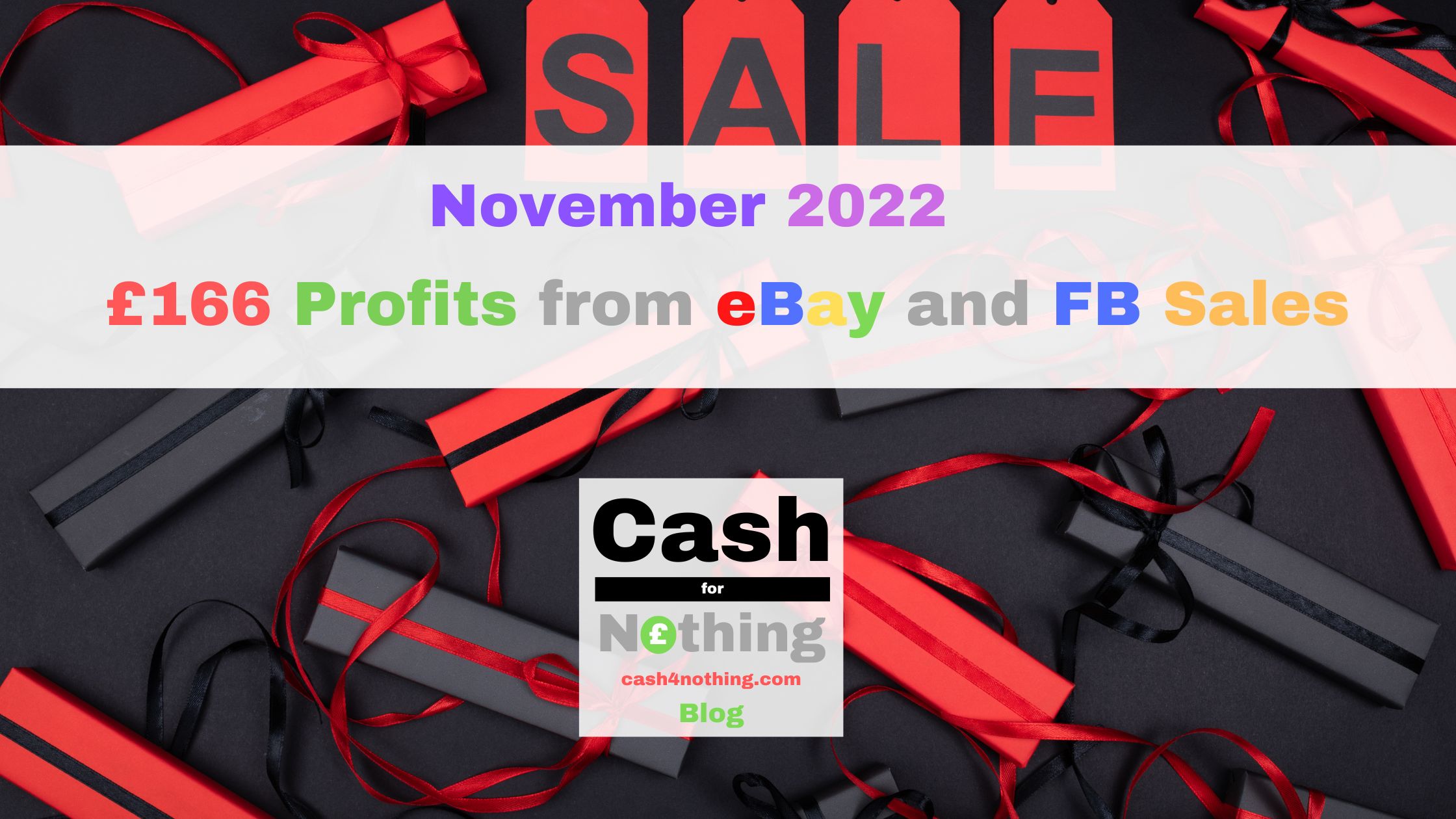 This is a list of the unwanted items that I managed to sell on eBay and Facebook Marketplace in November 2022.
Note: Net Profit is calculated by deducting postage costs (if applicable) and eBay fees off the final selling price.
£166 from selling my clutter in online marketplaces in November 2022. High end price tag items mostly for which I had no choice but to let go off as soon as possible as I had no room in the house for them. £33 profit as an average for five sold listings. This decluttering exercise is out of pure need since I am not pursuing an objective anymore. November takings are catapulting me to the £673 figure from decluttering only in 2022 or nearly £200 over the annual £500 clutter sales objective. I am chuffed with my performance (it should be noted that there is no sarcasm here, I really am). The following items found a second life elsewhere.
Chest of drawers Net profit: £32 (£57-£25 partial refund)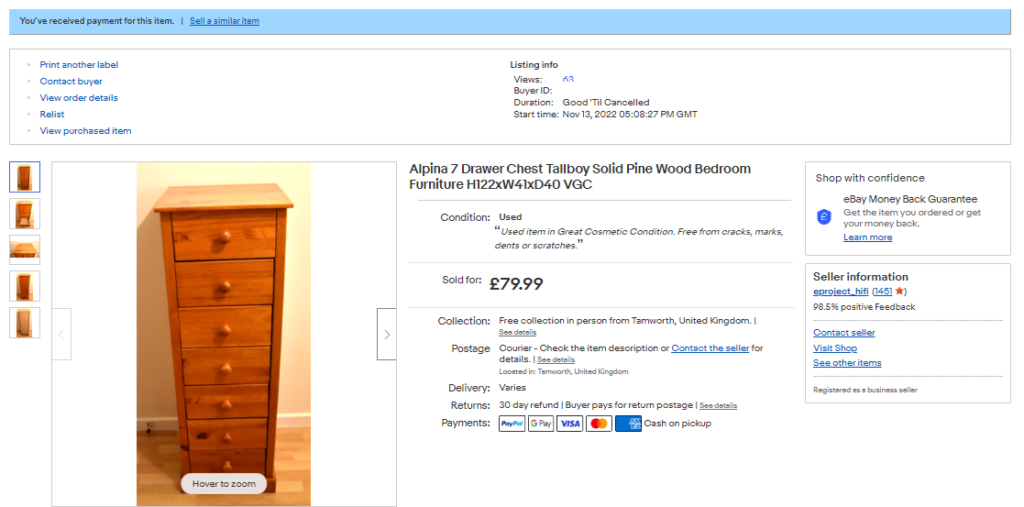 A set comprising two bedside tables and a tallboy became surplus to requirement due to a new piece of furniture being purchased. I advertised them both separately to facilitate the sale as they do not necessarily meet everyone's needs as a three piece set. I used my two usual marketplaces eBay and FB Marketplace. I also offered free delivery on eBay for a speedy sale. Even though I achieved what I wanted (a quick sale at a good price), I quickly realised that I had made a mistake for a number of reasons: the tallboy was a nightmare to pack, I struggled to source suitable packing materials, it took me a significant time and effort to produce something that could be eventually be classed as a parcel suitable for delivery, and finally, the parcel had to wait for a week inside the house before the driver turned up at the door to pick it up due to the infamous Royal Mail Industrial Action. To top it all up, the item arrived damaged to my utter dismay and disbelief. I consider myself lucky that the buyer settled for a £25 partial refund in the end. It could have been a complete disaster in the shape of a write-off loss plus delivery on top. What a phenomenal waste of time and effort. The lesson is that you live and you learn. I will never ever send by courier a piece of furniture this size. Local collection only from now on. Period.
Halogen lamp Net profit: £45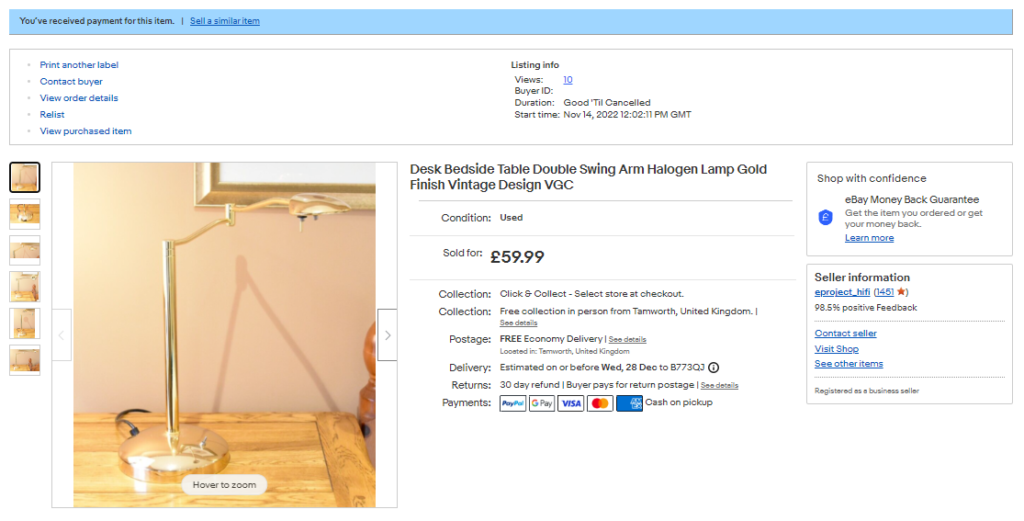 I have had this lamp for over 25 years. They are not made like this one anymore. A classic double swing arm halogen lamp in excellent condition. Vintage design is always a ticket to a fast sale. It took just a few days to go. I was pleasantly surprised with the £45 profit it left behind.
Bedside tables Net profit: £45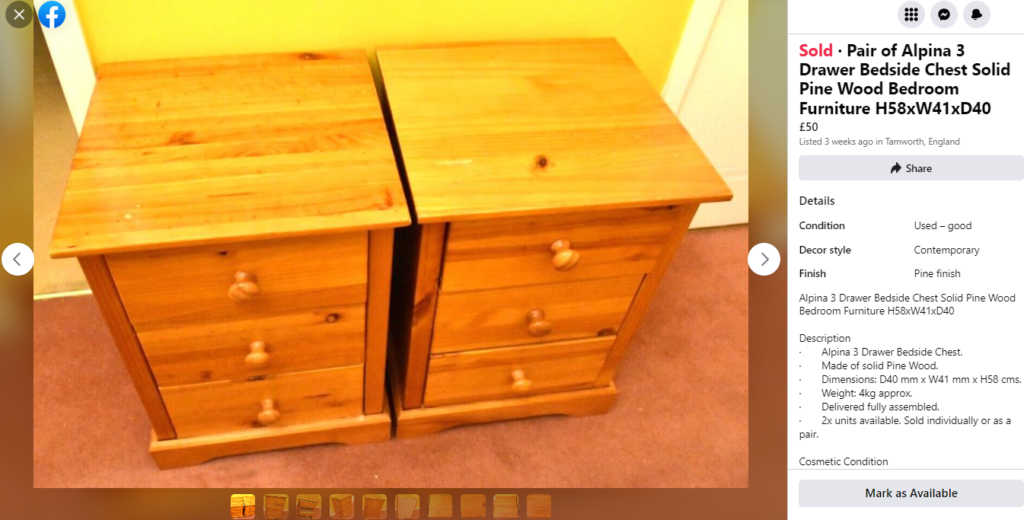 Second component of the three piece set mentioned above. This one sold on Facebook Marketplace. I was asking for £50 but I was haggled down to £45 by I nice charming beautiful young lady who gladly picked them up from my home address. She was not bothered by the random marks on both table tops as she had a plan to restore them. Best of luck and I wish her a tidy profit.
Lamp shades Net profit: £6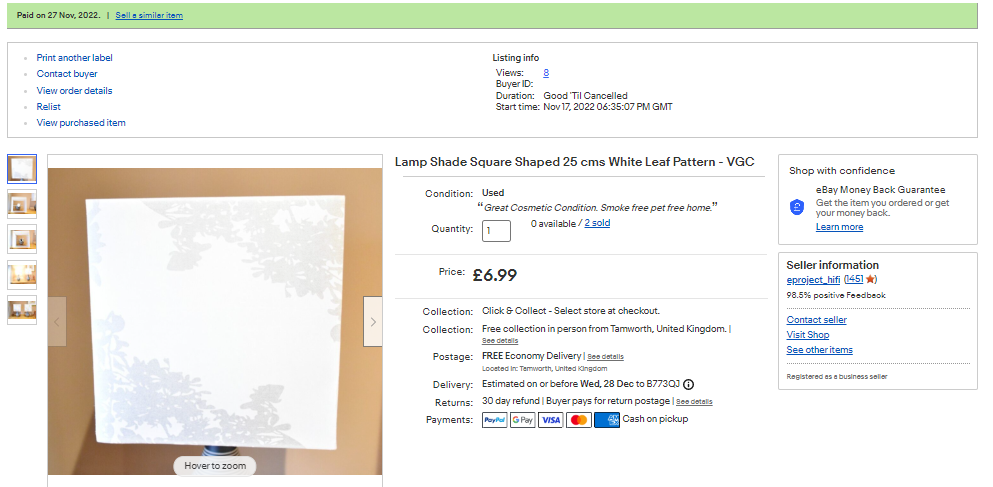 I initially put two lamps up for sale which included these shades. Shortly after, I buyer got in touch with me offering to buy the lamps only for a lower than asking price. The offer made sense to me and I accepted it. That left me with two spare shades which I then listed and sold separately. All good on paper but not so good in the real world. The buyer ended up returning the lamps claiming flickering, faulty switches and some other out of this world endless list of defects. Let me highlight once again that a return is translated into an automatic loss based on the fact that I have to foot the bill for postage cost plus return postage. Frustrating experience that one learns to put quickly behind.
Guitar effects modeller Net profit: £46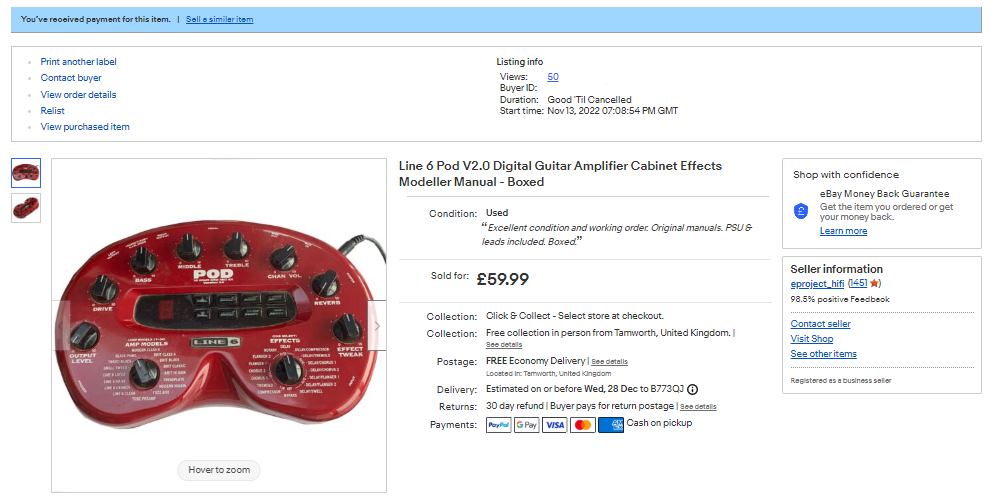 Not playing guitar as much these days. This device is a little bit dated nevertheless. I reasoned that I am much better off selling it on before it decreases further down in value in the hope of buying a new one at some point in the future. Right decision as it turns out considering that I paid £50 for it approximately four years ago. Not entirely at ease with the chunk eBay took in fees on this one but I don't think it was a terribly lousy deal after all.
In summary, good sales numbers only stained by a return and a partial refund. The return set me back £8 and the partial refund another £25 on top. Not a massive sum in the big scheme of things. Returns happened to me before, are happening now and will happen in the future. It is a collateral damage derived from online trading. One needs to detach itself from the transaction and accept it as it comes. I have made £2,000ish from selling my clutter since the blog was born nearly two years ago and that is what truly matters to me. Clutter does not bother me. At all. Keep bringing it on.