Clutter for Cash £232 Free Money Selling my Stuff on eBay in September 2022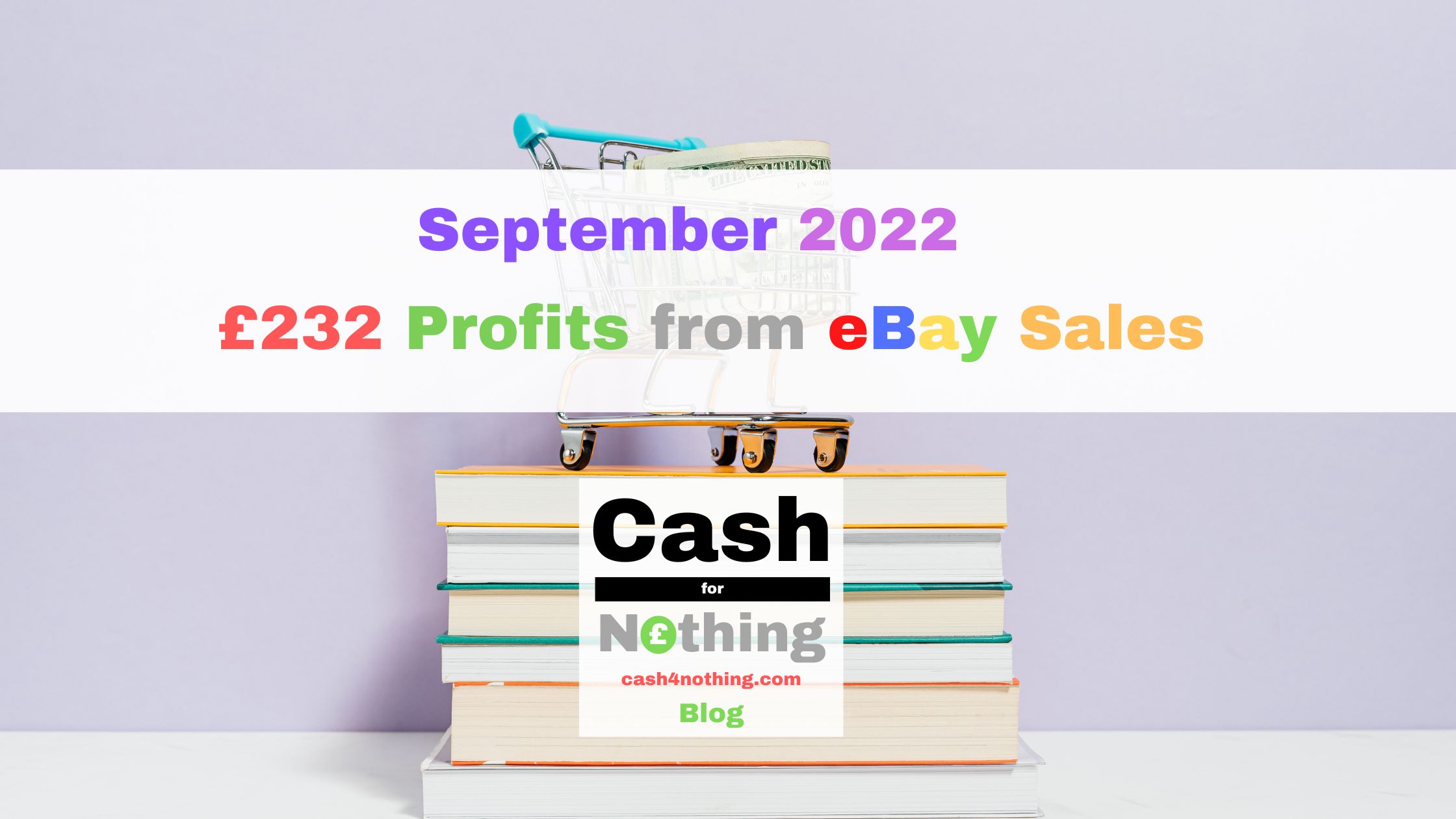 This is a list of the unwanted items that I managed to sell on eBay in September 2022.
Note: Net Profit is calculated by deducting postage costs (if applicable) and eBay fees off the final selling price.
It has been a while since I last posted about my selling feats. I will have to go back to March 2022 to find a relevant entry worth capturing for the record. If I had to find the reasons for the lack of sales, I would identify mainly three: I have not listed any new items since December 2021, sales have been somewhat slow and my live listings did not seem to find the right buyer out there on a cost/appealing ratio basis. As it happens, I dialled and tuned in the right settings judging by September earnings. Five items of clutter found extremely happy owners in September 2022 for a net profit of £232. Not a bad month at all. I like my metrics and this month round I recorded an average of £46 per item or £185 per hour of my precious limited time (15 minutes/listing). That is an all time high since I started documenting my sales in this Blog. Happy days.
On the big scheme of things, let me remind you that I had made £202 from sales from January to August, so this month takings are not only comfortably beating what I have accrued so far, but also bringing me a huge step closer to my £500 annual objective of Free Money Earnings from Decluttering Sales only. The bar is set at £434 as it stands (see Free Money Tracker) and I 'only' need £66 more over the next three months to hit home. Will I be able to do it?
Ok. Let's have a look at what sold and for how much.
Womens Boots Net profit: £17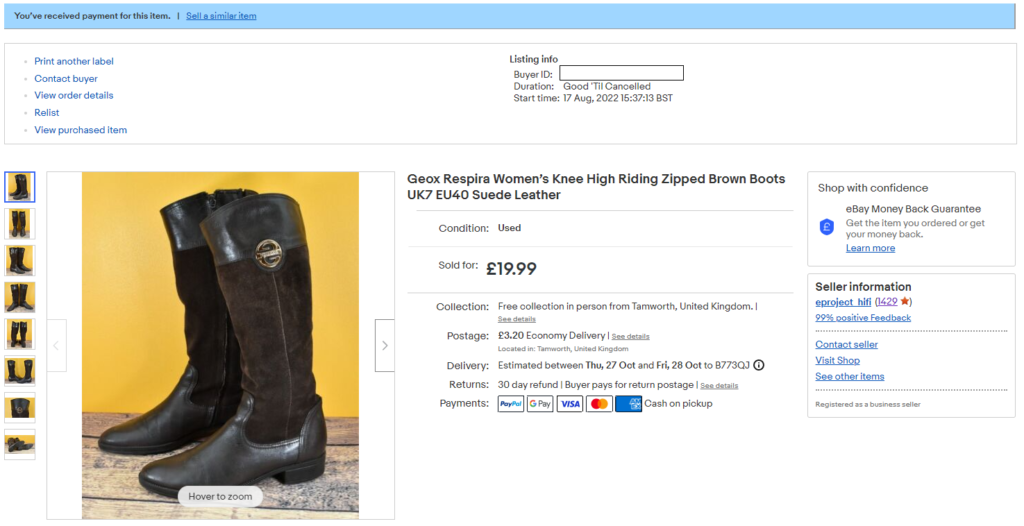 Another footwear item kindly donated to the Cause by my lovely wife. She got herself a new pair of boots and these ones became redundant even though they were still in pretty decent shape. I spared no time in listing them but they took a while to shift to my surprise. The lady who purchased them was elated with the boots on arrival and left a great positive review. Two happy ladies for the price of nowt. It really does not get any better than this.
Apple iPhone 6 Net profit: £22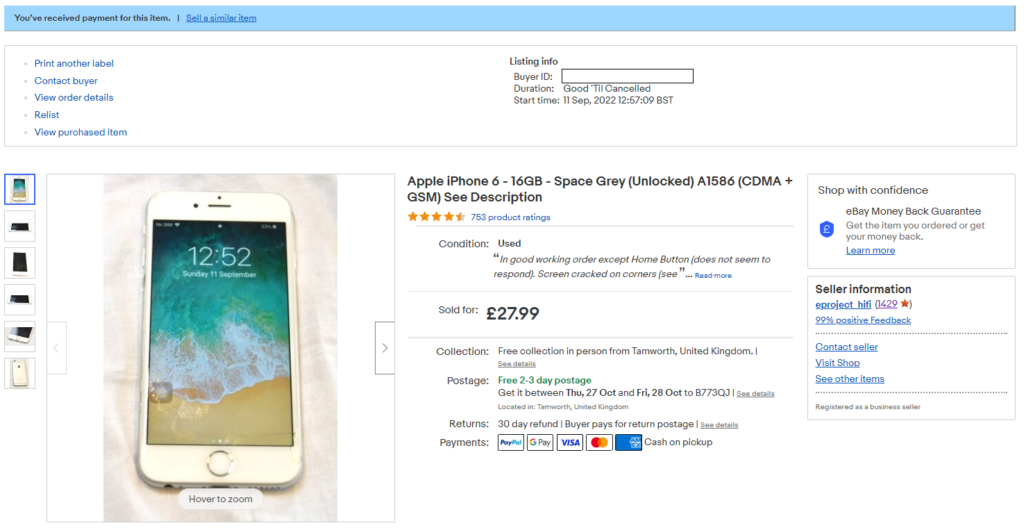 This phone was passed on from mother to teenage son after an upgrade and had experienced the ravages of time and carelessness. It managed to make it through with minor cracks on the screen and a broken home button. An absolute miracle in my eyes really. A second upgrade meant a redundant phone available for sale. It took just a week for it to be sent to a much a better place.
Kids Trainers Net profit: £9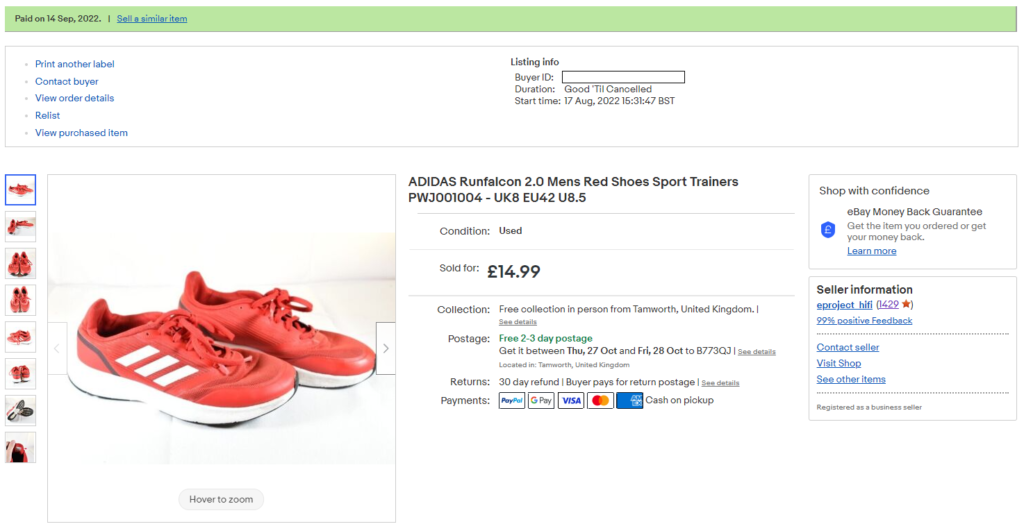 More footwear. This time was the turn for a hardly used pair of kids trainers. My son did not have much of a chance to wear these because he grew out of them in the blink of an eye. Hardly used trainers in great condition such as these ones do not take long to move for the right price. Off they went and I got more positive feedback afterwards. Everybody is happy.
Lenovo PC Net profit: £137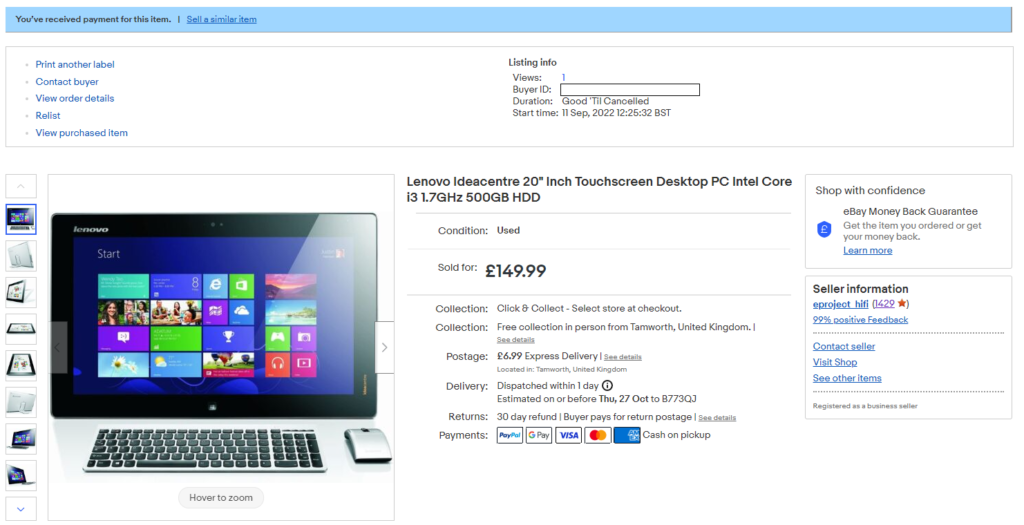 Another upgrade. Another redundant piece of tech. I bought this PC in 2014 and have made extensive use of it. Good machine that I eventually replaced for a laptop. I held onto it for a while in the hope of it being given further use either by myself or my kids. I had to accept the evidence that it was cluttering the home for no logical reason, so I might as well sell it as it still carries a good market value. I threw in a couple of extras such as a keyboard and the original box plus accessories. Effortless sale within days.
Nokia 6 Smartphone Net profit: £61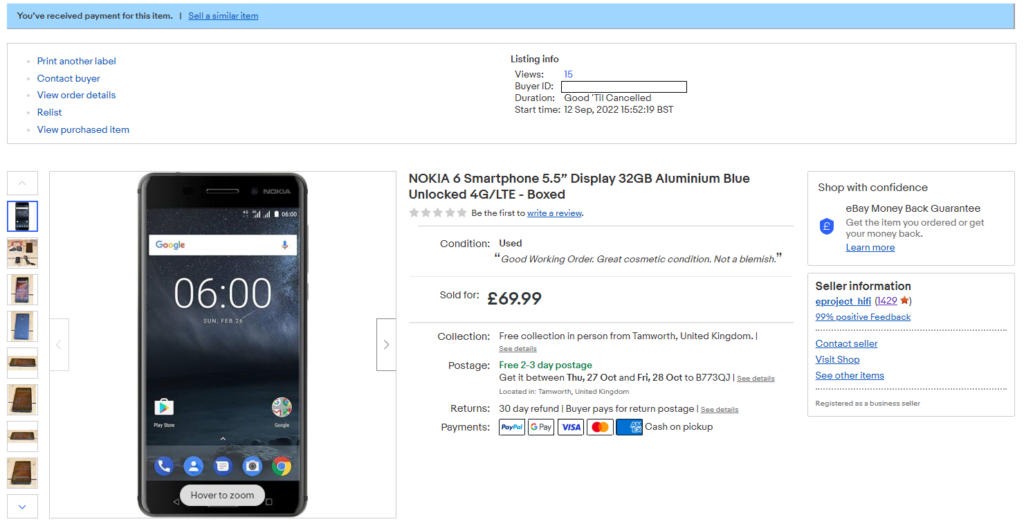 My good old Nokia 6 Smartphone had become sluggish and had long been replaced. Again, I was keeping it for sentimental reasons rather than out of need. Beautiful phone in immaculate condition and a reluctant sale to be honest. But it had to go. I believe it was sold a week after listed to a delighted lady buyer who praised me endlessly after the purchase. Thanks to you and enjoy your item.
As a take away for the month, it goes to show that you can do no wrong with tech really. Targeting the right price bracket, my experience is that tech always flies off the shelf. Footwear and clothing take longer but they also find their way into new ownership. I happened to find the right mix this month and I am really glad that I did.
If you have payed attention up to this point, you may have noticed that doing all sums correctly, I actually made £246 from all sales, however, I experienced a return for a set of kids glasses sold back in June. Slightly annoyed as for the reason given to return the item. The buyer claimed that the glasses were too small. I guess is too much of an ask to read tittle and description where measurements are clearly captured. Anyway, returns happen for a variety of reasons and that is just part of the selling game. The return set me back £14 (£8 refund + £3 postage + £3 return postage). I will have to settle for £232 worth of clutter. At the end of the day, is Free Money in my eyes. No real reason to dwell on it and I am thoroughly enjoying the ride. Next, please.