April 2022 Free Cash Earnings Report £150 Free Money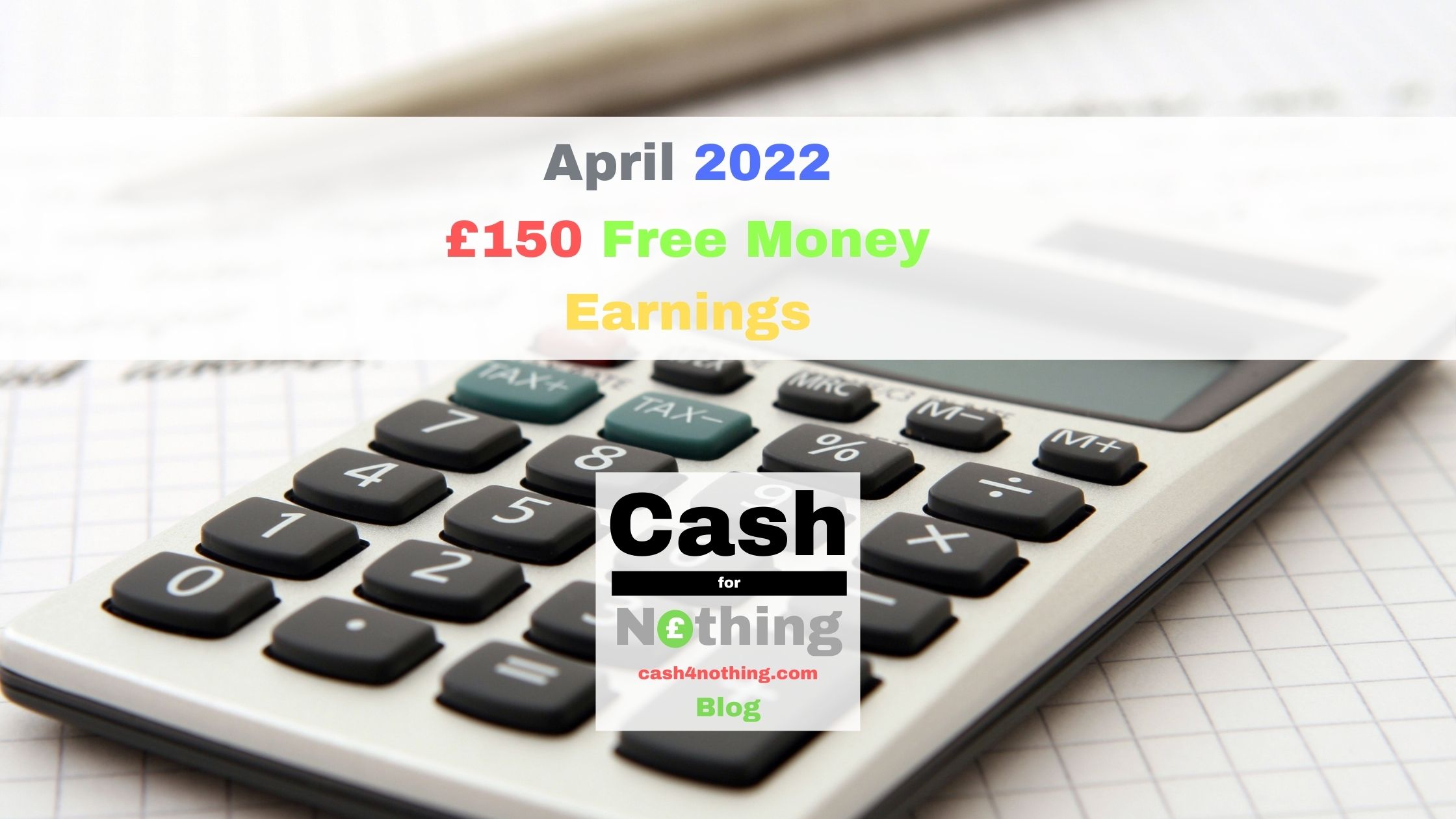 Bank Rewards & Interests: £16
Santander Lite Bank Account: £2
Barclays Blue Rewards: £3
RBS My Rewards: £3
Natwest My Rewards: £3
Halifax Rewards Account: £5
Cashback: £7
Casual purchases: £5
Courier Services: £2
eBay Sales: £2
Promotions: £125
Halifax Bank Reward Account Switch: £125
April 2022 Total: £150 (+£50 above £100 monthly target);
£679 to £1,200 year target.
| | | | | | | | | |
| --- | --- | --- | --- | --- | --- | --- | --- | --- |
| Bank Rewards | | Cashback | | Sales | | Promotions | | Total |
| £16 | 11% | £7 | 5% | £2 | 1% | £125 | 83% | £150 |
| | | | | |
| --- | --- | --- | --- | --- |
| Month | Free Cash Earnings | +/- Monthly Target (£100) | Accumulative | to Year End Objective (£1,200) |
| January | £132 | +£32 | £132 | £1,068 |
| February | £139 | +£39 | £271 | £929 |
| March | £100 | – | £371 | £829 |
| April | £150 | +£50 | £521 | £679 |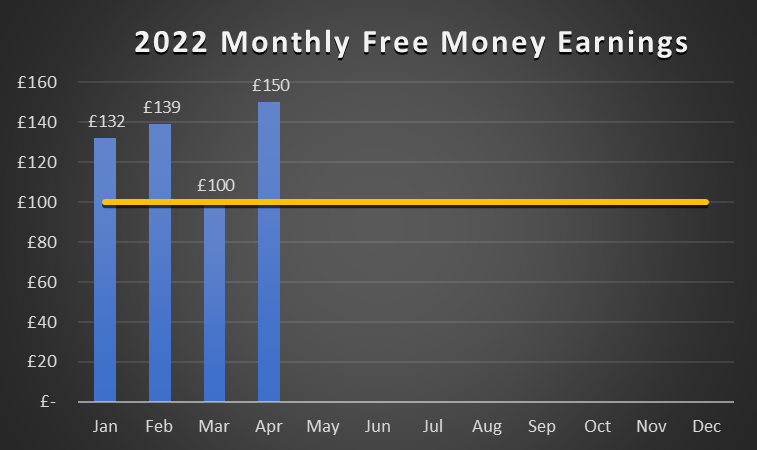 Another nice round number of £150 pounds in Free Money Earnings in April 2022. Highest monthly figure so far this year bringing me just £79 away from delivering 50% of my Year Earnings Target. That is £521 accumulative earnings from January to end of April or £679 to reach the £1,200 projection for 2022. Four income streams delivered Free Cash in April: bank rewards, cashback, eBay sales and promotional sign-ups.
Cashback from direct debits coming off my Santander account are offsetting monthly charges again after a two month break from paying Council Tax. Allow me to be straight with you and confess that I would much rather prefer not to pay any taxes and hence skip on my reward, but realistically, that is just an impossibility in the real world. At least I am getting 1% back, and 1% is better than nought. That is not all too bad. To make matters merrier, I will receive an even more generous reward in May since my energy bill will treble. You see, there are reasons to keep myself happy and upbeat. Always look on the bright side of life but no need to turn the lights on too much or too bright. Moving on, and as previously announced, Barclays cut down my net reward from £8 to £3. The way this is done is by increasing the fee and reducing the overall reward. Still £3 in my pocket every month. Question remains as to for how much longer. Thanks ever so much to the Barclays Board of Directors. Hope you all get a well deserved performance related bonus. On a positive note, RBS, Natwest and Halifax have decided not to move the goalpost just yet and profits came in as expected.
Cashback earnings keep ticking along from transactions maturing after the relevant pending period has lapsed. This month I collected £5 thanks to booking my car for servicing online. I got a fantastic deal by the way and the level of service was impeccable. They even washed the car and delivered it to me looking as good as new (or almost). I will definitely take the car back to them next year. Another £2 were accrued from a variety of courier purchases. £7 in total but I still have £30 in the pipeline and a couple of claims for untracked cashback. All I need to do is to watch it turning green at the end of every month.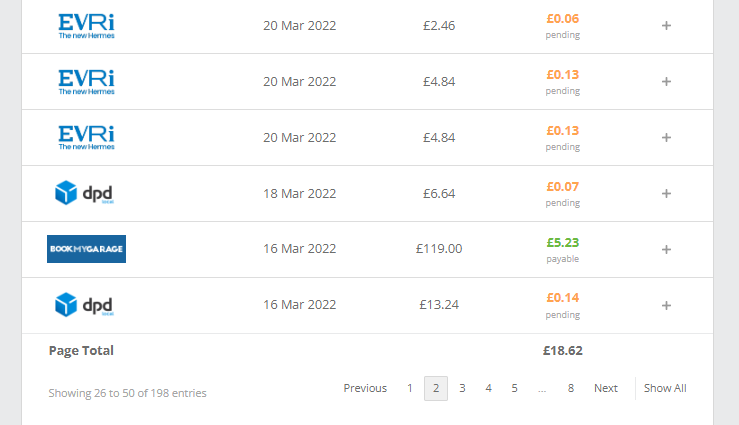 Just a pitiful £2 from a single eBay sale and at the very end of the month. Strange times to me because sales go up and down like a rollercoaster lately. Well outside of my area of influence I suppose. I do not complain. No matter how little, a profit is a profit. I fully intend to keep it well saved for the hard times.
Lastly, my first bank switch reward of 2022. I did not have to wait for nine months this year round. I came by the Halifax promotion and jumped into it instantaneously. Easy, almost effortless £125 free cash for the coffers, and another Reward Account to milk an extra fiver from every month. Sweeter than honey. See post for the full details into how I got it.

It is April and that means that a quarterly review is due. I will question and examine my progress so far in full detail but I have a feeling of being well on target for every free money stream. Steady state with no peaks or troughs so far, and I am not making a real effort to be honest. Just passively carrying the momentum from one month to the next. Almost four grand better off by now. It really means a lot to me.