March 2022 Free Cash Earnings Report £100 Free Money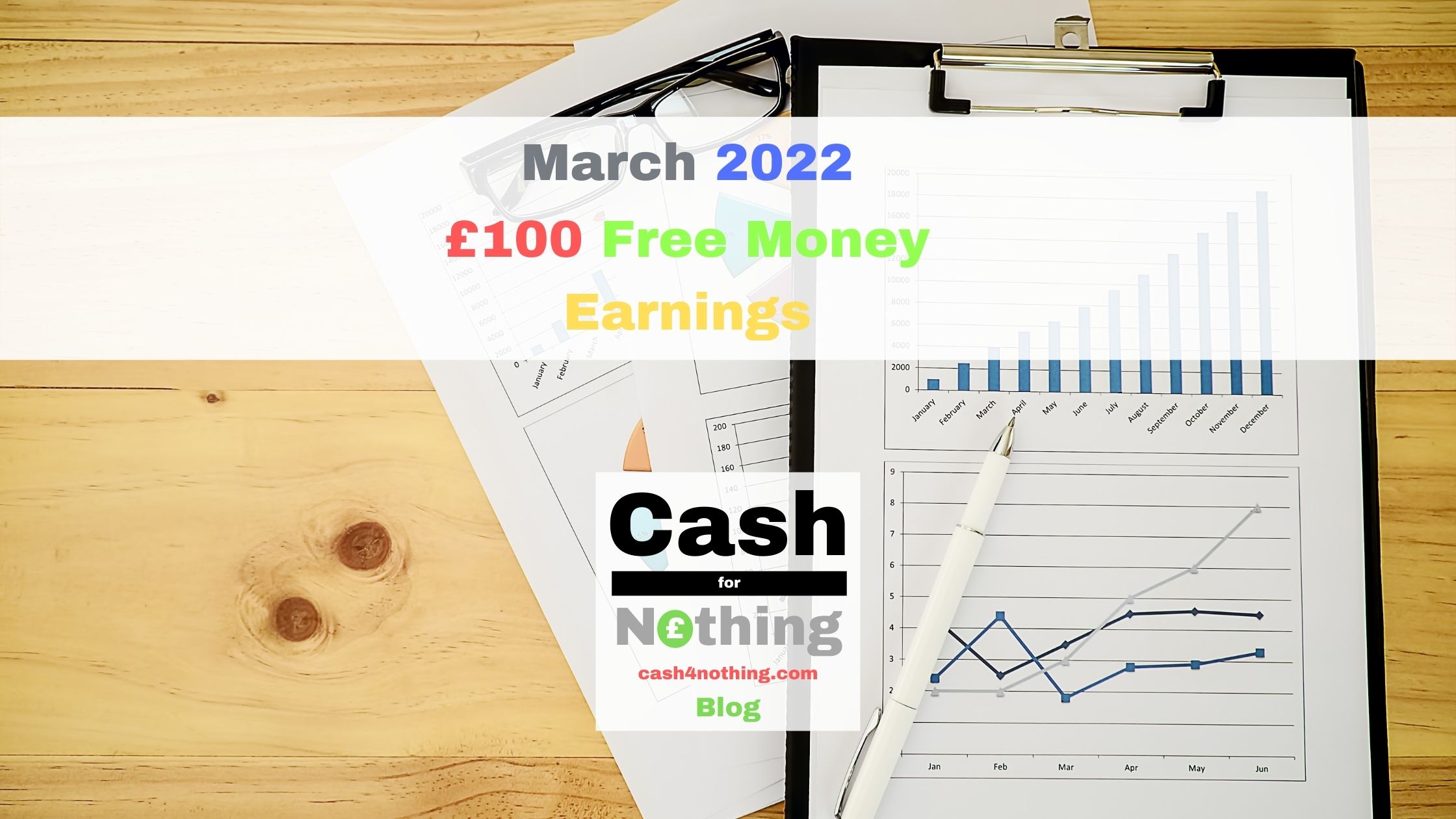 Bank Rewards & Interests: £19
Barclays Blue Rewards: £8
RBS My Rewards: £3
Natwest My Rewards: £3
Halifax Rewards Account: £5
Cashback: £7
Casual purchases: £4
Courier Services: £3
eBay Sales: £74
Calculator: £11
Curtains: £16
Kids books: £5
Mens Sunglasses: £34
Toddlers coat: £8
March 2022 Total: £100 (matching £100 monthly target);
£829 to £1,200 year target.
| | | | | | | |
| --- | --- | --- | --- | --- | --- | --- |
| Bank Rewards | | Cashback | | Sales | | Total |
| £19 | 19% | £7 | 7% | £74 | 74% | £100 |
| | | | | |
| --- | --- | --- | --- | --- |
| Month | Free Cash Earnings | +/- Monthly Target (£100) | Accumulative | to Year End Objective (£1,200) |
| January | £132 | +£32 | £132 | £1,068 |
| February | £139 | +£39 | £271 | £929 |
| March | £100 | – | £371 | £829 |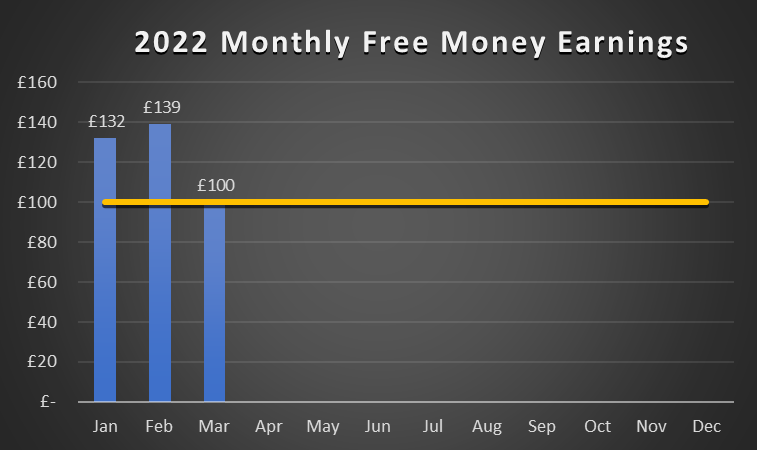 Just managed to make £100 pounds in Free Money Earnings in March 2022. Dead on target but taking a small dip in comparison to January and February. All positive news since I am already only two thirds away from my End of Year target or £800ish to get to the finish line. As for March, things run pretty much in auto mode. I have been extremely busy with work and a number of different projects. It shows on my Blog entries and in my active involvement in generating Free Cash. All in all, three sources of Free Money delivered what feels like passive income: bank rewards, cashback and eBay sales.
I do not pay Council Tax in February and March meaning no direct debit activity and no cashback from it credited into my Santander Lite account. As a result, net earnings from Santander are zero because the account fee matches the cashback earnings from my utilities payments. That is going to change dramatically in April for two main reasons: Council Tax will be paid again with a substantial increase over last year charges and my Energy Bill will triple because I am coming off the fix cap I had enjoyed for a year. I am rubbing my eyes in disbelief. My Energy bill will multiply by three in one go, and the worst thing is that there is nothing I can do to change things in the short/medium term. There is no gain to be made (quite the opposite) or opportunity to switch energy suppliers because energy prices are at an all time high, so I have no choice but to stay put and pay up so that someone/a selected few somewhere grow immensely rich out of me and the rest of us. I have no capacity to change this system which is rigged and rotten by definition. Like 99% of the population I will have to either comply or set up a fire in my back garden to keep myself and my family warm. I also have the choice of pedalling my way into a rechargeable battery system. Realistically speaking, I do not see a lot of room for change, so I will moan and pay for the time being. I must feel content because I am not put into a situation where I have to choose between paying my energy bill or feeding my family. For now. My heart goes out to the financially vulnerable as they suffer the most. This situation is so unfair and so wrong. I do feel truly disgusted.
Steering the topic back to Bank Rewards earnings, I standardised the process of collecting £5 from my Halifax Rewards account. The requirements are: a minimum of £1,500 per month credited into the account and pay at least £500 with my Halifax debit card. To automate this process, I have added a link into my standing orders loop to make sure that the Halifax account is part of it so that it gets credited monthly. As for the second part, I clear my credit card by paying into it using my Halifax debit card. If I find myself below the £500 payment, I use my Revolut account to make a charge into the card for the difference. It did the trick and I collected my fiver in March.

£7 are available for payment from online purchases made though TopCashback. £4 from casual purchases from various merchants (JD, Decathlon and FeelGood Contacts) and £3 from courier services. I am not in a rush to get my hands on this massive earnings and I will cash out on due course when the balance reaches a significant enough sum.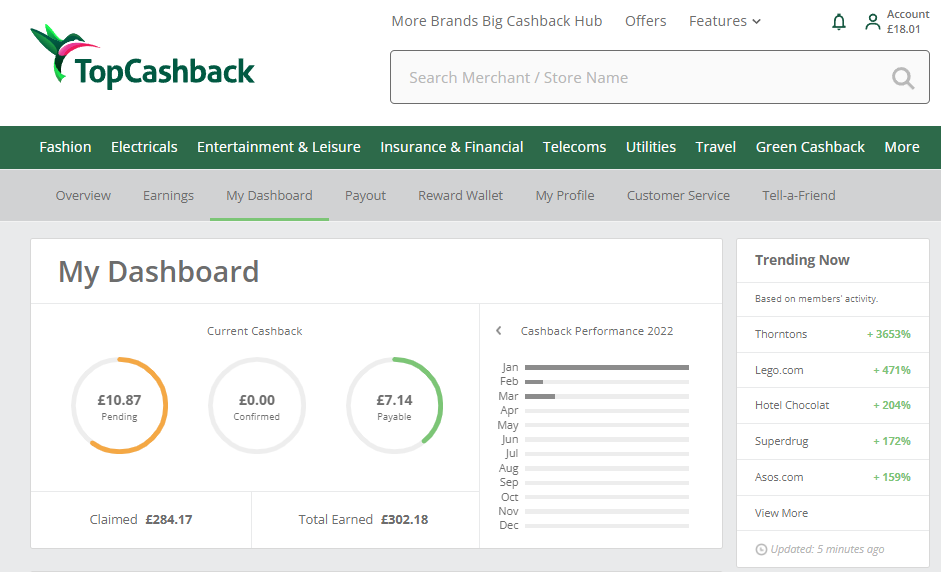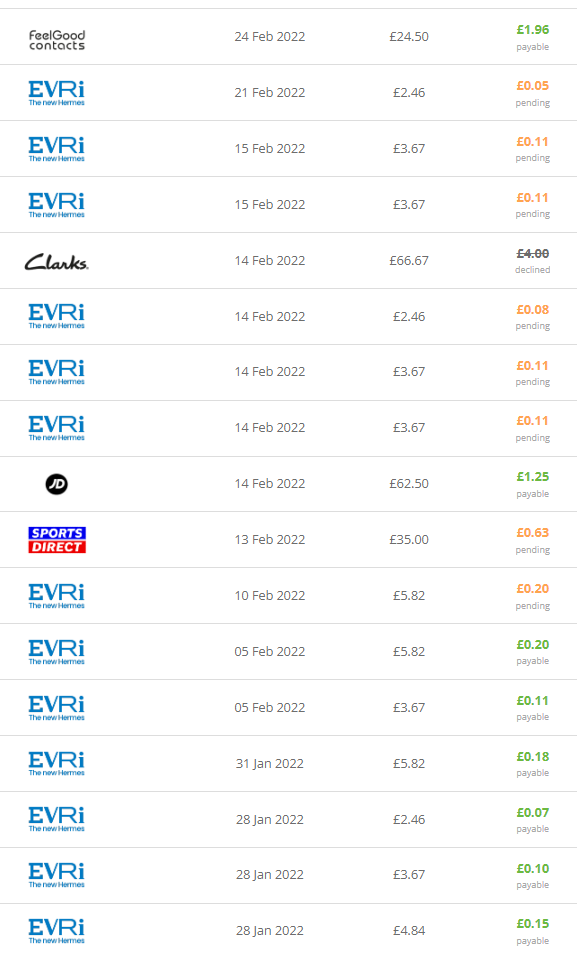 £74 made by trading cash for clutter. That is more like it after the 'disappointment' of £22 takings in February. Five unwanted items sold on eBay at an average of £15 profit each equally valuing an hour of my time at £60 (I estimate I can list four items in any given hour at a steady pace). Let me remind myself that I am asking for £500 in Free Money Profits made from flogging my clutter by the end of the year (see post How to make £1,200 Free Money in 2022 – My Plan & Objectives). That is to say that I must come up with a minimum of £41 per month. I have made £158 (see Free Money Tracker) in the first three months of 2022 which translates into £52 per month as a floating average. Good enough I would say. Best being ahead on the race than trailing behind.
A quarter of the year gone and three quarters of my objective earnings made at almost zero effort. I mean I am not boasting about it. It goes to show that I am reaping the rewards of an initial investment in planning and execution. I can only state that I am infinitely happy with the ROI ratios.