£100 Saving + £40 Cashback for Switching Energy Supplier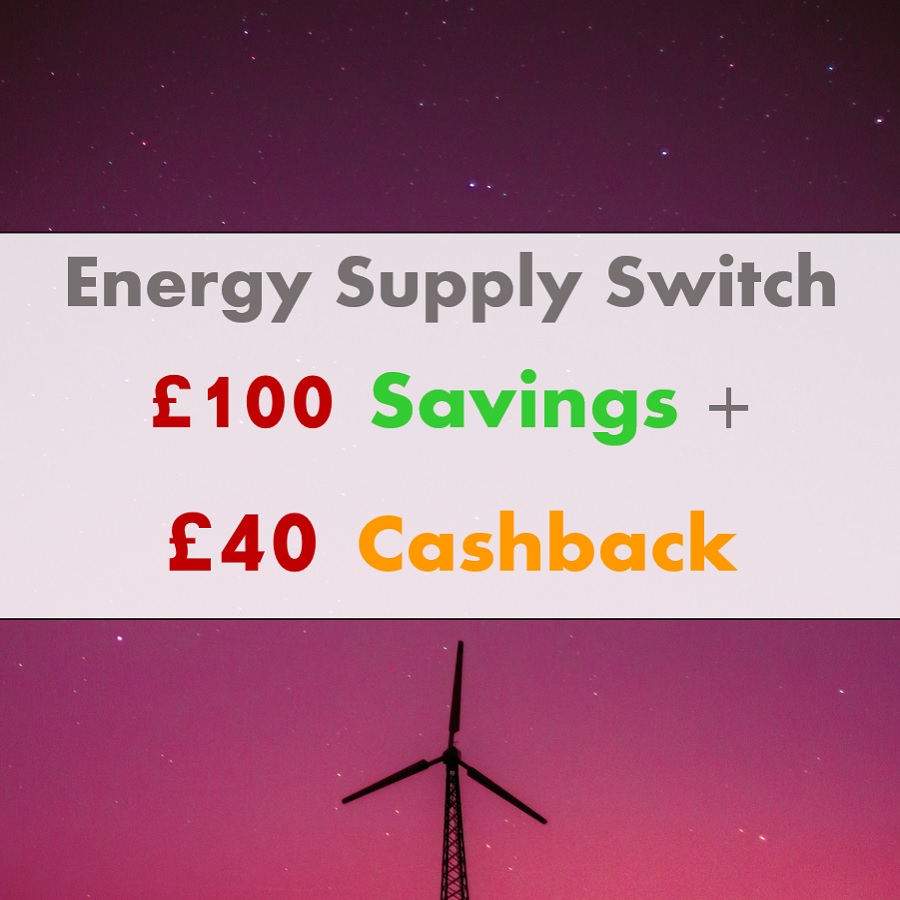 I am overpaying. Time to switch.
I checked my records and the last time I switched Energy Suppliers was in June 2019. I enjoyed a 12th month fixed priced as part of the deal but I was automatically transferred to the default higher tier on the anniversary date. I have not got around to shopping for a new deal until now.
There are savings to be made as Energy Companies are constantly on the lookout for new customers. In this context, there is a multitude of Energy Comparison Sites and tools which will sift through the complex array of plans and suppliers for you. You just need to type away a basic set of data such as address, current supplier and energy plan, and estimated consumption. There are even sites that will automatically switch suppliers for you when your current deal is due. I take a different tack though, I use the comparison sites to find the best deal for me and then proceed to register with the Energy Company of my choice via a cashback website.
Register via a Cashback Website
There two elements savings-wise: first, savings derived of reducing my monthly energy bill as a result to switching to a cheaper tariff, and second, the free money collected in terms of cashback as a result of the switch itself. To me this is free cash since I will be switching anyway. The difference is, it will be me collecting a reward along the way, rather than the comparison website or switching service.
My method is to use at least three different 'independent' comparison tools. For example, moneysupermarket, uswitch and FreePriceCompare. From their results, I can get an understanding about the best deals for me. I pick the top three deals and with this information, I search the cashback websites for the best cashback rate available for each one of them. The overall winner will be the one with the highest figure in terms of cashback plus savings. Once identified, I will register through the cashback website. Visit the C4N Toolbox for For a list of Energy Comparison Services and cashback websites.
£100 worth of savings plus £40 cashback
This time round, I have been most pleased to learn that Quidco has introduced an Energy Comparison Service. I cross referenced it with other comparison tools and came to very similar results. To be sure, I also checked TopCashback to compare cashback rates.
I captured a snapshot of my search results: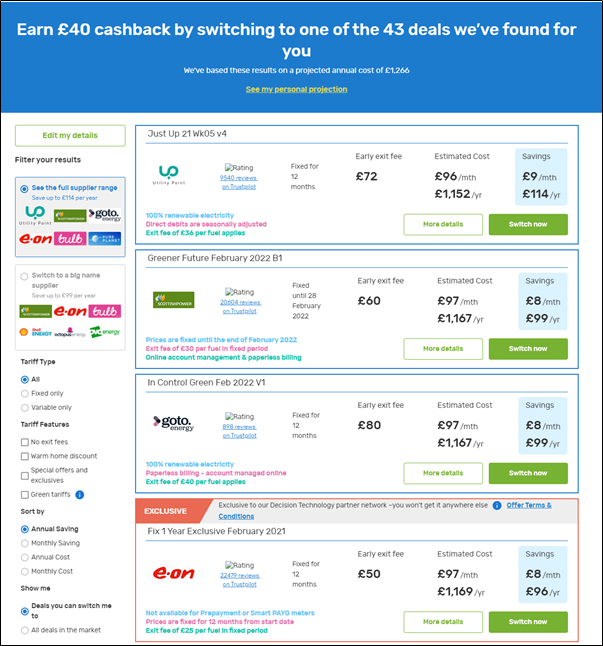 All factors considered, I am veering towards e-on. The cashback rate is a £40 flat reward for the switch regardless of the supplier. £40 was also the best cashback deal I could find for e-on.
I am going ahead with the switch. A no brainer really. I quite like the combination Saving Money + Free Money. The switch is a smooth process not requiring any other involvement than keeping an eye on the notifications I will receive along the way. I am happy for having invested 20 minutes worth of my time in order to collect £100 worth of savings per year on my Energy Bill and £40 cashback. It looks like a decent enough hourly rate to me.

Cashback tracking confirmation.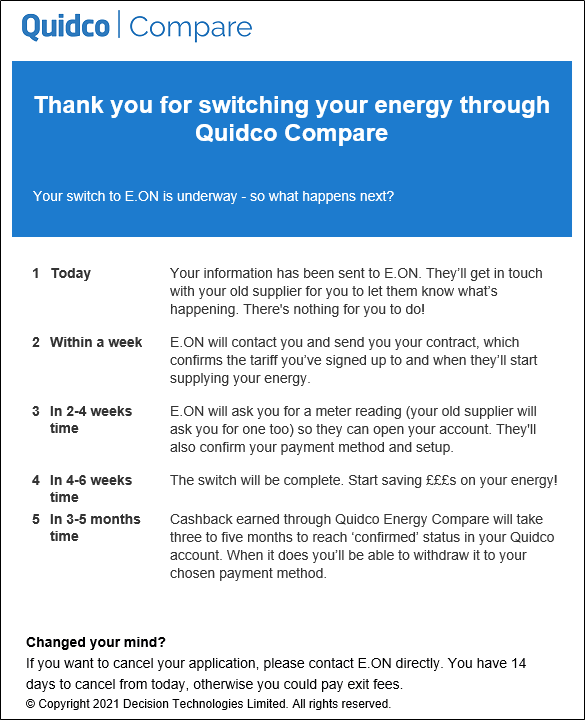 Switch Timeline