December 2022 Free Cash Earnings Report £28 Free Money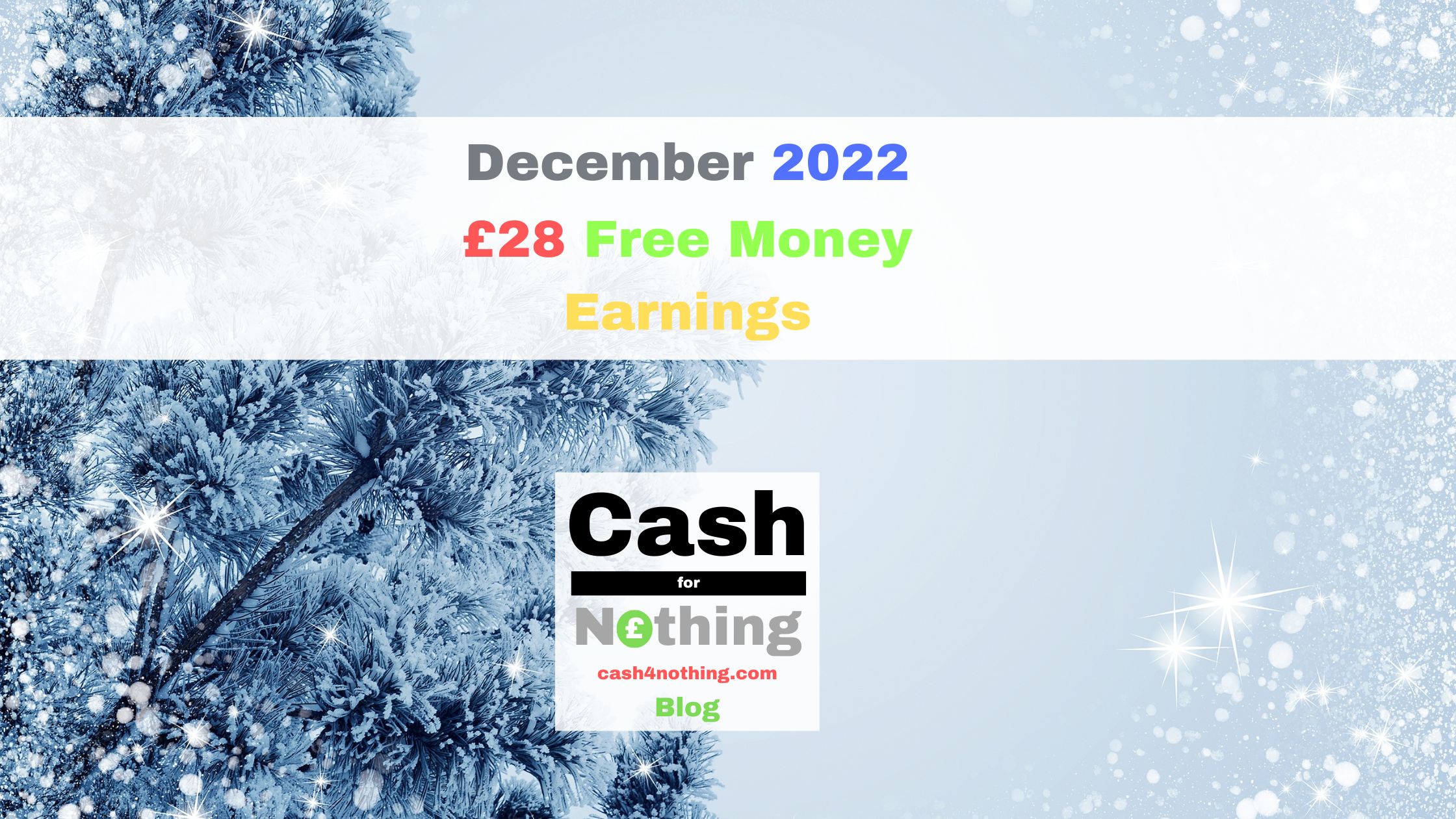 Bank Rewards & Interests: £36
Santander Lite Bank Account: £4
Halifax Reward Account 1: £5
Halifax Reward Account 2: £5
Barclays Blue Rewards: £3
RBS My Rewards: £3
Natwest My Rewards: £3
Barclays Rainy Day Savings Account @5.12%: £13
Decluttering Sales: -£18
Card Reader: £4
Chest of drawers partial refund: -£22
Cashback: £10
Courier Services: £2
Casual purchases: £8
| | | |
| --- | --- | --- |
| Free Money Income Stream | Contribution | % Weight |
| Bank Perks | £36 | 70% |
| Decluttering Sales | -£18 | |
| Cashback | £10 | 30% |
| Total | £28 | 100% |
December 2022 Total: £28
-£72 below £100 monthly target
---
| | | | | |
| --- | --- | --- | --- | --- |
| Month | Free Cash Earnings | +/- Monthly Target (£100) | Accumulative | to Year End Objective (£1,200) |
| January | £132 | +£32 | £132 | £1,068 |
| February | £139 | +£39 | £271 | £929 |
| March | £100 | – | £371 | £829 |
| April | £150 | +£50 | £521 | £679 |
| May | £399 | +£299 | £920 | £280 |
| June | £104 | +£4 | £1,024 | £176 |
| July | £58 | -£42 | £1,082 | £118 |
| August | £33 | -£67 | £1,115 | £85 |
| September | £256 | +£156 | £1,371 | +£171 |
| October | £268 | +£168 | £1,639 | +£439 |
| November | £234 | +£134 | £1,873 | +£673 |
| December | £28 | -£72 | £1,901 | +£701 |
2022 Free Money Earnings: £1,901
+£701 above £1,200 year target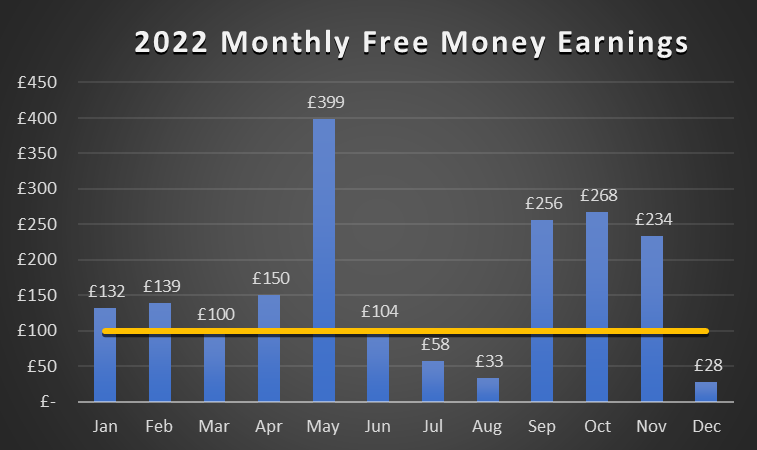 I had a higher expectation than £28 Free Money for the last month of 2022 but it just did not materialize for me into a more tangible result. Second lowest earnings month after the £33 collected in August. Somewhat disappointing but if I stop for a second and reflect on the fact that I made a practically zero effort to produce this money, I would find reasons for feeling upbeat.
Bank Rewards. I made £23 from my direct debit setup and standing order loop. That is a given passive income. The piece of good news is that I made half as much or £13.49 from my £3,000 Personal Emergency Fund that I conveniently deposited in my Barclays Rainy Day Account. The account is yielding a 5.12% per year and the interest is paid monthly. I opened this Barclays Savings account in early December and transferred the Emergency Fund there (see post 5% Savings Accounts are back. Time to ditch my CrowdProperty IFISA?). I plan to use the £5,000 maximum deposit allowance on the account sooner rather than later but for the time being £3,000 will do. £36 from both line items is a good outcome and a very promising prospect for 2023.

Decluttering sales. I sold a chest of drawers at the end of November 2022. That was that I thought. But then disaster stroke. The item arrived damaged and after some coming and going with the buyer, we made a deal by which the buyer agreed to keep the item in exchange of a £25 partial refund (see post Clutter for Cash £166 Free Money Selling my Stuff on eBay and FB Marketplace in November 2022). I had already accounted for the profit from the sale meaning that the adjustment had to be booked in the incoming month (December 2022). All in all, I had to let go of £22 to capture this unfortunate event (eBay reimbursed a £3 fee). On the plus side, I made a single sale for a bank card reader for a £4 profit. End result is a -£18 in the clutter sales department. Not great but it is what it is.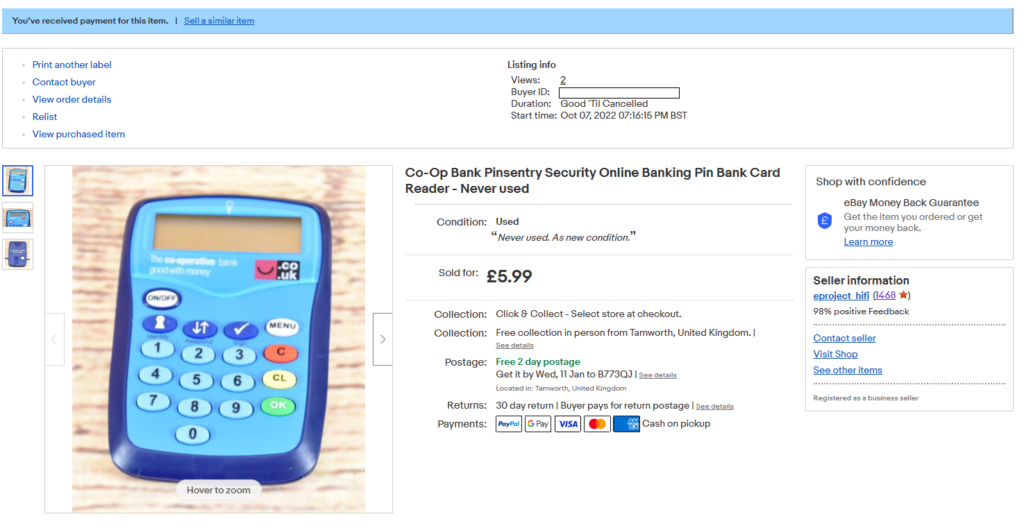 Cashback. I happened to do some early Christmas shopping back in October and November. It goes without saying that I used my TopCashback account to collect cashback from as many purchases as possible. Some of this online transactions matured quickly and were made available for payment whereas some others will do so over the next few weeks. I made £8 cashback from casual buys alone and an additional £2 came from courier services.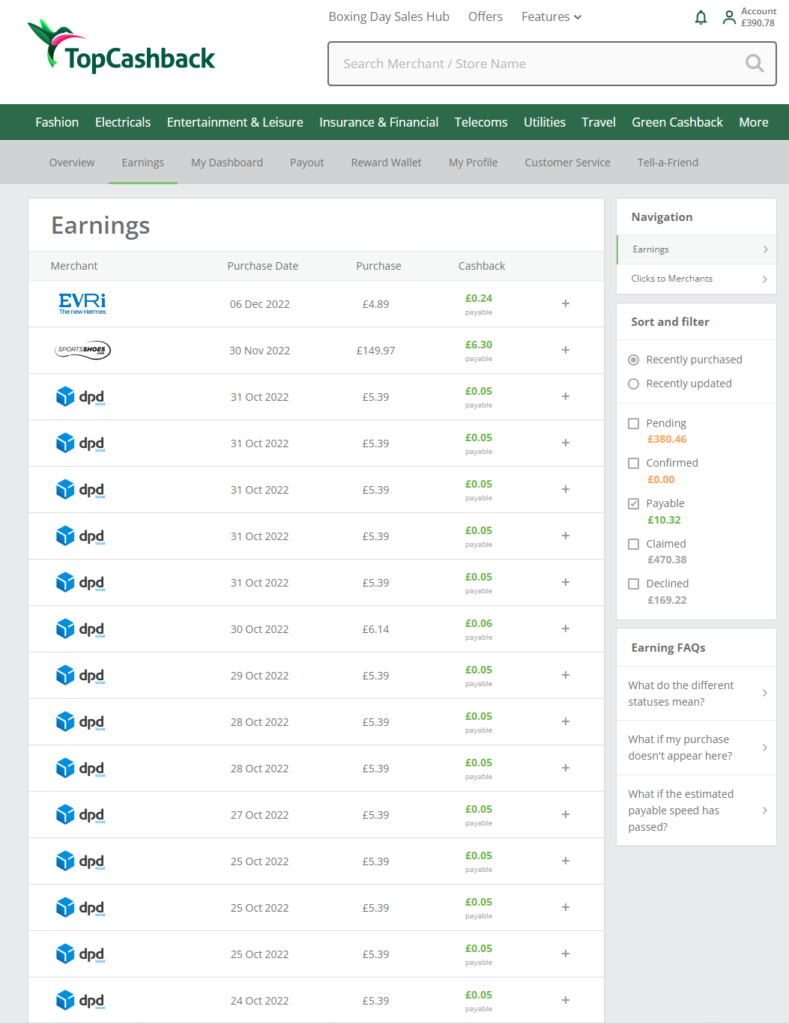 Gosh! It is hard to believe but the second anniversary of this Blog coming alive is coming to an end. I have made £1,901 in Free Money in 2022. I realistically planned for £1,200 back in January (see post How to make £1,200 Free Money in 2022 – My Plan & Objectives) so I am chuffed to bits with my takings. I have recycled all this money into my ISA accounts looking for a healthy return on my investment but so far, it has not been forthcoming. There will be time to reflect and reassess strategies and concepts but as for now, let me behold at the £5K in Free Money I have effortlessly made in 24 months. The wheels keep turning and I have no intention to stop. New Year, New Opportunities, New Challenge. My best wishes for 2023 to you all. Happy Free Money Making 2023.